Indian Fans Hilariously React To Virushka Divorce Trend On Twitter!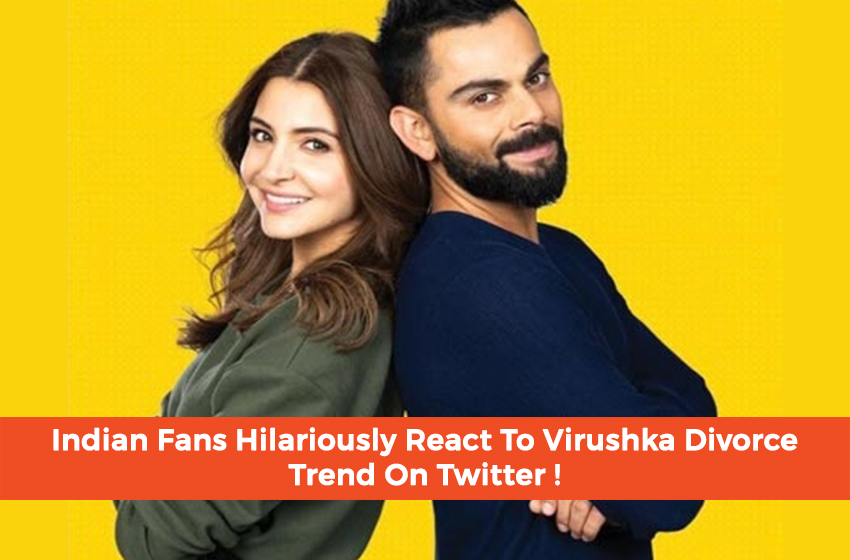 On Saturday, Indian citizens were highly surprised to wake up to the hashtag #VirushkaDivorce that was trending on social media. However, no one knew why there were no reports of Virat Kohli and Anushka Sharma splitting up. True or not this surely gave rise to Virushka divorce meme collection.
It all started when Indian Twitter users started sharing an article by Times of India that had claimed that Virat and Anushka had split. However, those sharing the article had forgotten to check the actual date stamp. The article was initially published on February 9, 2016. This proves the fact that the article was published two years after Virat and Anushka, together known as Virushka had started dating. It is evident that things clearly have not went well between the two as they had tied the knot a year later on December 11.
This is certainly not the first time the private lives of Virat and Anushka's have been dragged into public in recent times. Anushka Sharma was criticized by the Bhartiya Janata Party (BJP) MLA, Nandkishor Gurjar for producing Amazon Prime TV series Paatal Lok. According to Gurjar, the show displays the negative image of the country and thus should be considered as an 'anti-national' show. Moreover, an FIR has also been filed by him that involves some serious charges against the producer.
In order to ensure that a strong message could be delivered to the audience, Gurjar has also asked Virat Kohli to divorce. In an interview to Newsroom Post, Gurjar said that being a patriotic citizen of the country, Kohli needs to take a firm stand against this issue so that the country's positive image could be upheld
Fans hilariously react to Virushka divorce rumors
Fans now have a varied set of reactions about witnessing the trend that has picked up the momentum. However, there are pages that are full of memes regarding it and no fake news doing the rounds when one looks out for the hashtag. We have also come across a few funny ourselves. We must tell you that it just took us a minute for holding our breaths. Some of these memes are hilarious as ever and we can't seem to get enough of Virushka divorce meme collection below.
#VirushkaDivorce is trending on twitter.
Le virshuka- pic.twitter.com/rFviHaJ0M6

— aditya (@aditya869042893) June 5, 2020
#VirushkaDivorce
Virushka fans :: pic.twitter.com/fgG929aYjT

— Vella प्राणी (@marshucasm) June 5, 2020
Kohli reading #VirushkaDivorce tweets and now trending india. pic.twitter.com/rPjv3PWyVW

— Manu (@Manu68922858) June 5, 2020
@imVkohli @AnushkaSharma I am sure this must be your reaction after seeing the ( khuda na khaasta) #VirushkaDivorce trending : pic.twitter.com/CPhURghQjZ

— Indian नारी 🇮🇳 (@pri_yeahhh) June 5, 2020
Anushka after seeing this trend… #VirushkaDivorce pic.twitter.com/HoAtnvoQUA

— Deepak Kumar (@deepak6200mehta) June 5, 2020
COVID-19 halts entertainment and sports industry
Before the COVID-19 lockdown, Anushka and Virat were busy with hectic work schedules. Anushka was preoccupied with her production projects. She will soon by seen in the upcoming film titled Kaneda. The film is expected to release in 2021.  The film also stars Arjun Kapoor and Diljit Dosanjh. Anushka was last seen in the 2018 film Zero alongside Shah Rukh Khan.
For Virat, the IPL that had scheduled to start from 29th March is now postponed. The last international action for the Indian team captain was against New Zealand in early March. India's ODI series against South Africa was cancelled mid-way due to the COVID-19 outbreak.
What do you think of this story? Let us know in the comments section below!