Priyanka Chopra Bashed On Twitter For Her "Aware Of Islam" Comment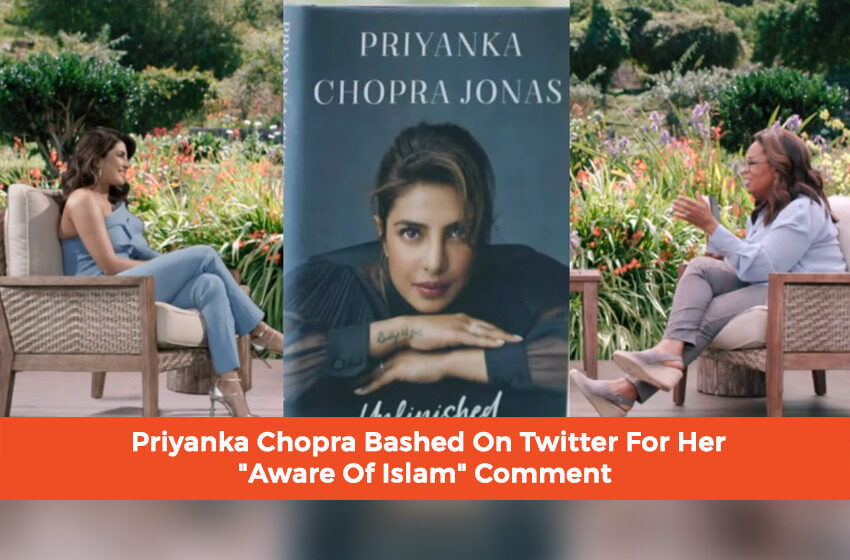 Priyanka Chopra was one of the recent guests on Oprah Winfrey's Super Soul Sunday show. A video snippet of the same was released recently. This did result in creating significant commotion on Twitter. PC claims that Priyanka Chopra has awareness of Islam according to her comment because her father sang in Mosques made Twitterati heavily criticise her.
Chopra was invited on Oprah Winfrey's guest in her new show Super Soul Sunday. This will air tomorrow. But a few snippets are being released for increasing the hype. When a new video of Priyanka tells Winfrey about connect with Christianity, Islam, or Hinduism, nobody thought it will ever result in creating such chaos on social media. Her comment on how her father sang at mosques and was able to make her aware of Islam has not went well with his followers on Twitter. Apparently, singing is not allowed at Mosques.
During her interview with Oprah Winfrey, Priyanka Chopra spoke about her spiritual foundation, growing up in India. In the clip, Priyanka said, "I honestly feel as a woman I'm in a more secure place. As an individual, I felt like I could leave behind the insecurities of my 20s and not worry about the things that used to scare me before. I have a little bit more confidence in myself and what I bring to the table, professionally, personally. As a human, I think that really helped me address my life. I always wanted to write a book and I thought the easiest thing I could write about is my life."
Secular upbringing of Priyanka
Priyanka revealed how her father taught her that there is one God. She said, "I am a Hindu. I pray, I have a temple at my home, I do it as often as I can. But true to me, I am a believer that a higher power does exist and I like to have faith in that."
But, Priyanka's statement regarding other religions, particularly Islam, did not went well with Priyanka's followers. Priyanka said: "The swirling number of religions…that live within the country [India]". She further said, "I grew up in a convent school. I was aware of Christianity. My dad used to sing in a mosque, I was aware of Islam. I grew up in a Hindu family, I was aware of that. Spirituality is such a large part of India that you really cannot ignore it."
"My dad used to sing in a Mosque, I was aware of Islam"-Priyanka Chopra rjsjdjsjesiwj pic.twitter.com/ZtePuBw5Ly

— . (@BIHTWA) March 20, 2021
Many users on Twitter took offence to how Priyanka Chopra spoke and comment about being "aware of Islam". It appeared as if she learnt about an entire religion simply because her father sang in a mosque. Many users asked which mosque, while several others mocked Priyanka's statement. Even the fans of Priyanka Chopra said they remained unaware of Islam since their father never sang at a mosque.
My dad on the other hand never sang in a mosque so I grew up woefully unaware of Islam? https://t.co/Dq5jOl1mPK

— Edgar Allan Poeha (@vaniIlaessence) March 21, 2021
I saw the movie "Judaai".
I am aware of Judaism. #PriyankaChopra https://t.co/fJ0f3XeMmB

— Amit Shirodkar (@amit_shirodkar) March 21, 2021
My dad watched "the mask of Zorro"
I'm aware of Zoroastrianism. #PriyankaChopra pic.twitter.com/hAK4iIFnDW

— Brandy Kaur (@brandybruja) March 21, 2021
It is certainly evident that Priyanka's statement did not went well with most of the users on social media.
What do you think of this story? Let us know in the comments section below!