Top 10 High School Indian Drama Series, A Must Watch!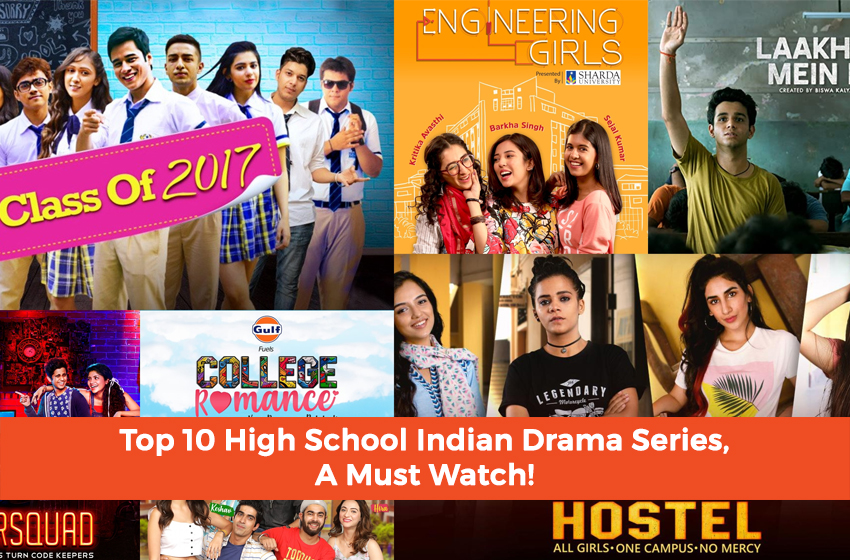 No one can deny the fact that school and college memories are almost, always, hard to forget. It is the time when we experience most of our first fights, crushes and silly mistakes that later turn out to be lifelong experiences. To relive such moments, here we provide you with a list of Top 10 high school Indian Web Series that are a must watch.
Laakhon Mein Ek (Amazon Prime)
Being one of the best high school drama shows, Laakhon Mein Ek is developed by comedian and former IIT graduate Biswa Kalyan Rath. The high school drama presents the reality of the entrance exam system in Kota. It stars Ritwik Sahore in the lead role. The show is emotional and humorous.
Class of 2017 (Alt Balaji)
Class of 2017 is a Hindi high school drama series created and produced by Vikas Gupta for Ekta Kapoor's video on demand platform ALTBalaji. This Hindi web series focuses on the lives of teenagers that have got intertwined with drugs, sex, peer pressure and anxiety.
CyberSquad (Alt Balaji)
CyberSquad is a Hindi web series on ALTBalaji. It focuses on the adventures of four friends that create their personal Cyber Squad after blurring the lines between the online and offline worlds.
College Romance(YouTube)
This romantic comedy comprises of some epic one-liners and a highly talented cast. At the same time, by the very nature of the genre, there are certain tropes that maybe could have done away with. This high school Indian drama series is written by Kunal Aneja & Abhishek Srivastava and directed by Simarpreet Singh.
School Days (TVF Play)
No matter what your age is, School has been the best part of everyone's lives. School Days will remind you of all amazing memories of school life. The show is available on TVF play.
Engineering Girls (YouTube)
Presented by Timeliners, Engineering Girls is a high school Indian series that is a refreshing change. This is mainly because it illustrates the misadventures of college life of engineering students from the point of view of girls and not guys.
Girls Hostel (YouTube)
Girls Hostel is a high school Indian drama series created by Girliyapa. The show takes you back to the age of stolen goodies, the senior-junior bonds and the inimitable 'hostel life'. The narrative retains an authenticity that allows its viewers to the different situations and anecdotes that have been presented.
Read also: 10 Disaster Flops of Bollywood That Were Actually Great Films
FLAMES (TVF Play)
FLAMES is a teenage high school Indian series from The Timeliners that aims straight from the heart. This web-series is the story of a young romance unfolding as a chemical reaction.
Bro Court (YouTube)
A Hindi comedy web series, Bro Court stars Bhuvan Bam, Kaustubh Kumar and Shaileen Shah in the lead roles. Bro is a senior engineering student. He runs a court in the hostel where he addresses the problems of his fellow students.
What's Your Status (YouTube)
What's your status is a romantic high school drama series based on college life. The best thing about this romantic comedy series is that it brings out three diverse stories. This allows viewers to relive their college romance and also get a glimpse of their first relationship.  The series is available on YouTube.
What do you think of this story? Let us know in the comments section below!