Sizzling Beauty! Bollywood Icon Rekha Features In Vogue Arabia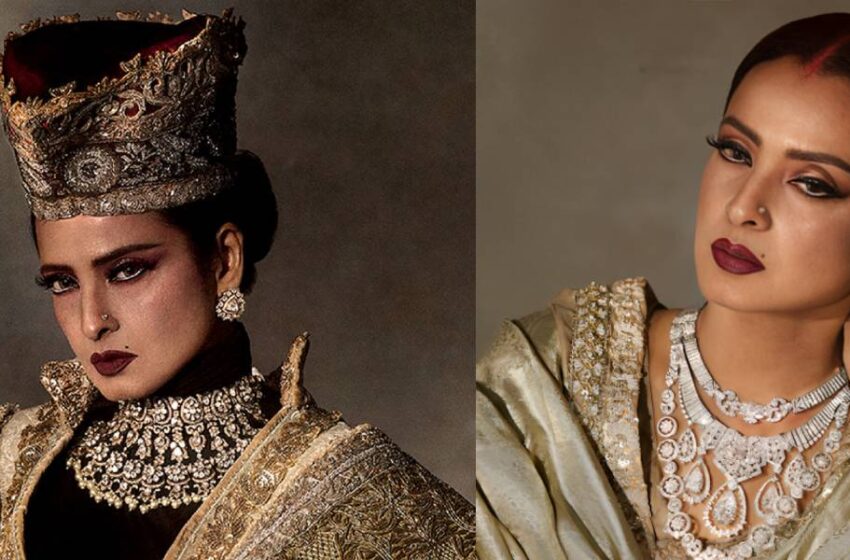 Bollywood's iconic actress Rekha features in Vogue Arabia with her beauty in an Arabian avatar with her sizzling look. Her captivating Vogue cover left everyone speechless with her look and questions about her age.
The 2023 July/August issue of Vogue exclusively features Rekha who's for her fiercely guarded privacy and elusive nature.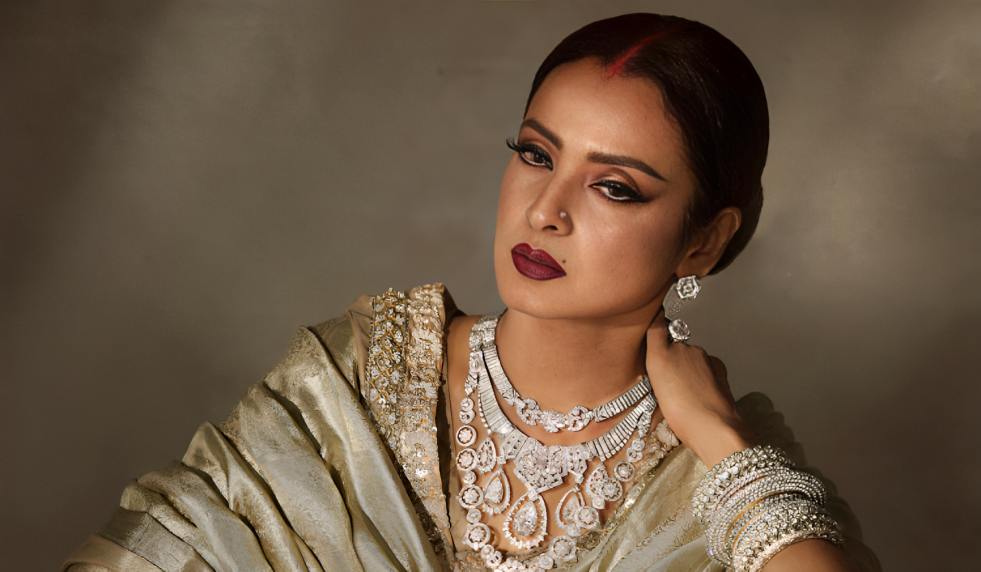 Rekha sat down for an unexpected interview where she involved herself in a candid conversation regarding Vogue's feature shoot.
The feature was written by Bandana Tiwari and offers an exclusive insight into the legendary actress's journey in the cinematic world.
Rekha Vogue Arabia 2023
The article contains pictures of Rekha wearing Manish Malhotra's Arabian wardrobe work. The piece also highlighted Rekha's early Bollywood journey, Rekha was born on October 10, 1954, to renowned Tamil actor Gemini Ganesan and Telugu star Pushpavalli.
She began her acting journey at a young age, her mother was the true inspiration for her throughout her life. Talking about her mother, Rekha stated, "She taught me the grace of living with gentility and love.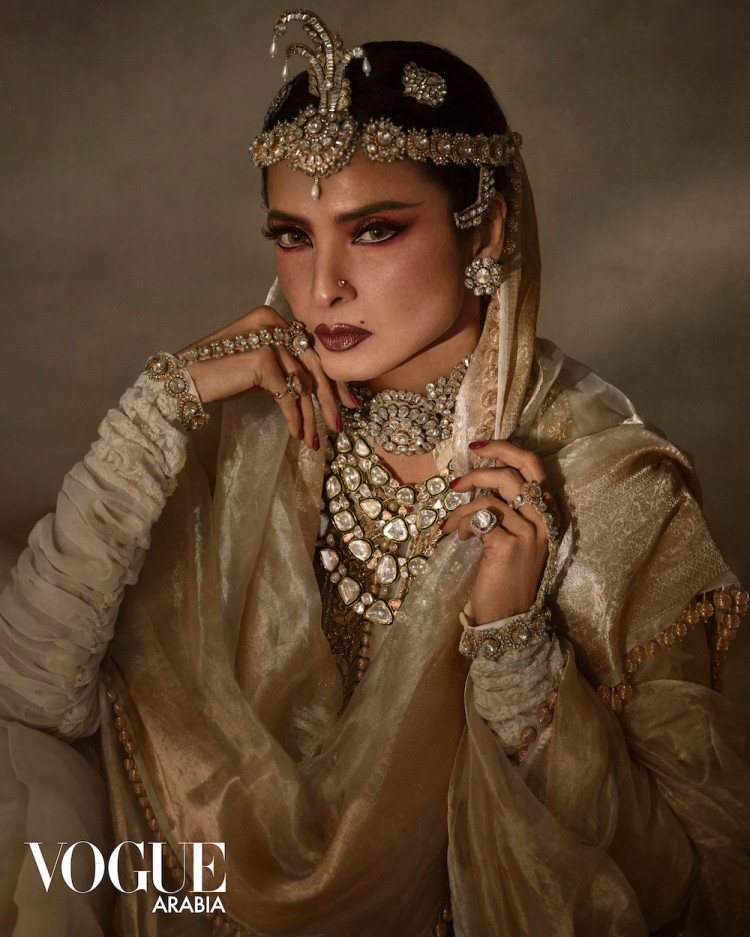 She always said I should never lose the ankh ki chamak, or 'twinkle in the eyes,' because it is that joyful perception that makes one appreciate the beauty of a tiny seed that grows into a majestic tree. She also advised me wisely to practice what I love, not what I preach. She set the benchmark for me because my mother walked the talk."
In her career, Umrao Jan and Utsav played an important role in making more opportunities in the industry for her and made her an icon.
Her performance in both films undoubtedly captured everyone's attention, her acting skills were on par with the critics and since then no one could come closer to portray Umrao Jan.
Like Manish Malhotra, Pakistani famous designer HSY's work was also featured in Vogue and sparked the internet.
Self-Introspect
Rekha during an interview highlighted her self-introspect and love for the art surely embracing her cinematic persona. "I have always lived like an Indian princess, not that anyone is privy to it. I live like that because I feel it.
It's not just a state of mind, but the state of my life." Her love for poetry, pathos, and philosophy resonates with the enchantment she brings to the silver screen.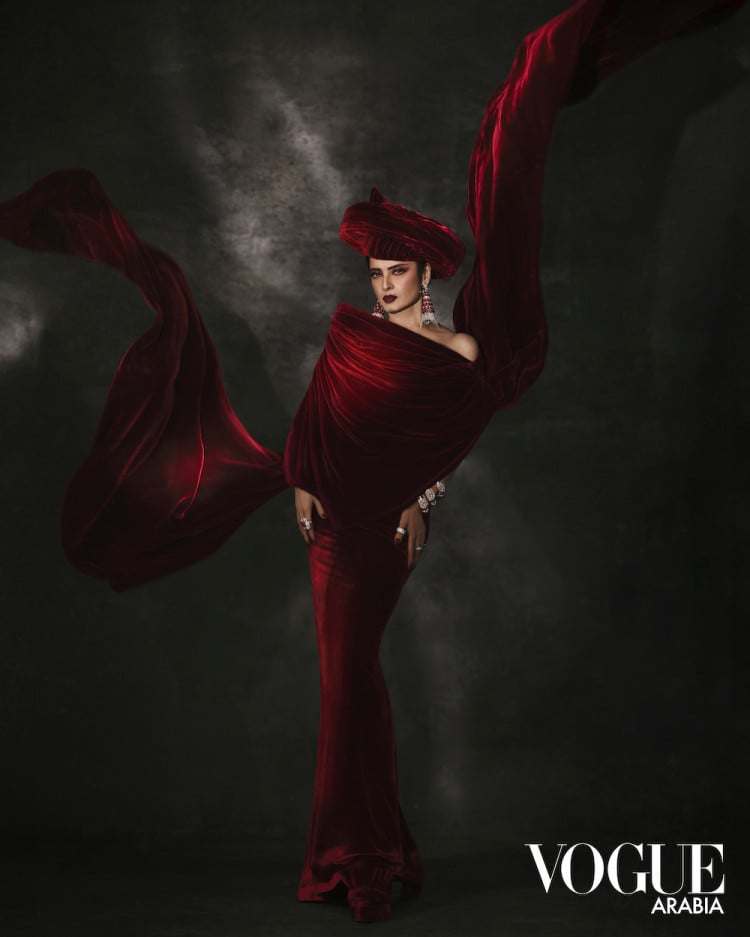 She continued, "My person is my own, but my cinematic persona is in the eyes of the beholder. Therefore, I choose where I want to be and where I don't want to be. I am so blessed to have earned the right to choose what I love.
And to have the luxury of simply saying no. This keeps my soul alert," said Rekha in the interview. Talking about the feature becoming a reality, Rekha said, "I simply loved the way it chose me.
The way Manuel, the editor-in-chief, followed his instinct, and had the courage and kindness to ask me, was endearing and irresistible."
Rekha Worked With Manish For The Shoot
Interestingly, Rekha wanted her charm in the wardrobe design, that's why she worked closely with the designer Manish Malhotra. She did it because she wanted to bring her sartorial vision to life.
She even acknowledged the efforts of the team especially Manish whom she considered a wise patient pujari. "Manish moved heaven and earth to craft my vision into clothes. To have him leave everything and work tirelessly with me like a wise, patient pujari [priest], I couldn't have asked for a better executioner of my dreams," said Rekha.
 Over the past decades, every celebrity even Shah Rukh Khan also praised her beauty and showered mesmerizing words.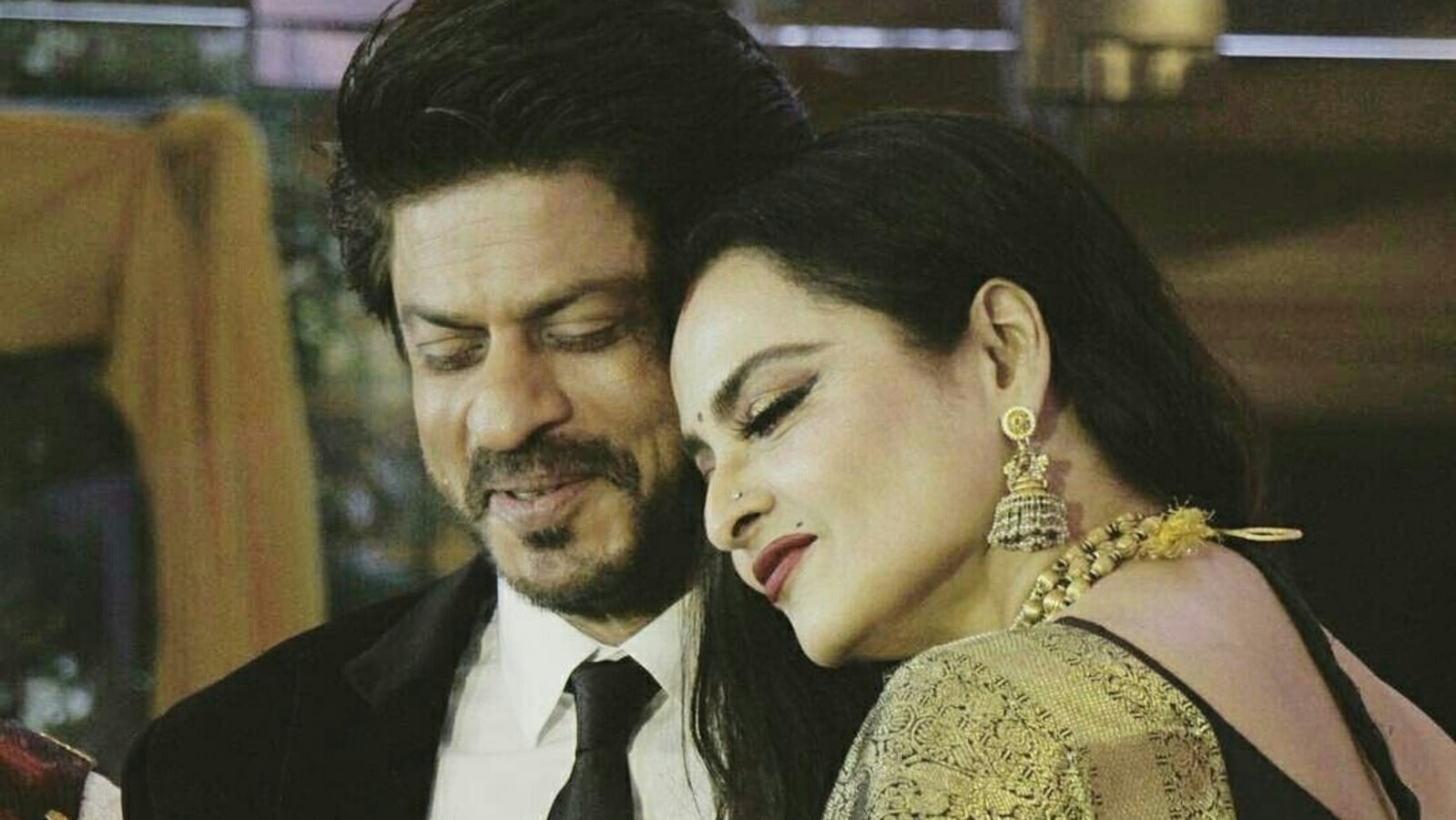 Shah Rukh Khan once said, "Her charisma is unmatched, and she leaves an indelible mark on every role she portrays." Additionally, popular actor Deepika Padukone once stated, "Rekha's aura is magnetic. She can effortlessly captivate an entire audience with just a glance, and her performances are a masterclass in acting."
Rekha is a powerful lady, a lot of famous female celebrities like Malala Yousufzai joined Vogue cover photoshoots and she is one of them to join the party.
See More: In the Past Sara Ali Khan Calls Herself 'Sasti Rekha' In Her Hilarious Poetry!
What do you think of the story? Tell us in the comments section below.