According To IMDb Ratings, Money Heist Surpasses Prison Break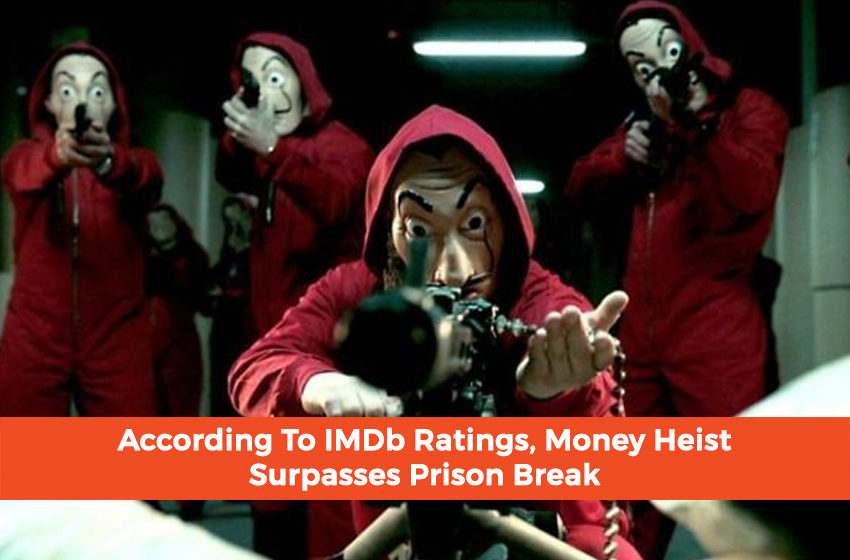 Globally acclaimed show 'La Casa De Papel' or better known as 'Money Heist' has landed with its 4th season in competition with 'Prison Break'. Garnering all the enthusiasm and love from the fans, this Netflix series is surely one heck of a show. As of now, fans have completely gone bonkers over its 4th season, causing it to topple rating charts.
Likewise, with the recent Coronavirus outspread, people around the world are limited to their homes. Subsequently, this has resulted in people killing their time of boredom by watching the latest season.
Gradually, making its way among the top favorite serials, Money Heist has managed to grasp such popularity that it has left 'Prison Break' behind.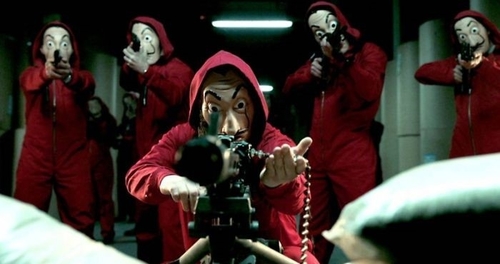 The IMDb rating
Seemingly, with the latest season of La Casa De Papel out now, fans were too alacritous in juxtaposing it with another famous series: 'Prison Break'. However, with the latest IMDb ratings, it is quite obvious, who is surpassing who.
IMDb or the 'World's most popular and authoritative source for movies, TV and celebrity content' enumerates, Money Heist topples with 8.5 stars out of 10. Whilst Prison Break stands with 8.3 stars out of 10. Frankly, we would not call this a great difference, but still, it proves the current favorite.
Moreover, Rotten Tomatoes also acclaims Money Heist to be overshadowing with an average rating of 91 percent. Whilst, on the other hand, Prison Break gathers a rating of only 60 percent.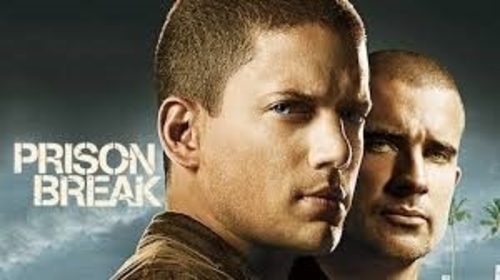 What do the fans have to say?
Based on the reactions we got from twitter, it is quite difficult to tell who is winning. Even though the average rating speaks for itself, people have been siding with Prison Break all the way.
For starters, one fan tweeted: "U cannot compare these two. Money Heist, it's just a baby," while another added: "High school kids go for Money Heist, real men love Prison Break."
Money Heist is an episode in Prison Break https://t.co/7rpaBGZu7u

— KYAMA (@Elijahkyama) April 12, 2020
It's not over yet, as one fan spoke: "The mere fact that we have to put these two in a faceoff is so disrespectful to Prison Break. La Casa De Papel will never match Prison Break!"
Moneyheist is overrated
It cannot be compared to prison break not one bit

— MELIGA?? (@ai_meliga) April 12, 2020
Above all the comparing fuss, we all know how this would turn out. Eventually, we would never have enough fans to declare a particular show, as the winner. For some people, there is no show above Money Heist, whereas, for others, it's vice versa.
Jokes apart, creator of Money Heist, Alex Pina recently hinted hopes for another sequel. In his statement, he said: "We do have many possibilities for some spin-offs, yes, and I think that's thanks to the strong and powerful identities of the characters."
"We've always looked for characters to have a very complex, layered design. So I think almost every character of Money Heist has a duality that we would like to see in a spin-off. We could watch any of them in other contexts," he added.
What do you think of this story? Tell us in the comments section below.