"Divya Agarwal Fighting Like A Lone Wolf In Bigg Boss" Pinned Down & Left Alone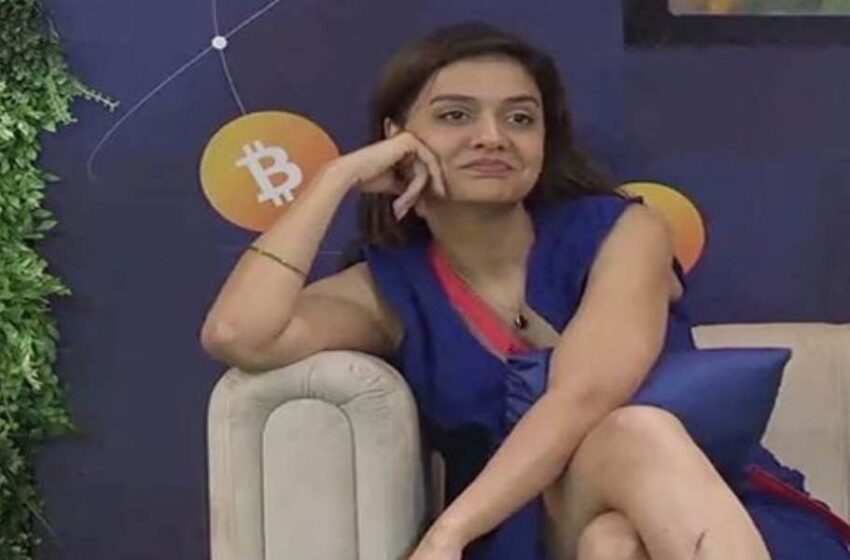 Bigg Boss is one of the most-watched and popular reality show that came this year in a different form. This time since it began there's one contestant who's nailing it and always on trending.
Divya Agarwal, who also won the Ace of Space and came to Bigg boss once when her ex Priyank Sharma was in it.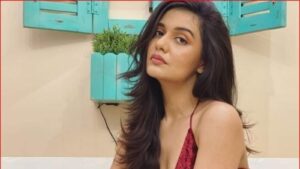 Divya Agarwal since day one targeted by the housemates especially Prathik Sehjpal, but apart from that for the last two Weekends Ka Vaar Karan Johar has also bashed Divya Agarwal for no reason which also raised so many questions against him.
Many of the celebrities have also noticed that Karan Johar unnecessarily targeting Divya Agarwal and only letting Shamita Shetty speak throughout Weekend Ka Vaar.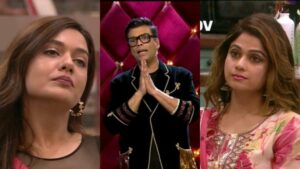 Divya Agarwal was already facing some hard times, but this week it went beyond the limits when his connection Zeeshan was thrown out of the house for being physical in the task.
It was heartbreaking to see Divya Agarwal crying and being lonely. Because the moment it happened every single person especially Shamita Shetty started telling everyone to ignore her.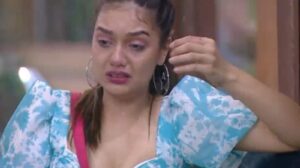 It was the first connection Divya had because when the show began, she came last, and at that point, no one was left except Karan who chose Ridhima.
Queen Divya Agarwal Trending & Lone Wolf
As Divya Agarwal left with no connection, Bigg Boss nominated two connections "Prathik Sehjpal and Neha Bhasin" and Milind Gaba and Akshara" for Boss Lady and Boss Man task.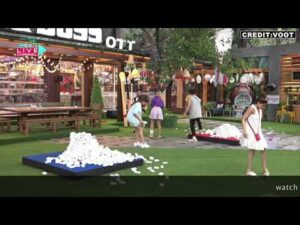 In this task both the connections had to make a pyramid with the blocks and as a connection, other housemates had to destroy any of the pyramids they want.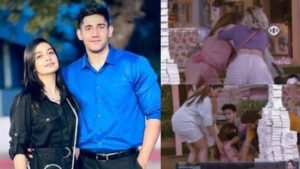 At one point, Divya came alone and tried to destroy Prathik's pyramid but she was pinned down. Yes! Prathik and Neha both pinned her down and no one came to stop them instead other housemates grabbing Divya and tried to take her inside the house.
This incident went viral and everyone stood for Divya as she didn't unnecessarily raise her voice for what Prathik and Neha did.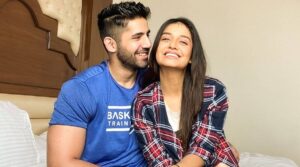 After that incident, Divya's boyfriend Varun Sood released a statement in support of her, "Pushing someone is "hinsa" Two people Pinning someone down is also "hinsa" @Divyakitweet isn't so WEAK! hence she didn't make a big deal about it.
She has trained under Pro MMA Fighters. But I'm again mentioning, pinning down is Hinsa! @justvoot @VootSelect @EndemolShineIND".
After the task, Milind Gaba, Akshara Singh, and Divya Agarwal protested against the result. And told Prathik that they will not do any house chores at all.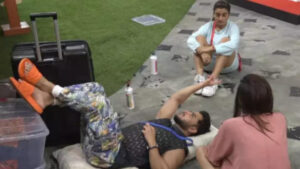 In all these, Shamita Shetty and Raqesh were enjoying their little romance and instigating others not to help Divya Agarwal.
Justified Herself On Karan Johar's Allegations
It's been clear that since the Bigg Boss OTT started from the first Weekend Ka Vaar Karan Johar has been targeting Divya Agarwal for no reason.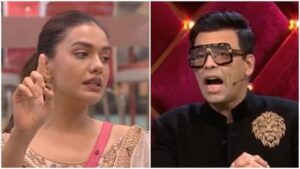 Even he doesn't let her speak and clear up the things. Last week he again went on her and talked very harshly in which many of the other celebrities came into her support and warned Karan Johar such as Suyyash Rai.
Divya Agarwal joking just said that I would love to nominate Karan Johar and that statement Karan Johar took it very seriously. He said she cannot nominate him (Karan Johar) even if she wants.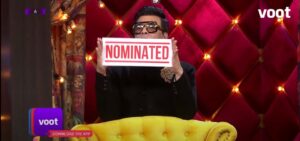 Because he is the host of the show and Divya is the contestant. At the same time, he also told Divya that if you cannot give me respect, then do not talk about me.
Although she tried to justify the whole scenario she was cut off by him. To Support Divya Suyyash burst out and took the matter on Instagram.
"Dear Karan Johar, come let me burst your bubble. You aren't Salman Khan. Try talking sense," he wrote in his Instagram Story. He added in another, "Never knew KJo is such a loser.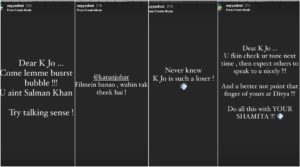 Dear KJo, you fkin check your tone next time then expect others to speak with you nicely. And you better not point that finger of yours at Divya. Do all this with your Shamita (Shetty)."
Tagging Karan in a post, he wrote, "Filmein banao, within tak theek hai (Stick to making movies)."
Divya Agarwal has done it all to earn the full respect of her audience. She's been trending on social media for her fair play and she's in a full beast mood.
Right now, Divya got two persons who legit support her Akshara and Milind. But now it's time to watch this week's Weekend Ka Vaar check out what Karan Johar is up to now.
Will he again target Divya or let others speak too apart from Shamita Shetty.
READ MORE: Twitterati Condemn Rahul Vaidya For Abusing Arshi Khan In Bigg Boss 14
What do you think of the story? Tell us in the comments section below.