Twitterati Condemn Rahul Vaidya For Abusing Arshi Khan In Bigg Boss 14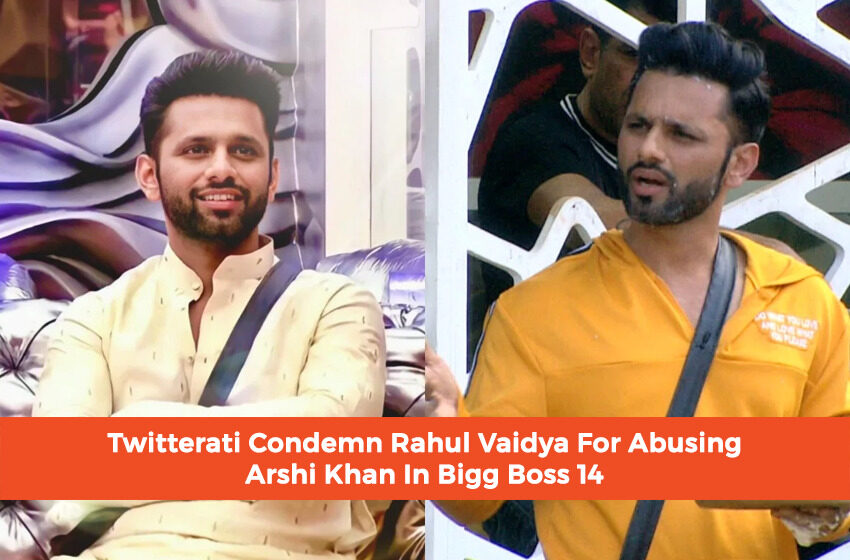 Bigg Boss season 14 has certainly been highly exciting for the fans. Many of the contestants have developed good relations with each other. Among those contestants that are having a good time at Bigg Boss season 14 are Rahul Vaidya and Arshi Khan. The two became good friends when the latter entered the Bigg Boss 14 house as a challenger. However, over the time their bond became bitter and Rahul Vaidya, along with Aly Goni, had told Arshi that they don't rely on her and started abusing her in Bigg Boss season 14.
Things than got extremely worse in last week's episode. The problem started when Arshi first refused to do her chopping duties outright when she was asked by Devoleena Bhattacharjee. This made Devoleena mighty unhappy and the two had a massive showdown.
Arshi asked Rahul for cleaning tea that he had spilled in the kitchen. He started passing derogatory comments. Moreover, Rahul called Arshi 'negativity ka putla'. He also accused Arshi of having a split personality and also warned her that she will get slammed. This eventually resulted in Arshi's breakdown.
Furious social media users slam Rahul Vaidya
As a result of the rude and behavior of Rahul Vaidya abusing Arshi Khan in the Bigg Boss house, netizens have become very upset with him. Fans did not like Rahul Vaidya comments on Arshi Khan. They have accused him of bullying Arshi. Many twitter users have also claimed that this change in behavior is due to the fact that Arshi got a haircut from Abhinav Shukla last week. She is now on talking terms with him and wife Rubina Dilaik. The bigg boss 14 bullying incident has certainly made fans furious. Below are some of the reactions from Twitter:
Never ever seen #RubinaDilaik or #AbhinavShukla TROLLING anyone in the #BB14 house the way #RahulVaidya & #AlyGoni are going after #ArshiKhan

SHAME ON Rahul & Aly

All this trolling just haircut and Arshi talking to #RubinaDilaik . #BB14 #BiggBoss14 #AbhiArmy

— Pradeep Sethi – Jai Kisan (@MrPradeepSethi) February 1, 2021
I'm really feeling very bad for #ArshiKhan , she was always loyal towards her frnds i.e. bhagoda and gonda.
And what are they doing is really very bad.
I knw what she is going through, she is smiling outside but broken into crores of pieces

— RASHAMI and RUBINA fan page (@Rashami_Rubina1) February 2, 2021
#RahulVaidya #AlyGoni are so insecure that they're bullying #ArshiKhan just because she's talking to #RubinaDilaik and #AbhinavShukla. Talk about being a manipulative friend. And Rahul couldn't even handle Arshi asking him to clean something. Misogynistic loser!#BB14 #BiggBoss14

— MaryJane (@MaryJane_0105) February 2, 2021
Rubina is discussing about Rahul Vaidya from the morning ! Yaar accept karo Rubina Rahul ki flight me Beth ke aage badh rahi he ! She is discussing about @rahulvaidya23 with Arshi khan ! #RahulVaidya #BB14

— Akansha puri (@puri_akansha23) February 2, 2021
It is evident that several Bigg Boss viewers have always seen supporting Rahul and Aly on Twitter. However, this time many of them do feel that they are fighting unnecessarily with Arshi. Some of Rahul's remarks have also been called extremely mean. Their are rumors that Rahul Vaidya Bigg boss stint could be at a jeopardy in the future.
Recently, there were also rumours of Disha Parmar entering the Bigg Boss house to support Rahul in the family task. Contestant of Bigg boss rahul vaidya girlfriend has now made headlines. However, the actress has reportedly refused to be a part of the show. She also indicated about it in one of her replies to a fan who asked her to go and support Rahul in the house. She stated in her tweet that Rahul is strong enough to fight his own battle.
During Bigg Boss Season 14, Rahul had also proposed to Disha in one of the episodes of this season's show. He got to know about her approval after the abrupt exit from the show. He later also announced his individual return in the show. Moreover, Rahul's mother also recently revealed regarding the plan of the family of their marriage in June 2021.
What do you think of this story? Let us know in the comments section below!