Indian Film Stars Light Candles To Support PM Modi's 9pm 9min Call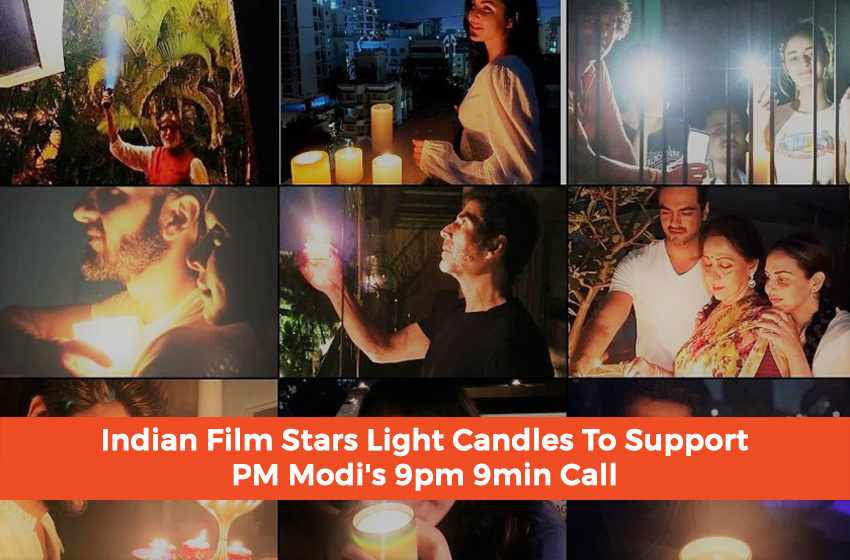 India's Prime Minister Narendra Modi called out the citizens of his country to come out of their windows and balconies on 5th April at 9 pm for 9 minutes to light candles and diyas in gratitude for the individuals that continue to work and fight against the COVID 19 pandemic. Bollywood celebrities also join in hands to act upon PM Modi's 9pm 9min call initiative.
Almost the entire India came outside of their balconies with a candle or diya and illustrated their determination for combating the deadly COVID-19 pandemic.
Bollywood stars show their solidarity
Adhering to this initiative by PM Modi, Bollywood stars also showed their solidarity. Many stars from the Indian film industry stood out in their balconies to light candles and diyas for 9 minutes today. These stars posted their videos and pictures on social media.
A long but inspiring note was written by Anushka Sharma on how prayers never go in vain. She shared a picture of herself with husband Virat Kohli.
Anushka wrote: "I light a diya everyday for many years now. And as I light the diya I seek guidance, asking for the darkness in me to be dispelled. For many days since the turn of the recent events across the world, I have prayed to God to end the suffering of so many who are losing their lives without their families beside them, for the less-fortunate and the needy whose lives have turned upside down completely, for all the healthcare professionals who are working tirelessly & bravely to protect the lives of other beings, for those who are uncertain about their jobs and future. So tonight, I prayed extra for everyone and I lit diyas with the whole of India and we all prayed for each other. Prayers never go in vain (sic)."
The Bachchan family lighted diyas and candles at their home. Aishwarya Rai shared a photo of their home temple.
Karan Johar also posted a video of the view, along with his family members, from his terrace.
Karan wrote, "Let there be light…..there is light at the end of this dark tunnel… (sic)."
Check out the below pictures to see how other celebrities supported PM Modi's 9pm 9min initiative.
Indian citizens supporting their PM
The initiative taken by PM Modi did get an overwhelming response on Sunday. The Indian citizens along with the bollywood celebrities of the Indian film industry showed that they are all together in this acting on 9pm 9min call.
Before this initiative, PM Modi had asked the Indian citizens on March 22 during the Janata Curfew to clap for 5 minutes at 5 pm for all the individuals that have been fighting for India during this adverse scenario.
What do you think of this story? Let us know in the comments section below!