Indian Celebrities Urge Fans To Stay Indoors Amid Coronavirus!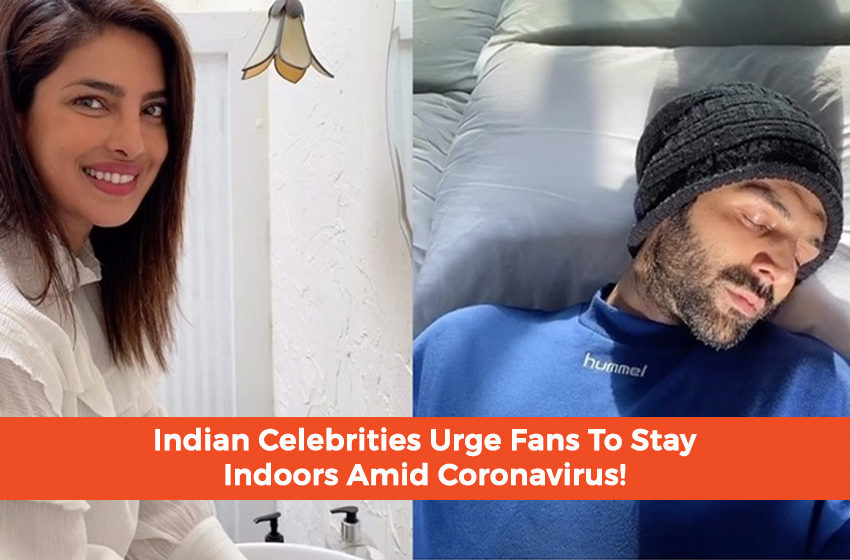 Throughout India, the 21-day lockdown is underway. Every citizen has been urged to stay at home and do their absolute best to mitigate the potential threat of the spread of COVID-19. Moreover, celebrities too have urged their fans to self quarantine themselves and stay home amid Coronavirus outbreak.
The voluntary "Janata curfew" required Indians citizens to stay indoors between 7am and 9pm. This will help to reduce the speed with which the pandemic is spreading.
Indian celebrities urge fellow citizens and fans to self-isolate
Celebrities across India are also encouraging fellow citizens for social distancing and self-isolation.
One of the Bollywood superstars who has urged Indians to stay home is actor Akshay Kumar. He urged his nearly 34 million Twitter followers for observing the curfew. Akshay's latest film Sooryavanshi is also postponed due to the COVID-19 outbreak.
The Good Newwz actor also shared a video on his Twitter account. Other Bollywood actors such as Ranveer Singh, Amitabh Bachcha and Alia Bhatt also starred in the video. The actors urged viewers to follow precautions and practice health and safety measures advised by the government of India.
Please Please Please inn neeyamo ka paalan karein, apne aur doosron ki suraksha ke liye. Swasth rahein, surakshit rahein 🙏🏻🙏🏻🙏🏻 #WarAgainstVirus

For more info please follow :- @CMOMaharashtra @mybmc on Twitter.@RSPicturez #RohitShetty pic.twitter.com/ixlmiWmTuo

— Akshay Kumar (@akshaykumar) March 20, 2020
Recently, Hrithik Roshan shared on his official Instagram account that him and his ex-wife Sussanne Khan have moved back for their sons Hrehaan and Hridhaan. This will allow them to co-parent their children in these stressful times.
Priyanka Chopra also took to Instagram. The actress shared a hand-washing video while participating in the #SafeHands challenge. In a live Instagram session, Priyanka stated: "This is such an insane time and all of our lives have been completely turned upside down. It feels like something out of a movie, but it's not and we know that."
Other celebrities such as Salman Khan, Alia Bhatt and Katrina Kapoor also urged fans to stay home amid Coronavirus.
Film shoots have been cancelled across different film industries around the world. Moreover, film releases have also been postponed as a result of COVID-19. Similarly, In India film and television shoots have been postponed.
COVID-19 creates havoc across India!
Due to the coronavirus outbreak, India has reported nine deaths out of the 490 reported cases. There has also been 35 confirmed recoveries.
From Wednesday 25 March, all domestic passenger flights across India will be grounded. This step has been by the government of India to combat the spread of COVID-19.
All incoming international flights have already been banned by India and most of the land borders have also been sealed. Moreover, commuter and national rail services have also been suspended till end of March.
Did you find this information useful? Please let us know in the comments section!