Mohammad Amir Spots Virat Kohli Lookalike In Dirilis Ertugrul Ghazi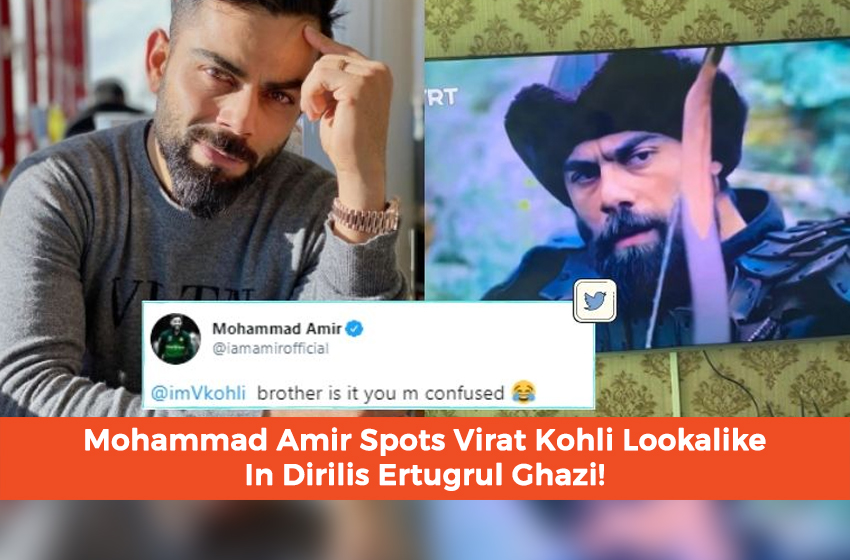 Pakistani fast bowler Mohammad Amir recently posted a picture of Virat Kohli lookalike on Twitter while he was watching a popular Turkish TV series called Dirilis Ertugrul Ghazi.
As soon as Virat Kohli lookalike was spotted by Amir in Dirilis Ertugrul Ghazi, he took to the social media platform and hilariously questioned Virat Kohli if he was working as an actor in the web series. Mohammad Amir posted a picture with a laughing emoji.
@imVkohli brother is it you m confused 😂 pic.twitter.com/kbwn31yjT6

— Mohammad Amir (@iamamirofficial) May 15, 2020
Virat Kohli and Amir are fierce competitors on the cricket field. However, off the field both Kohli and Amir often appreciate each other. In 2019, Virat Kohli won the International Cricket Council's (ICC) spirit of the cricket award. Moreover, the Pakistan pacer called Kohli a great player and also congratulated the Indian captain.
[adinserter="3″]
Before the India-Pakistan match at the Twenty20 World Cup in 2016, Kohli gifted a bat to Amir. This was when the two teams were preparing for the match in Kolkata. Due to the ongoing coronavirus pandemic, both cricketers are spending time away from the game. They are now staying at home with their families.
International cricket could be played behind closed doors
Similar to every other sport, cricket has been affected by the ongoing coronavirus health crisis. However, organizers and boards have now been looking for different ways to resume action. They also want to make sure the safety of the players remains their top priority.
[adinserter="4″]
The most talked about suggestion to resume cricket is to start the game behind closed doors. Speaking on playing an international game without any spectator, Virat Kohli had stated that players will not be able to feel the same enthusiasm as they did when they played in front of a packed house.
PCB not giving central contract to Amir
Amir, who retired from Test cricket in July 2019, did not get a central contract from the Pakistan Cricket Board (PCB). There are several Pakistani media reports suggesting that Mohammad Amir was unable to get a central contract as the PCB was displeased with Amir announcing an early retirement from test cricket. However, head coach Misbah-ul-Haq has denied the rumors and stated that Amir, along with Wahab Riaz, is an asset for Pakistan.
Misbah said: "Aamir and Wahab are experienced bowlers. Both players remain in contention as we believe they can still contribute to the Pakistan cricket team. They can also mentor our young battery of fast bowlers."
[adinserter="5″]
What do you think of this story? Let us know in the comments section below!
Facebook Notice for EU! You need to login to view and post FB Comments!