Anushka Gives Virat A New Haircut During Self-Isolation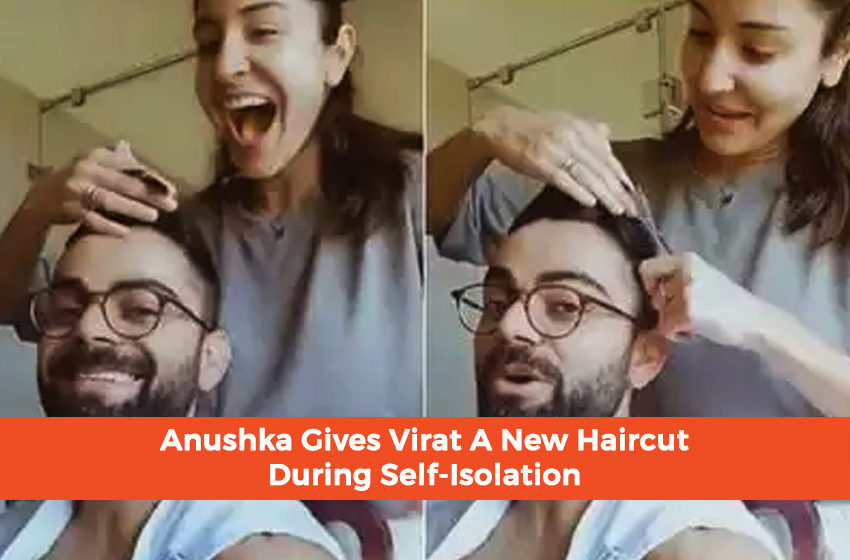 Anushka Sharma and Virat Kohli are one of the most admired Indian celebrity couples. In the time of self quarantine due to the lockdown, Anushka and Virat have showed up on social media this time with a fun haircut tutorial for their fans.
In their latest Instagram video, Anushka can be seen as providing Virat a haircut and this new look surely certainly looks good on the Indian captain during quarantine period.
The video was shared by Anushka on her official Instagram account. She is seen with a pair of scissors thinking about what haircut she can give to her husband.
Anushka gives Virat a new haircut!
While getting a haircut by his wife, Virat is seen saying, "This is what quarantine does to you!". Virat is further seen saying, "You allow things like this to happen, getting your haircut with kitchen scissors!"
Meanwhile, in quarantine.. 💇🏻‍♂💁🏻‍♀ pic.twitter.com/XO0UJ7NmSU

— Anushka Sharma (@AnushkaSharma) March 28, 2020
In the end Virat looks happy with his new look as he says, "Can you see this gradual fade! Ummm… nice!". Anushka jokingly replies, "It's a new look I have created."
Earlier this week, the couple had also trended a great deal on Instagram to lighten the mood of their fans with some selfies. One of the photos had a caption "Self – isolation is helping us love each other in all ways and forms."
The duo have also shared awareness videos. They have requested people to stay inside their homes during the COVID-19 pandemic.
एकता दिखाएँ, जीवन और देश बचाएँ 🙏🏻@narendramodi pic.twitter.com/LCq2ieprxt

— Anushka Sharma (@AnushkaSharma) March 25, 2020
COVID-19 creates havoc in India!
Prior to the lockdown, Anushka Sharma and Virat Kohli were busy with hectic work schedules.
Anushka was preoccupied with her production projects. She will soon by seen in the upcoming film titled Kaneda. The film is expected to release in 2021.  The film also stars Arjun Kapoor and Diljit Dosanjh. Anushka was last seen in the 2018 film Zero alongside Shah Rukh Khan.
For Virat, the IPL that had scheduled to start from 29th March is now postponed. The last international action for the Indian team captain was against New Zealand in early March. India's ODI series against South Africa was cancelled mid-way due to the COVID-19 outbreak.
The coronavirus continues to devastate lives of individuals throughout the world. The virus has now claimed 27,364 lives. 873 cases have now been detected across India and nearly 20 people have lost their lives due to the pandemic.
Earlier this week, PM Narendra Modi announced a lockdown for 21-days across India to combat the COVID-19 outbreak. Various Bollywood celebrities have also hailed this decision by the government. They have requested fans for staying indoors and comply with the government's instructions.
Did you find this information useful? Let us know in the comments section below!