'This Is A Gross', Alia Bhatt Scolds Paparazzi For Leaking Her Private Images
Once again Ali Bhatt's rage mode is on after the paparazzi crossed the line and leaked her private images. Later the images were deleted, but Alia Bhatt scolds paparazzi to bring it forward and talked about it.
Alia Bhatt has found herself in various controversies and always getting angry at the media for their unethical behavior.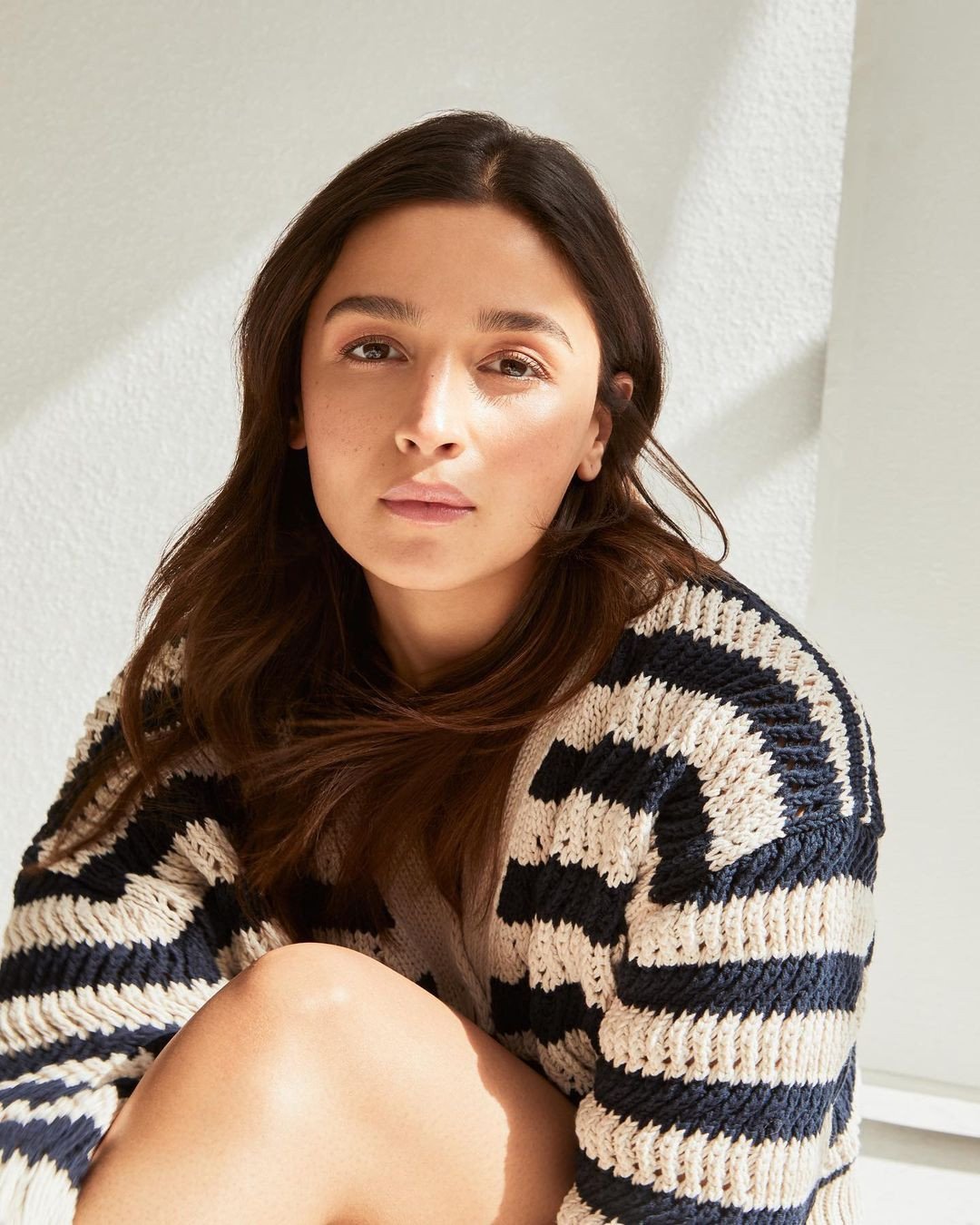 On Tuesday, Alia Bhatt took to her social media to express her anger at paparazzi leaking private photos of her. A page had shared clicks of Alia in her living room, visible through a window of her house.
The photos have been taken from the neighboring terrace and shared on one of the Indian media outlets.
Alia Bhatt Scolds Paparazzi For Leaking Her Photos
Sharing a screenshot of the post featuring the photos in a now-deleted Instagram Story, Alia had written, "Are you kidding me?
I was in my house having a perfectly normal afternoon in my living room when I felt something watching me.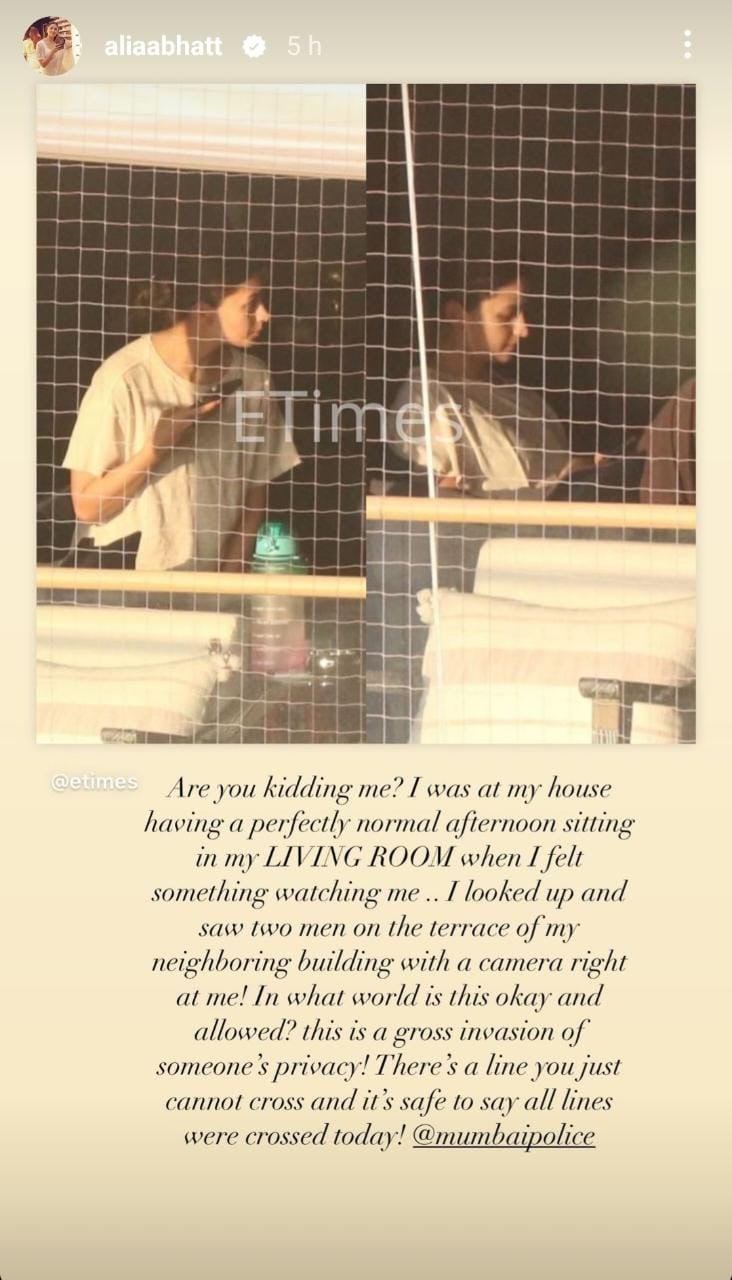 I looked up and saw two men on the terrace of my neighboring building with a camera right at me!" The Gangubai Kathiyawadi actor asked, "In what world is this okay and allowed? This is a gross invasion of someone's privacy.
There is a line you just cannot cross and it's safe to say all lines were crossed today!" Alia went on to tag Mumbai Police in her note.
In her support, many of her fellow actresses come in front and shared their two cents on the incident. Anushka lashed out, "This is not the first time they are doing this.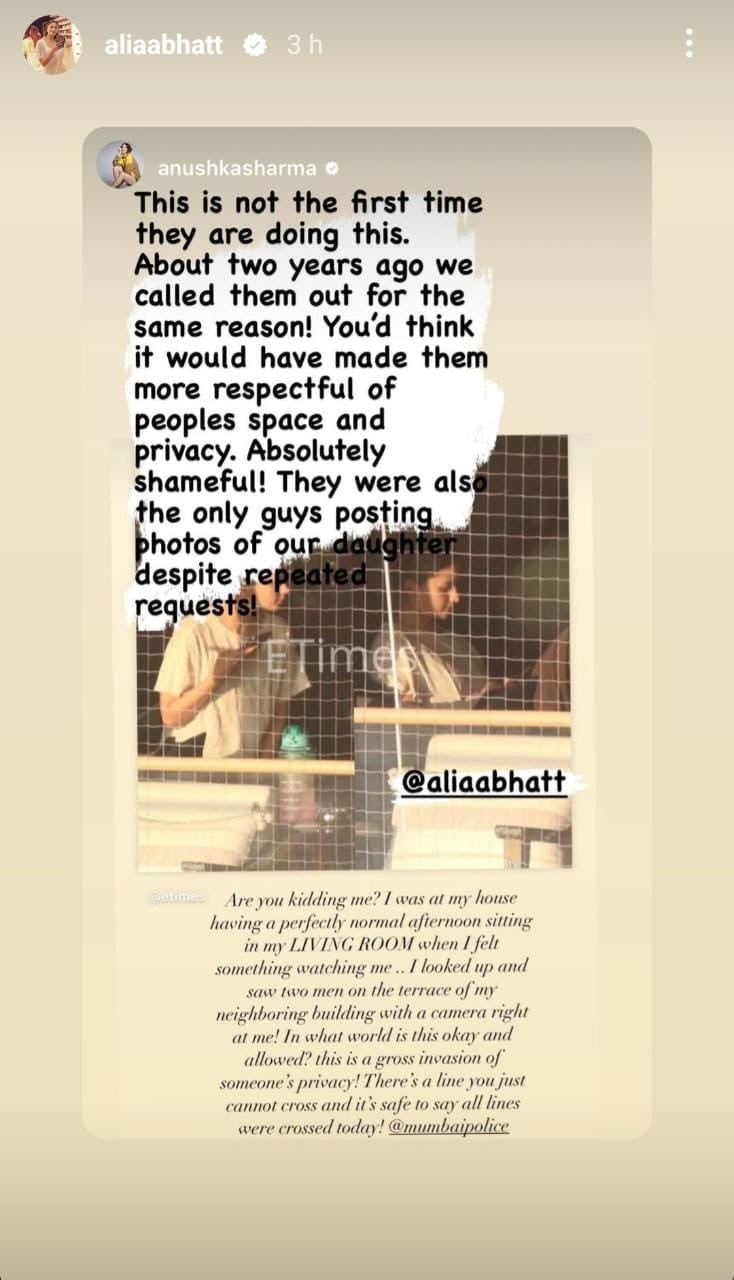 About two years ago we called them out for the same reason! You'd think it would have made them more respectful of people's space and privacy. Shameful! They were also the only guys posting photos of our daughter despite repeated requests."
Last year, Alia Bhatt schooled the paparazzi for spreading false news about her after-pregnancy allegation.
What do you think of the story? Tell us in the comments section below.