Ali Fazal, Richa Chadha Postpones Their Wedding Due To Coronavirus!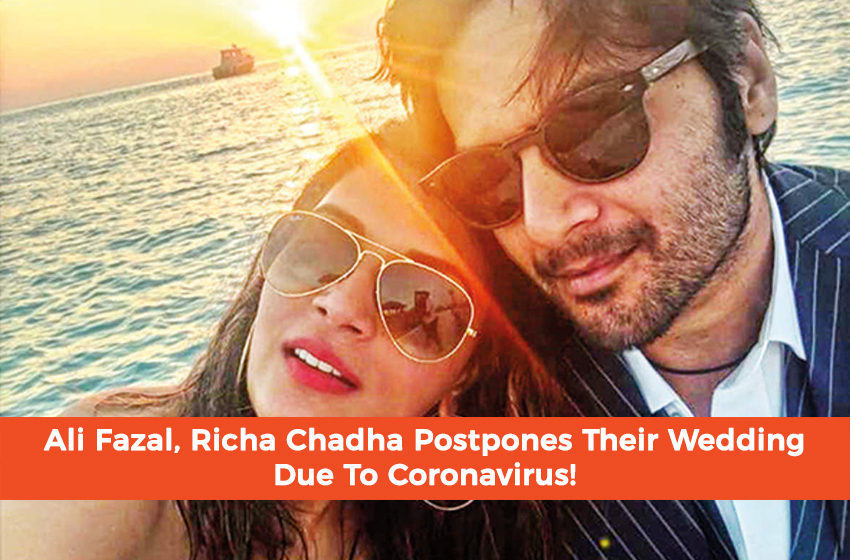 In the midst of the coronavirus outbreak, Bollywood actors Richa Chadha and Ali Fazal have confirmed that they will postpone their spring wedding to later in the year.
The actors were scheduled to tie the knot in April, with many of their guests flying in from the US and Europe.
The two recently released a statement to confirm the same. The statement read, "Given the current scenario and the unfortunate turn of events owing to the COVID-19 pandemic globally, Ali Fazal and Richa Chadha have decided to postpone their wedding functions to the later half of 2020 tentatively. They wish for everyone to be healthy and safe and at no cost would want their friends, families and well-wishers to be affected."
It is rumoured that the wedding will now take place in October.
Richa and Ali love story
Richa and Ali first met on the set of Fukrey film in 2013. Then they became close to each other and their friendship blossomed. Later, they eventually started dating each other in the year 2016. However, it was in the year 2017 that pair made their relationship official. Richa joined Ali for the premiere of his Hollywood movie 'Victoria and Abdul' during the Venice Film Festival.
Moreover, while talking about their love story, Richa once said that it is nothing less than a miracle.
"The thing is, it's nothing short of a miracle. That two-person who has many similar backgrounds, two simple, regular, normal people came from middle-class got together," she said.

She further added, "Two-person with a similar value system got in this pool of showbiz. They found each other and are happy with each other. I think that itself is a great miracle. And when that happened, I think I couldn't deny it that we were very much not just attracted to each other, but also understood each other feelings on a fundamental level. It's great you know."
However, not just Ali Fazal and Richa Chadha, reportedly, even Varun Dhawan's wedding has been affected because of the coronavirus. There were reports that the two will be tying the knot in May this year. But, it is said that their wedding plans have also been pushed forward.
The pandemic has led to the cancellation of various events, award functions, interviews and shooting schedules in India. To contain the spread of the novel coronavirus, film bodies in India decided to put shootings of films, TV shows and web series on hold till March 31.
Karan Johar's Dharma Productions suspended all of their administrative as well as production work due to the Coronavirus outbreak. Karan Johar and Rohit Shetty also postponed the release of their film Sooryavanshi. The movie stars Katrina Kaif, Akshay Kumar, Ajay Devgn and Ranveer Singh.