Tamil Actress Rekha Reveals Kamal Haasan's 'Unplanned Kiss'!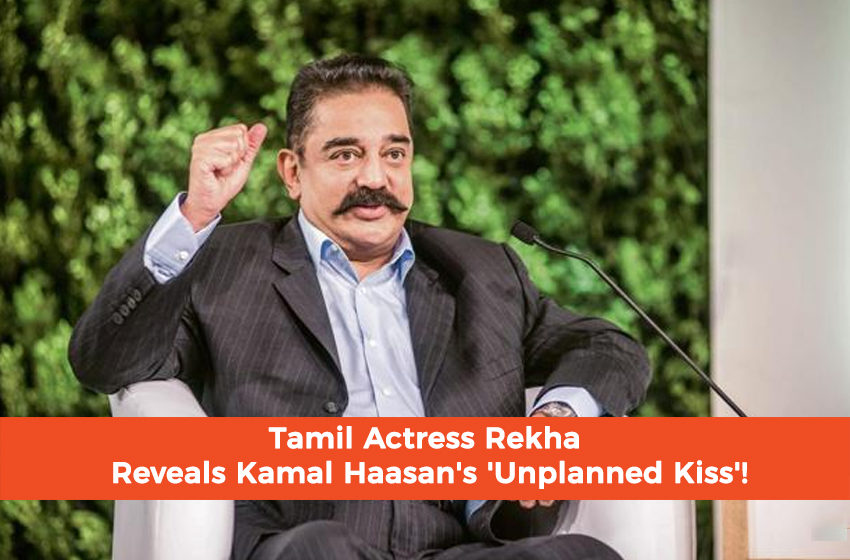 Celebrity news has always been a great source of entertainment for the masses as it allows to stay up-to-date on the new releases. However, recently, famous Tamil actress Rekha's unexpected revelations about Bollywood's Kamal Haasan has sparked a debate on a kiss. As per the details, the incident goes all the way back to 1986 when both actors appeared in a movie together called "Punnagai Mannan".
Tamil actress Rekha spills some beans on the 'unplanned kiss' with Kamal Haasan!
Apparently, it's not the first time an actor has accused a fellow actor of non-consensual activities while on set. According to official media reports, Rekha spilled the beans in a recent interview recalling the time when the movie was being shot. Accusing Kamal Haasan of knowing everything, Rekha revealed that the kiss that happened in "Punnagai Mannan" was without her consent.

Calling it an 'unplanned kiss', the actress said that she is now completely exhausted from answering people's questions. "I've said this a hundred times. They shot the scene without me knowing about it. People ask me the same question and I'm fed up with answering it", Rekha stated. As the movie was directed by (late) K Balachander, Rekha revealed that he inserted the kiss during the shoot.
"I was a very young girl and I didn't know about it!"
Unaware of the instant changes, the actress was just 16 years old at that time and innocently carried on with her scene. "The kiss didn't look ugly or aggressive on-screen. There was a need for it, but I was a very young girl and I didn't know about it. He [director K Balachander] said, 'Kamal, close your eyes! You remember what I told you, right?' and Kamal said that he did", she added.

"Then we had to jump when he said 1, 2, 3… we kissed and then jumped. It was only when I watched it in theatres that I realized it had such a huge impact", Rekha expressed. Further, the actress said, "They told me to think of it as a big king kissing a small child. They told me it wouldn't be passed by the censor board. I asked them what the censor board was".
"Only Kamal Haasan and the unit there can confirm!"
Moreover, Rekha revealed that only Kamal Haasan and the crew members can confirm her statement now. She maintained, "Only he [Kamal Haasan] and the unit there can confirm what I've said. K Balachander sir is no more. Only those who were there at the shoot know that the kiss happened without my consent".

Moving on, as the host asked about if any of the crew members ever apologized to Rekha about the incident, she seemed furious. "Why would they [crew] apologize? The film was a super hit. I got many films after that, too, with Ramarajan and Ilaiyaraaja, like 'Namma Ooru Pattukaran'. We were all so busy in those days, going from one schedule to another. Well, It's over now and I don't want to revisit it", the actress concluded.
Well, apart from Rekha's accusations, Kamal Haasan hasn't spoken on the matter till now.
What do you think of Rekha's allegations? Tell us in the comments section below!