Ranu Mondal Gets Trolled After Her Picture With Full Face Of Makeup Goes Viral!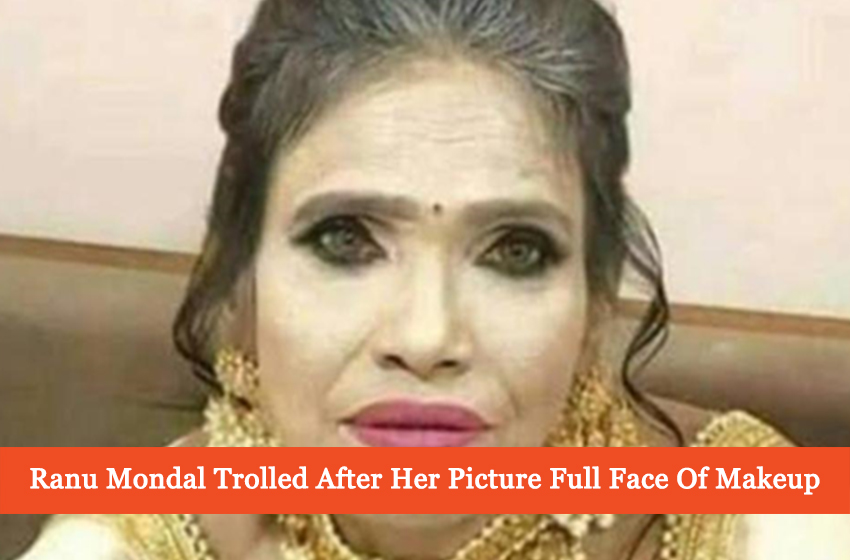 And the internet trolls have found a new target who was Ranu Mondal. In case you don't who she is, well, she's an Indian singer. She has a talented voice that was found by an engineer while visiting Ranaghat Railway Station, West Bengal.
Ranu Mondal Is Literally A Superstar!
Ranu was sound found singing with her soulful voice and begging at the station. She was heard singing a song of Great Lata Mangeshkar nearby at platform no. 6, Ranaghat Railway Station, West Bengal. And that is how Ranu became an internet sensation.
After Ranu was spotted singing, she received a call from a music reality show in Mumbai! And when she appeared in the show, Himesh Reshammiya, who was a judge, was truly impressed with her voice and even requested her to record for him! Guys, there's talent everywhere!!!
Read also: Sona Mohapatra Claps Back At Anu Malik's Response To Harassment Allegations!
And just recently, Ranu's picture went viral on social media over the weekend in which she was dressed in heavy jewelry and make-up. Obviously, it seemed like Ranu was dolled up for an event which is why she was captured in such a state.
Once it hit the internet, the people could not hold back their ill and disgraceful remarks. Yes, Ranu was made fun of for wearing exorbitant makeup and this is what Twitteratis had to say…
The comments were indeed very ruthless!
Pic 1: Clicked by iPhone 11

Pic 2: Clicked by Oppo/Vivo 😂🤣😉 pic.twitter.com/OZP8jDAUz8

— kamlesh Sirotha (@kamleshsirotha) November 19, 2019
People need to grow a heart!
If "sone jaisa rang hai tera" had a face.🤟🤦‍♀️🤷‍♀️#ranumandal #RanuMondal pic.twitter.com/R5HKQCBwuv

— Risha (@devrisha) November 16, 2019
Sad.
If "Dil pe patthar rakhke muh pe makeup jar liya" had a face.#ranumondal #RanuMandal pic.twitter.com/CubVSzGTZv

— Dabbu Sharma (@dabbu_78) November 17, 2019
Who are we to judge in the first place?
She is looking like Monkey is walking #RanuMandal #Monkey Walking 😂🤗🙉🙉 https://t.co/92ClQB7Tk8

— Karan Garg (@KaranGa66063268) November 19, 2019
I feel pity on the person who did this
#Whysoserious #RanuMandal #Joker pic.twitter.com/7Ndjb90l6n

— Ranting Shits !! (@WhoRantslikeMe) November 19, 2019
This just goes to show insensitive and ignorant we have become as humans. What people fail to realize is how every negative word that comes out of your mouth can deeply affect someone. Social media bullying has made people end their own lives.
But nevertheless, there were some kind-hearted people who showed all their love and support as well!
Indeed, where there is hate, there is love! Check this out!
Why is everyone makin fun of her, i think its great for her to at least do what she likes. Not like others who goes bitchin around. And yes she is a star now and she will behave like one. #RanuMandal #nostop #stardum she lookin perfect and good for her. pic.twitter.com/ly4F0ntGEy

— Manish Singh (@imackieee) November 18, 2019
Exactly.
Why focus on negativity! See how confidently she walked on stage a thing to appreciate!#BePositive #RanuMandal #ranu

— Drishti (@Drishti07517664) November 18, 2019
It's always easy to ignore all the good things in someone. But this is the reality. We tend to ignore all the positivity. But here's what's important and that would probably shut down her haters. Ranu Mondal shot to fame because she is super talented with a magical voice.
Today, it's Ranu Mondal. Tomorrow, it's going to be someone else which is pretty uncool. Troll, please have some heart and live and let live. Hurting the sentiments would lead you nowhere.
Let us know your views about this scenario in the comments below. Don't hesitate to voice your thoughts because we really appreciate your comments!