Netizens Are On Fire With Memes After India's Test Series Win In Australia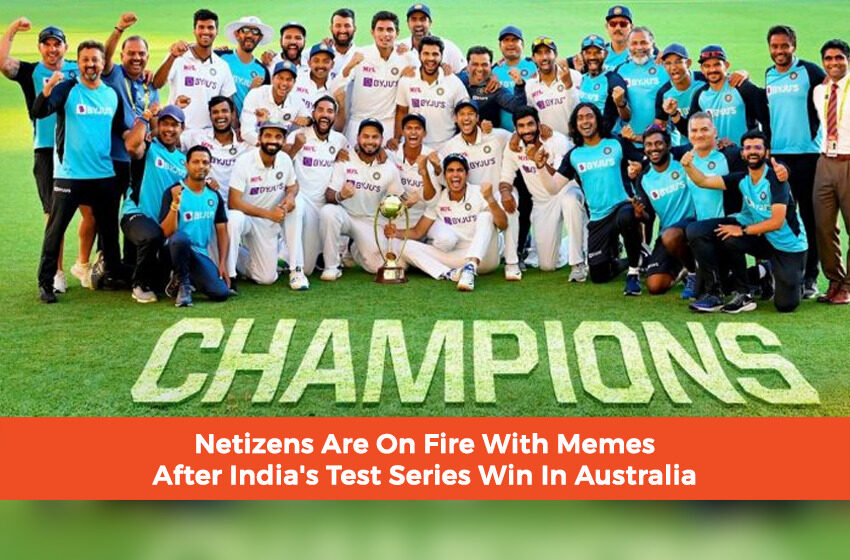 The Indian team recently pulled off a historic run-chase in a thrilling final session to give Australia their first ever defeat in Brisbane's Gabba ground since 1988. In doing so, India has clinched and win the four Test series 2-1 against Australia, and Twitter is on fire with memes. For the last 32 years, Australia was never beaten at the Gabba.
The last time Australia lost a test in Gabba was to Viv Richards West Indies side by nine wickets in November 1988. Gabba has now been captured as a fortress as #TeamIndia beat Australia. They have now won the Border-Gavaskar Series 2-1.
Rishab Pant's heroic match winning innings
The historic win by a highly inexperienced Indian team with several star players out owing to injury has now got everyone talking online. They have cheered for team India on social media. Brilliant performances from Shubman Gill and Cheteshwar Pujara have set up the win in the 4th Test. However, it was actually Rishabh Pant who saw India through with his unbeaten 85.
India's win over Australia has resulted in a flurry of congratulatory messages for Team India.  The mood of Indian citizens on social media has been celebratory. The series win has now led to a hilarious meme fest as fans across the world have expressed their happiness at the historic win by using various hashtags such as #TeamIndia and #IndiavsAus.
The incredible resilience that has been shown by this young and inexperienced Indian team was missing a plethora of first pick players. This was also talked about and also celebrated for a long time. India have won back to back Test series on Australian soil. They have won the 2018-19 series 2-1. Now they have won the 2020-21 series by the same margin.
India's win is very special because in the first test match, Australia's fast bowling shocked cricket fans all over the world. This was after bowling all out India for their lowest ever Test score of just 36 in the second innings of the Adelaide Test giving rise to memes.
Twitterati share hilarious memes on India's historic win against Australia
We will now take a look at some of the funniest memes of test series win of India vs Australia that have gone viral all across social media:
#AUSvINDtest *see full pic* pic.twitter.com/yqeZxwvMet

— HarAnuragBasuNahiHota (@Anu_rag_Singh_) January 19, 2021
Yesterday he was singing Spiderman Spiderman. Today he did a Spiderman ??.
Pant ?❤️#AUSvIND pic.twitter.com/YZF0Zvu0GP

— Circuit ? Expert (@Being_circuit) January 19, 2021
Live scenes from the Gabba#Pant #AUSvIND pic.twitter.com/3gI2ZgShsa

— Wasim Jaffer (@WasimJaffer14) January 19, 2021
This one was the best from @ICC
Last time #Australia lost a #GabbaTest..
Baby #ViratKohli was 16 days old ??
This win by #TeamIndia is indeed EPIC pic.twitter.com/4jSbuNkFRQ

— Akash Banerjee (@TheDeshBhakt) January 19, 2021
A series of events #INDvsAUS pic.twitter.com/k2wSoM6wEp

— Devdas Mukherjee (@DseDevdas) January 19, 2021
What do you think of this story? Let us know in the comments section below!