Twitter Flooded With 36 all out Memes After India Bowled Out For 36 Vs Australia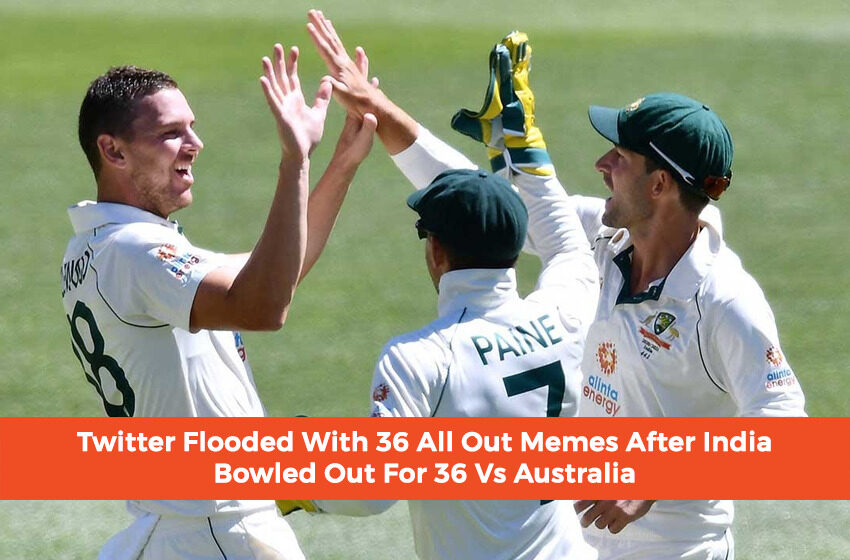 Australia's fast bowling has shocked cricket fans all over the world after bowling all out India for their lowest ever Test score of just 36 in the second innings of the Adelaide Test giving rise to memes.
It is appalling to see that Virat Kohli's 'mighty' batting line up gave the most shocking display ever in the history of Indian test cricket. The entire India batting line up was destroyed by Australia's ruthless pace attack.
The men in blue were 36 for 9 and with Mohammad Shami retired hurt, India registered their lowest ever Test score. Australia only had to chase a target of 90 in the second inning. The hosts wasted no time and cruised to an emphatic eight-wicket victory inside two and half days in the opening Day/Night Test in Adelaide on Saturday.
A dramatic turnaround on day three!

Australia win by 8️⃣ wickets in Adelaide to take a 1-0 lead in the series ?

Can you describe their performance in one word?#AUSvIND ? https://t.co/Q10dx0r4nX pic.twitter.com/uGMS0InEHm

— ICC (@ICC) December 19, 2020
India's batting collapse is indeed tragic for cricket fans. What makes the defeat more embarrassing is that India were actually leading the match by 53 runs at the end of Day 2. However, India witnessed an unexpected collapse in the hourly overs of Day 3. After Virat Kohli's dismissal, India was reduced to 19 for 6. India lost 9 wickets on day three for just 27 runs.
Australia have now taken a 1-0 lead in the 4-match Test series. Josh Hazlewood picked up 5 wickets for 8 runs while Pat Cummins picked up four wickets for 21 runs.
Former cricketers and fans flood Twitter with reactions to India's horrible batting collapse
The dismal performance by India's batting line-up is indeed shocking for cricket fans all across the world. Many fans have taken this defeat lightly and consider it as a part of the game.
Few former cricketers and fans shared hilarious memes and congratulated the Australian team.
Former Pakistan pacer Shoaib Akhtar was shocked by the batting collapse. Sharing his views on India's batting on Twitter, Akhtar described the performance as "terrible" and "embarrassing."
"I woke up and saw the score 369. I couldn't believe it. Then I washed my eyes and saw the score 36/9. I couldn't believe it either & went back to sleep," wrote the former fast bowler on social media.
— Shoaib Akhtar (@shoaib100mph) December 19, 2020
Former Pakistani captain Wasim Akram also took to Twitter to praise Australian pacers for destroying Indian batting.
Wait what happened? I just went to play 9 holes came back game over . What a spell by The Australians . Pace matters. #INDvsAUSTest

— Wasim Akram (@wasimakramlive) December 19, 2020
Virender Sehwag and Wasim Jaffar had this to say:
The OTP to forget this is 49204084041 .#INDvsAUSTest

— Virender Sehwag (@virendersehwag) December 19, 2020
#AUSvIND #INDvAUS pic.twitter.com/li5FnPgYEZ

— Wasim Jaffer (@WasimJaffer14) December 19, 2020
Other Indian fans had this to say on India's dismal defeat.
India's 2nd innings pic.twitter.com/z535CGnS06

— Pᴀᴛʜᴇʏ ☕ (@paa_they) December 19, 2020
#INDvsAUSTest
Indian batsmen to aus bowlers in 2nd innings : pic.twitter.com/TQlXai3W7Y

— Muskurahat ?? (@__Muskurahat__) December 19, 2020
A fan shared one of the hilarious memes of Virat Kohli with Anushka Sharma for India being 36 all out.
#INDvsAUSTest @RickyPonting : Woke up my boy?@shoaib100mph : 369? 36/9?@AnushkaSharma: ?@imVkohli : ? ?@BCCI ? pic.twitter.com/aMWvl8fIDi

— Eftahaj Tamim° (@eftahaj_tamim) December 19, 2020
The second Test between India and Australia will now be held from December 26 to 30 in Melbourne.
As for the third and fourth Test, they will be held in Sydney and Gabba on January 7th and 15th respectively.
What do you think of this story? Let us know in the comments section below!