Kartik Aaryan Relishes Moments With Mother & 'Maa Key Hath Ka Khana'!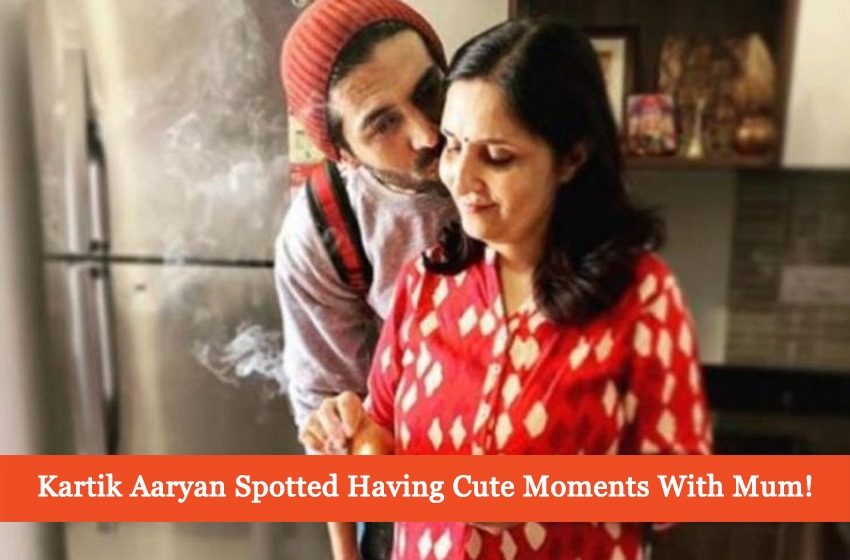 Kartik Aaryan is the golden boy of Bollywood with back to back hit movies; including his recent success in 'Pati Patni Aur Woh'. It is safe to say that Kartik has the magic touch. Apart from being a successful Bollywood actor, he is also his mama's boy. These famed celebrities are regular people at the root with their parents being the center of their lives. Kartik is no different.

Kartik shared a small video of a private moment with his mother at the dinner table.
The food 'thaali' in between him and his mother, Kartik shared the beautiful moment on his Instagram stories. Being a star demands separation from family and friends for an extended period of time; with Kartik's recent hit project Pati Patni Aur Woh, he must have missed his mother's cooking. In the video, a content Kartik can be seen relishing in 'maan key hath ka khana'. 
Kartik featuring his mother and a delicious looking thaali. 

His mother's shyness is adorable. 

#Maakehaathkakhana with adorable captions.
The actor captions the snaps "#ChintyTyagi ke Maan ki hasi bhi sun lo" following with "Literally happy when i come home on time".
This is a perfect insight into the busy life of Kartik. Sometimes these celebrities haven't even met their families in days and months because of their shoots and promotions. So this moment with his mother must be a treasured and much-needed quality time. Further, a mother's comfort is irreplaceable. So, having her by your side after a tough day is a blessing, often taken for granted.
Kartik's recent release turned out to be the biggest opener for the actor; since Pati Patni Aur Woh collected a whopping Rs 9.10 Crore on its opening day alone. Considering the movie came along the same time as Panipat, another mega-project, Kartik's film performed exceptionally well.

Moreover, this national-crush of Indian ladies also achieved another milestone pertaining to Instagram. Kartik became the first Bollywood actor to have his own Instagram filter; not even the King of Bollywood received that honor. Truly, this lad is on to bigger things next year.
Real-life romance and next projects.
Kartik Aaryn much like any celebrity has many rumors regarding his love life; however, nothing has been confirmed by the actor himself. He did, however, dated Sara Ali Khan briefly until they parted. As for marriage, who knows when that happens for him. Guess we will have to wait for the reveal, whenever that is.
As for his next project; He is appearing in Collin D'Cunha's Dostana 2, alongside Jhanvi Kapoor and Lakshya. Dostana 2 is the sequel of the original Dostana movie that starred Priyanka Chopra, John Abraham, and Abhishek Bachchan. Moreover, he is also to come in Bhool Bhulaiyaa 2 and in Aaj Kal with Sara Ali Khan.
Kartik is the hottest actor in demand, not just in terms of his looks and success but his actual talent. He has many projects lined to dominate and many hit songs to be in, like 'Ankhiyon Sey Goli Maray'. We wish him the best!
Have anything to add to the story? Comment below!