India VS West Indies 2019 – Virat Kohli And Team Landed In Chennai!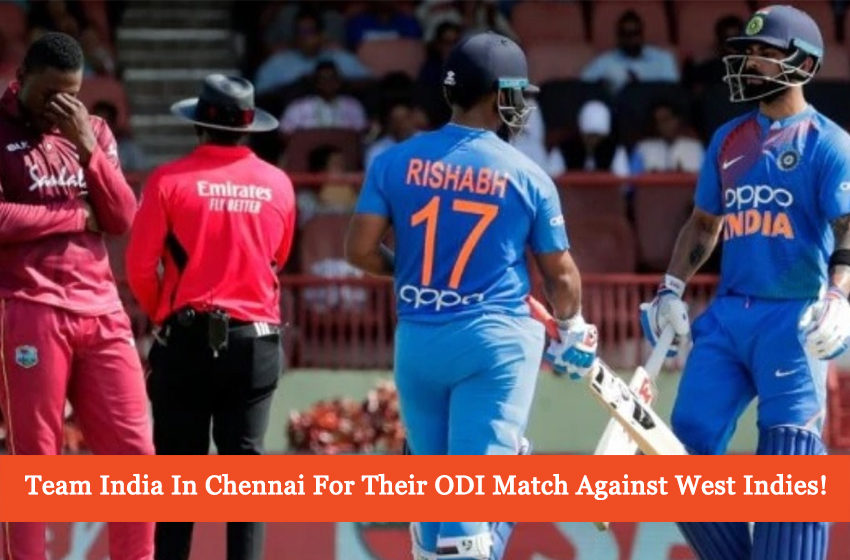 Over the years, the Indian cricket team has proved it's worth by the exceptional skills and strength, the men in blue own. Under Virat Kohli's mindful captaincy, the recently ended T20 battle against West Indies turned out to be another nail-biting achievement. Currently, the Indian cricket team has landed in Chennai ahead of the first India VS West Indies 2019  One Day International (ODI) match against West Indies.
Virat Kohli and squad touched down in Chennai ahead of their first ODI match against West Indies!
There's no doubt that the 'King' Virat Kohli is an outstanding athlete and his consistent performance can't be judged. Previously, the skillful wrists and powerful fan base even made Virat Kohli the most searched cricketer in Pakistan. After sweeping the Windies in the T20 series in Mumbai, on Thursday, the Indian cricket team reached Chennai for their first 2019 ODI battle against West Indies.
Check out what Virat Kohli posted!
Touchdown Chennai 🤙 @imkuldeep18 @imjadeja pic.twitter.com/uWDyrCIi7I

— Virat Kohli (@imVkohli) December 12, 2019
Apparently, the thrill and excitement are real as the Indian captain Virat Kohli shared the 'touchdown' picture on his official Twitter. Along with a picture with the talented Ravindra Jadeja and Kuldeep Yadav, Kohli captioned "Touchdown Chennai". The previous spectacular T20 performance against West Indies in Wankhade Stadium, skipper Virat Kohli is now ranked in the top 10 ICC T20I rankings.
Cricket fans all excited about the ODI battle!
Stunning the world with the skipping 71 runs on 29 balls in the T20 decider match, King Kohli became the man of the series. With good things and only good things to say, Indian cricket fans and admirers were all proud of the captain. However, the recently tweeted picture by Virat Kohli has already started gathering praises and well wishes for their next series.
It can't be more accurate than this!
Me while watching u bat pic.twitter.com/FYPpvGnnR3

— King kohli⚔️ (@KingkohliEra) December 12, 2019
Well, anything can be expected from Virat Kohli!
44th ODI Hundred Loading…..

— Nishant Chaudhary (@Iamnchaudhary18) December 12, 2019
And this fan shared the picture of his entry pass to the first game!
Waiting… ✌️😎 pic.twitter.com/WWI83hy9n1

— Mahesh (@mee__mahe) December 12, 2019
Next century in the making?
Go hard king
We want another milestone in next game
Get century in every match😍❤❤❤

— Mraaz (@Mraaz7322) December 12, 2019
Woah! This looks like some die-hard fan stuff!
PASSION, COMMITMENT, RESILIENCE, Incredible MENTAL STRENGTH,unbelievable INTENSITY in every match SIR VIRAT KOHLI plays is INSPIRING, beyond human capabilities & UNMATCHABLE👑🇮🇳
People who watch sports like a VIDEO-GAME, they will not understand this MIRACLE & GENIUS @imVkohli pic.twitter.com/O4S9jSIqMu

— Np (@Np96006450) December 12, 2019
Well, the enthusiasm level of cricket crazies seems really high to see their favorite team play and cheer for them. According to Indian media reports, the India VS West Indies ODI battle is scheduled at M.A. Chidambaram Stadium in Chennai. Officially, the two teams will play the initiating match on the coming Sunday dated 15th December 2019.
Certainly, the exceptional West Indies knock out scoring 2 to 1 in the last ended T20 series gathered global praises. After the amazing victory, Virat Kohli has entered the T20 'top 10' club of the International Cricket Council (ICC). However, for now, cricket fans are all hyped for Sunday as the Chidambaram Stadium will cheer for the favorite one.
Are you excited for the ODI match? Let us know in the comments section below!