India Bans PUBG Mobile And 118 Other Chinese Applications!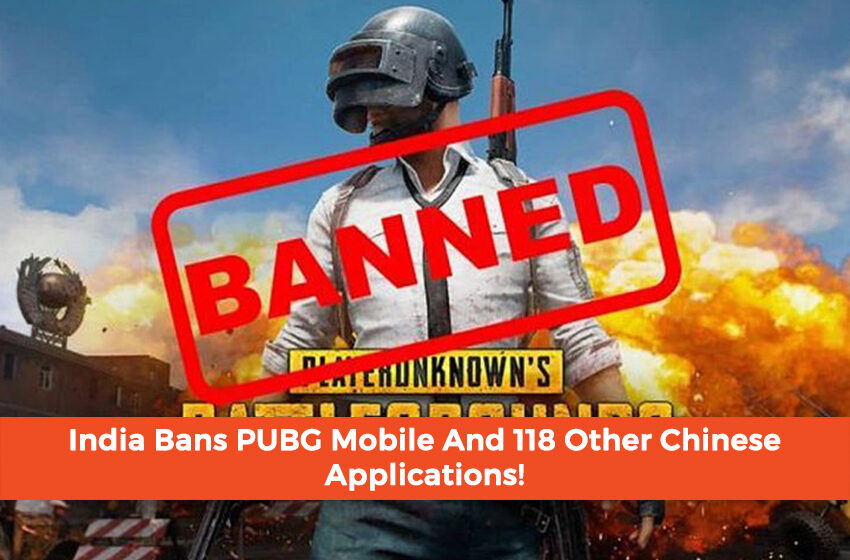 On Wednesday, India announced a ban on PUBG Mobile and various other 118 Chinese applications. PUBG mobile is a widely popular online multiplayer shooting game. The ban was imposed amid tension over fresh Chinese provocation in Ladakh. The move is in the interest of India's sovereignty and integrity, defense and security, the government said in a statement.
Earlier in June 2020, India banned TikTok and 58 other Chinese apps after a border clash between troops in both countries left nearly 20 Indian soldiers dead this month. These applications range from gaming to music streaming and social media. The Tik Tok ban in India has caused a stir across the world.
The ministry said it had received many complaints about the misuse of some mobile apps on Android and iOS platforms for stealing and surreptitiously transmitting user data to servers outside India. The home ministry's cybercrime center had also recommended blocking these "malicious apps", the government said.
The statement referred to bipartisan concerns flagged in parliament and outside and a strong chorus to take strict action against Apps that harm India's sovereignty as well as the privacy of our citizens. The other Apps blocked include games, online payment services, dating sites and software to edit selfies.
Chinese apps a threat to national security, says Indian IT ministry
The IT ministry of India stated the reason for the ban. The statement by the IT ministry said: "The Apps engage users in harmful activities. They are prejudicial to sovereignty, integrity and defense of India, security of state and public order. This decision is a targeted move to ensure safety, security and sovereignty of Indian cyberspace."
The IT ministry further added: "The compilation of these data, its mining and profiling by elements hostile to national security and defense of India, which ultimately impinges upon the sovereignty and integrity of India, is a matter of very deep and immediate concern which requires emergency measures. The move would safeguard the interests of crores of Indian mobile and internet users."
From a gaming perspective, PUBG Mobile ranks among the world's top five smartphone games. It has more than 734 million downloads. According to NDTV, there are close to 50 million active PUBG players in India. PUBG features a Hunger Games-style competition in which 100 players face off with automatic weapons until there is only one left. Tencent introduced a stripped-down mobile version, which had the game skyrocketing, especially in the time of the coronavirus lockdown.
Indian Netizens react to PUBG ban
The ban on PUBG in India was shocking for Indian citizens who loved this game. However, most of the Indian social media users took the ban lightly and posed several hilarious memes.
Below are some of the hilarious tweets:
After pubg mobile ban in india!!!!

Pubg players right now… pic.twitter.com/eqps3K6g2C

— I'm DAH DUDE (@ImDAHDU14751853) September 2, 2020
#pubgbanindia After 1week ??? pic.twitter.com/wln73foTAi

— K A V I (@KAVI56441748) September 3, 2020
Government ban pubg in india ?? pic.twitter.com/pbT7SB4Qwv

— Mayankjain (@Mayankj_a_i_n) September 2, 2020
After #pubgbanindia
Twitter #Hacked pic.twitter.com/Ufyuf7ks0A

— #PUBG wala (@OTTGuruJi) September 3, 2020
#PUBG
Govt planning to ban PUBG mobile in India
meanwhile gamers to Govt: pic.twitter.com/VgxWrMDnss

— Raj Goswami (@RajGosw76650584) September 2, 2020
*After the ban on PUBG Mobile in India*
New PUBG Streamers be like:- pic.twitter.com/3s1qdaHVST

— BoyWithNoJob (@LakshayGrover14) September 2, 2020
What do you think of this story? Let us know in the comments section below!