Doctor Returns Home To Emotional Welcome After 20 Days Of Duty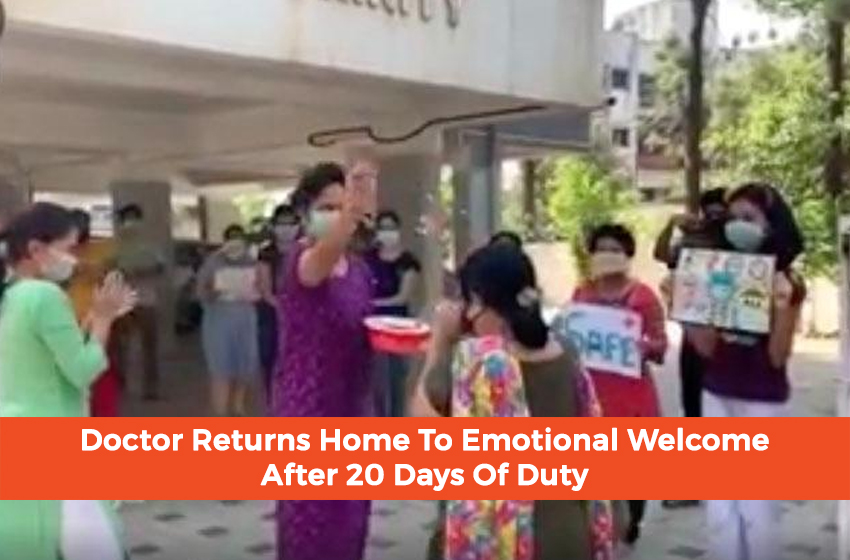 An Indian lady doctor treating coronavirus patients returned home to an emotional welcome after 20 days of duty in the ICU department of a hospital. On 30th April, a heartwarming video of the anonymous doctor went viral on Twitter after PM Modi retweeted the video. He also thanked all the frontline workers.
The post was originally shared by an Indian twitter user named Deepak Malhotra. He shared the clip on his Twitter account and wrote: "This lady doctor is working in a ICU Dept. in a hospital where COVID-19 patients were treated. She came home after 20 days of non-stop service. Her family and society members welcomed her."
This Lady Doctor is Working in a ICU Dept. in a Hospital Where Covid-19 Patients were treated.
She Came Home After 20 Days of Non-Stop Service.
Her Family & Society Members Welcomed Her.#HeartTouching#kind20#CoronaWarriors #IndiaFightsCoronavirus @TajinderBagga @arunsoodbjp pic.twitter.com/m9QMfl0mmI

— Deepak Malhotra (@deepak_bjp) April 30, 2020
The clip by Deepak Malhotra went viral. As a result, PM Modi also shared the emotional clip on his personal Twitter account. He wrote: "Moments like this fill the heart with happiness. This is the spirit of India. We will courageously fight Covid-19. We will remain eternally proud of those working on the frontline."
Moments like this fill the heart with happiness.

This is the spirit of India.

We will courageously fight COVID-19.

We will remain eternally proud of those working on the frontline. https://t.co/5amb5nkikS

— Narendra Modi (@narendramodi) April 30, 2020
Indian Union Railway Minister Piyush Goyal also shared the clip on his Twitter account. He called it a "fitting welcome for a corona warrior."
A fitting welcome for a Corona Warrior pic.twitter.com/zx3vrE8vRd

— Piyush Goyal (@PiyushGoyal) April 30, 2020
Indian Netizens adore the gesture
According to sources, the doctor returned home after 20 days of continuous service. Upon her return, her colony neighbors and family members had sprinkled flowers on her. The video also showed children holding handmade posters with welcoming messages as the doctor tears up because of the gesture.
Indian netizens loved the gesture and shared it on their individual social media accounts. Most of them agreed that it was the right way to treat frontline workers in the country, amid the COVID-19 outbreak.
How sweet ! So glad to see this welcome activity ! This is called as Indian culture ! We are so proud of Doctors who are serving the patients with endless sacrifice with their life !

— SHIVRAM VAIDYA (@SHIVRAMVAIDYA) April 30, 2020
This is highest level of commitment and dedication to public duty. My salute to this lady doctor!!!

— Subodh Yadav IAS (@subodhyadav111) May 1, 2020
— Rajesh Chandra ?? (@Rajeshrishikesh) April 30, 2020
It is evident that most of the Indian Netizens have thanked the lady doctor for her service and her family gave her an emotional welcome too after she came back from duty. Most of them state that frontline workers deserve appreciation.
Modi extends lockdown
The government of India has extended its 40-day lockdown that was due to end on 3 May by another two weeks. It will be the third extension since PM announced a total lockdown in India on 25th March to combat Covid-19.
Following the Modi's announcement, India has been under total lockdown. Indian government took the step to prevent the spread of Covid-19 across the country. However, the extension beyond the 4 May would allow for some economic activity and movement of individuals according to zones.
The green zones, where there are no positive cases nor a confirmed case in the last 21 days, will resume all activity but with caution.
The red zones are those that have active COVID-19 cases. These zones take into account the increase in the rate of infection, surveillance, extent of testing, and feedback from health workers.
The orange zones are those zones that are neither red or green. Here, some restrictions will remain in place with most economic activity permitted. Nearly 572 million citizens, ie. 44% of the country's population, fall in this category.
What do you think of this story? Let us know in the comments section below!