India's Netizens Find Creative Ways To Deal With 21 Days Lockdown!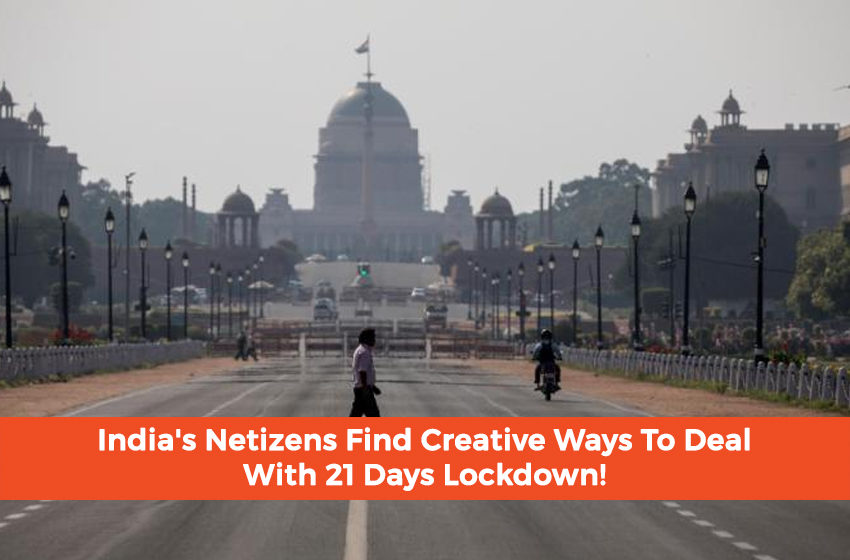 On Tuesday, Prime Minister Narendra Modi announced a total lockdown in India to combat Covid-19. While some netizens have been on the look out to find innovative ways to deal with self-isolation, some others took to Twitter for sharing jokes and Coronavirus lockdown memes.
Indians appreciate Modi's decision
Following the announcement made by PM Modi, India is under total lockdown for the next 21 days. This crucial step has been taken by the Indian government for preventing the spread of Covid-19 across the country.
[adinserter="3″]
In his second address to the country in a week, Modi said "In the view of the current situation, the nationwide complete lockdown will be in place for 21 days."
PM Modi also issued an appeal to the Indian citizens to avoid panic buying and not to crowd markets to stock up before the midnight deadline. The Indian government also issued a notification. It stated that all essential services would remain open. Moreover, all medicines and essential commodities would be available.
Banks, hospitals, ATMs, petrol pumps and grocery shops will also continue to function. However, all transport services, including air, rail and roadways, would be suspended until April 14.
The announcement of having a complete lockdown did concern individuals regarding the supply of essential commodities. However, many found solace on social media. Indian netizens took to Twitter to share their reactions on the lockdown with #21daylockdown trending on social media.
[adinserter="5″]
The Netizens were scene documenting their lives at home on TikTok to sharing the 'realities of work from home'.
Here are some memes on how people are responding to the Coronavirus lockdown :
21 DAYS KA LOCKDOWN.

Bigg Boss participants: pic.twitter.com/hUz9ALfie3

— Gabbbar (@GabbbarSingh) March 24, 2020
Country going to be lockdown for 21 days 😷😷

Le Lakshmi Chit fund Agent 😂 pic.twitter.com/AA0kchudY6

— Shail_887 (@maukaterian) March 24, 2020
Modiji : India will be complete lockdown for next 21 days..!!
Le Medicos* Who staying at home :#CurfewInIndia #memerdoc 😂 pic.twitter.com/Mr3Jn9jfaX

— memerdoc_ (@memerdoc) March 24, 2020
Whole country in lockdown for
21 days
Le siblings for 21 days* pic.twitter.com/aAofZUZoi5

— ला_quarantine (@Dr_AntiGod) March 24, 2020
Strict implementation of Coronavirus lockdown
Lockdown measures already in force throughout the country were strictly implemented on Tuesday.
The 100-day-old protest site at Shaheen Bagh was also cleared by the local police in Delhi after strict instructions to enforce the lockdown were issued by the government.
Modi did admit that these are certainly tough times for the unprivileged individuals. He also said that 21 days was a long time. However, the coronavirus "spreads like fire". The PM also cited the data issued by World Health Organisation (WHO) on the accelerating pace with which COVID-19 can spread. As per WHO's report, it took 67 days to reach 100,000 infections, 11days to reach 200,000 but just four days to hit 300,000.
The Indian PM also said that even developed nations failed to slow down the spread of the virus.
The only glimmer of hope was to follow the example of some countries that were able to slow down the spread by strictly implementing a lockdown.
[adinserter="10″]
Did you find this information useful? Let us know in the comments section below!
Facebook Notice for EU! You need to login to view and post FB Comments!