Deepika, Sara And Other Bollywood Stars Interrogated In Drugs Case
The death of Bollywood star Sushant Singh Rajput has led the Narcotics Control Bureau to investigate regarding the drug abuse allegations case in which names of actresses such as Sara Ali Khan, Rakul Preet Singh and Deepika Padukone has come up due to which their Mobile phones have been seized by the Narcotics Control Bureau.
Deepika Padukone, along with Sara Ali Khan and Shraddha Kapoor were summoned by the Narcotics Control Bureau (NCB) in Mumbai for the drug case. In the investigation, they were questioned for six hours regarding the drug abuse allegations made on her.
NCB didn't found any contrabands. As a result, they have primarily relied upon the recovered chat messages. For this purpose mobile phones of fashion designer Simone Khambatta and talent manager Jaya Saha have been seized. The devices have also been sent for forensic examination.
Does Deepika Padukone Take Drugs?
The NCB's Special Investigation Team has set up a base at the Evelyn Guest House. It is situated in Mumbai's Colaba area. The team questioned Deepika Padukone regarding her involvement in the drug abuse case. The NCB had said the actress was the group admin where they discussed drugs. Karishma Prakash (her manager) and Jaya Saha were also members of the group. NCB also interrogated Jaya Saha, Rajput's former manager, a week ago.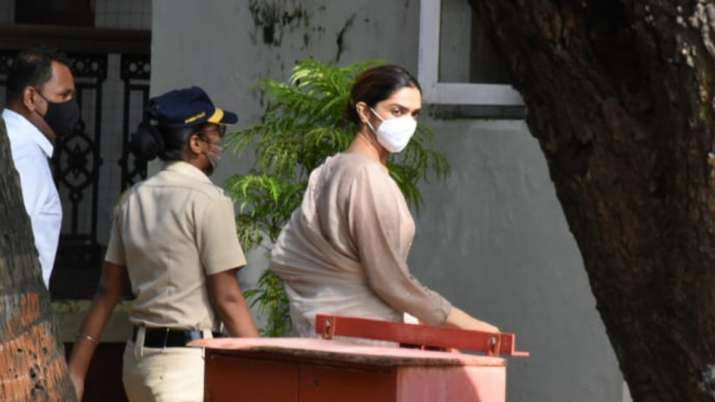 According to the reports, Deepika Padukone would also be asked about the 2017 party in the drug case. It took place at the Koko club which other Bollywood celebs also attended. As well as about the drug chats on WhatsApp in which the discussions of selling and buying of drugs took place. This does illustrate how common drugs in Bollywood parties have become.
Sara Ali Khan and Shraddha Kapoor were also called for questioning by the NCB. The NCB wanted to probe them regarding their involvement in the drug abuse case. The actresses had to report to the investigation team at the NCB's Ballard Estate office.
NCB also arrested former Dharmatic Entertainment executive producer Kshitij Prasad. Senior NCB officials claimed that Prasad, an Executive Producer at Dharmatic Entertainment – a sister concern of Karan Johar's Dharma Productions, was in touch with major drug peddlers in Mumbai.
"Statements of four people were recorded today. I cannot comment on what they said. Their statements will be submitted to the court." said an NCB official. The official said that the agency will now review the arrests and seizures it has made before deciding who to question next.
The official further added: "The actresses have denied taking drugs. We may serve them a summons for further questioning if we find new evidence. Their questioning is over for now. Some of the drug peddlers have already been arrested while the others are yet to be caught. Prasad has told us that he used to procure drugs for his own consumption. We are investigating whether he also used to supply those drugs to others."
NCB aiming to catch drug peddlers
Three months after the demise of Sushant, the investigation regarding Bollywood actors' involvement in the drugs abuse started with Rhea Chakraborty' questioning. This investigation also involved multiple agencies. This has rapidly grabbed the public's attention and has been taking unexpected twists and turns on regular basis.
According to some sources in the NCB, the primary aim of summoning the Bollywood superstars is to understand the supply chain network of drugs because the Bollywood actors are allegedly amongst the key customers of the drug suppliers. Moreover, the NCB's aim is to go after the larger drug cartels. They don't want to just catch the individual consumers. The police are of the view that this will help them to curb the drug abuse in the country.
Drug addict Indian actors
It is evident that drugs in Bollywood is quite common. Many famous celebrities in the past have either been caught with or confessed to consuming drugs. Veteran actor Sanjay Dutt has been quite vocal regarding his drug addiction when he was very young. The 61-year-old had revealed he woke up one day and was told by his servant that he had been asleep for two days. It was due to the high amount of drugs he had consumed.
Sanjay said: "I went to Sunil Dutt, my father, at seven in the morning, told him that I need help, I am a drug addict. I was a lucky man that my father took me to the US where I stayed in a drug cure center for two years… I made a promise to myself that neither will I do drugs and nor will encourage its use." His biopic Sanju (2018) that was directed by Rajkumar Hirani too recreated his addiction days.
Vijay Raaz is another actor who was reportedly detained in UAE in 2005 for possessing narcotic drugs, according to a report by an Indian news channel. He had gone there to shoot a film. Other famous Bollywood celebs drug addicts include Fardeen Khan, Rahul Mahajan and Parveen Babi.
What do you think of this story? Let us know in the comments section below!