Sushant Singh Rajput's Demise Raises Mental Health Issues in Bollywood!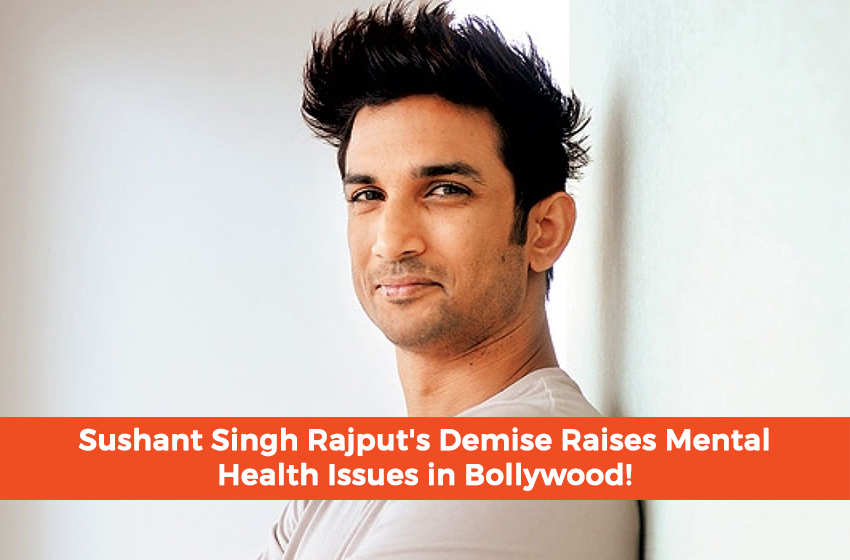 The demise of Bollywood actor Sushant Singh Rajput on Sunday by suicide has sent shock waves across Bollywood.  Sushant was known for his films like Kai Po Che!, MS Dhoni: The Untold Story and Chhichhore. Sushant, 34, was found hanging at his Bandra home. Soon after the news of the demise of the actor started circulating, several celebrities from the film fraternity had requested people to be more empathetic, sensitive and available to their close ones who might be silently suffering.
The news of Sushant's death came after his former manager Disha Salian had died in Mumbai. He had posted a heartfelt note after her death. Sushant had stated: "It's such devastating news. My deepest condolences to Disha's family and friends. May your soul rest in peace."
Sushant's ex-girlfriend and co-star Ankita Lokhande had expressed shock over the news of Sushant Singh Rajput demise. Ankita Lokhande had worked with Sushant in Zee TV's show Pavitra Rishta and they also dated each other for a few years.
Just a week before his death, Sushant had posted a highly-evocative post on Instagram that invoked his mother's memories. In an emotional note, Sushant remembered his mother who had passed away in 2002. His post with the hashtag Mother in Hindi, read: "Blurred past evaporating from teardrops /Unending dreams carving an arc of smile/And a fleeting life,/ negotiating between the two".
Bollywood celebrities express their grief on the demise of  Sushant Singh Rajput
Sushant's battle with depression for the last six months has resulted in the media putting spotlight on the significance of mental health care. Various Bollywood celebrities through their social media accounts have emphasized on supporting those facing troubled times.
Veteran actor Anil Kapoor shared his thoughts on twitter regarding Sushant Singh Rajput demise.
— Anil Kapoor (@AnilKapoor) June 14, 2020
Director Karan Johar was also devastated with Sushant Singh Rajput death. He shared his views regarding the death of Sushant Singh Rajput on his Instagram account.
Actress Richa Chaddha also expressed and remembered Sushant Singh Rajput by sharing a picture taken with him on her Instagram account.
Celebrities are prone to mental health issues
The demise of Sushant Singh Rajput has also stirred up the conversation regarding the pressure that comes up with being a celebrity. The Kedarnath actor has now joined the long list of celebrities who gave into depression. In December 2019, TV actor-model Kushal Punjabi died by committing suicide at his home. Other artists such as Pratyusha Banerjee, VJ-model Nafisa Joseph, actor-model Kuljeet Randhawa, Bollywood actress Jiah Khan, actor Kunal Singh, and recently TV actors Manmeet Grewal and Preksha Mehta have also succumbed to the stress of not being able to maintain a work-life balance.
Depression is a disease that devastates an individual from the inside. This is also evident from the death of Sushant Singh Rajput. Within the entertainment industry, actors are always under a lot of pressure to perform. This is required not only on-screen but off-screen too by making right friends, being in news in the right manner and being in touch with the right people. As a result, there is a need to create a healthy atmosphere for people in the industry to talk about what's troubling them.
What do you think of this story? Let us know in the comments section below!