Alia Bhatt Reacts To Her Inclusion In Jawan Trailer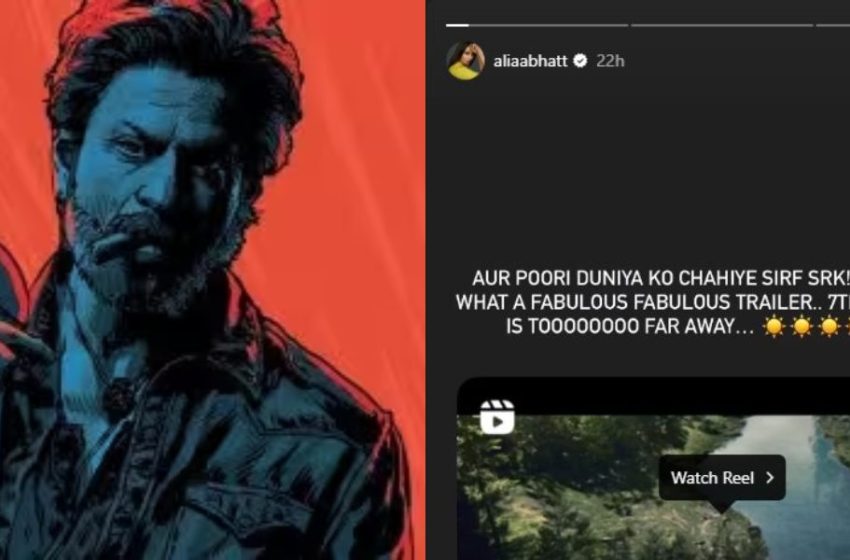 Alia Bhatt, a diva in Bollywood, has broken her silence on the cheeky comment she made in the trailer for Shahrukh Khan's next film "Jawan."
For those who are unaware, the official trailer for Jaan, which was released on Thursday, depicts Shahrukh Khan's character, Jaan, kidnapping a subway and demanding Alia Bhatt as his ransom. When Nayanthara, the officer in charge of the police station, questioned him, "Tumhe chahiye kya? Khan cheekily answered, "Chahiye toh Alia Bhatt (I want Alia Bhatt)," in response to the question, "What do you want?"
Alia Bhatt Reacts To Jawan Trailer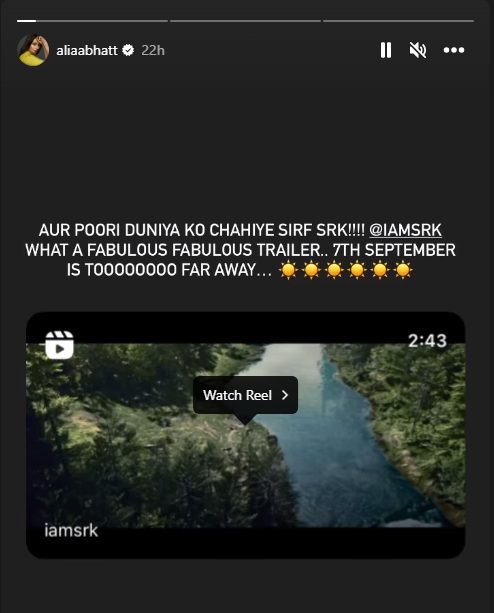 Taking to her Instagram stories later in the evening, Alia Bhatt reacted to her 'Dear Zindagi' co-star's remark with the same and said, "Aur poori duniya ko chahiye sirf SRK (and the whole world wants only SRK)!!!!!" It's me, IAMSRK! What an absolutely stunning teaser! The seventh of September seems like such a lifetime away…"
It is important to point out that the trailer for the Hindi version has racked up more than 23 million views in fewer than 24 hours and is presently trending on the video platform YouTube.
In addition to cameos by Sanjay Dutt, Deepika Padukone, and Thalapathy Vijay, 'Jawan' is the inaugural collaboration between the megastar and the South filmmaking genius Atlee Kumar, as well as celebrities Vijay Sethupathi and Nayanthara.
The suspense film will be released in theaters on September 7 in three different languages, including Hindi, Tamil, and Telugu. Red Chillies Entertainment, the production company that Khan and his wife Gauri own and operate, will be funding the film's development.
See More: Alia Bhatt Is Set To Become First Female To Star In YRF Spy Universe
What do you think of the story? Tell us in the comments section below.