Udit Narayan Wants Aditya & Neha's Wedding Drama To Become A Reality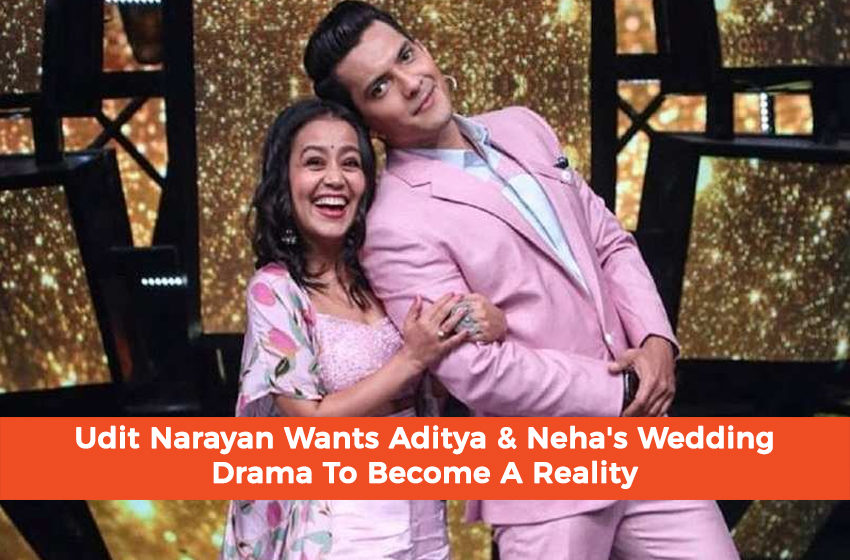 Celebrity gossips and news have always got everyone's heart pounding faster and the excitement just keeps everyone drooling. Similar is the recent story of famous Bollywood singers Aditya Narayan and Neha Kakkar's 'wedding drama' escalating quickly. On last valentine's day, Aditya Narayan and Neha Kakkar played a prank on the set of Indian Idol 11 which spread online like wildfire.
Udit Narayan's reveals his desire for Aditya Narayan and Neha Kakkar's marriage!
Ended this week, the eleventh edition of Indian Idol was an incredible one with exceptional talent from every corner of India. However, in an earlier episode aired on 14th February, singer Aditya Narayan and Neha Kakkar tried to enhance the romance. Eventually, Aditya Narayan and Neha Kakkar's 'wedding drama' has made Udit Narayan think seriously about the marriage.

Also read: Deepika Padukone 'Unintentionally' Confirmed Alia & Ranbir's Wedding!
Indeed, the prank pulled off by the singers seemed real which even gave high hopes to the fans all set to enjoy the wedding. But, the drama turning out to be gimmick made many dishearted as they were eager to see their favorite singers together. Well, this week, Aditya's father and also a singer Udit Narayan hopped onto the wedding bandwagon with hopes attached to it.
The prank that went too far!
In a recent interview with a local entertainment site, Udit Narayan spilled some beans on the joke pulled off by his son. According to official media reports, the veteran singer revealed his fondness with singer Neha Kakkar. Further, Udit Narayan stated that since the prank, he has been teasing his son Aditya with Neha's name and that he wants the two to get married.

Praising the singer, Udit Narayan said that Neha Kakkar is a brilliant singer drastically making her way to the top. However, it seems like the veteran singer won't be wearing 'sherwani' for his son's marriage anytime soon as he's not ready yet. As per the gathered details, Aditya Narayan doesn't want to engage in such life-long commitments as he's only focusing on his career.
#NehAditya trending online!
Previously, after their marriage rumors and hashtag #NehAditya started going viral online, Neha Kakkar cleared the air. On the matter, the singer revealed that there is no romantic relationship between her and Aditya Narayan but friendship. Moreover, Kakkar added that Aditya will soon be marrying his long-time girlfriend and that they are just good friends.

Check out: Varun Dhawan Rumored To Have A 'Summer' Wedding In Goa!
Later, on the valentine's day prank, Aditya Narayan expressed that a simple joke escalated too quickly. He further added, "Something which began for fun became too serious and went out of our control. No media person reached out to him to know the truth".
What do you think of Aditya Narayan & Neha Kakkar's marriage? Let us know in the comments section below!