Salman Khan Spends His Self Quarantine Period By Sketching Art!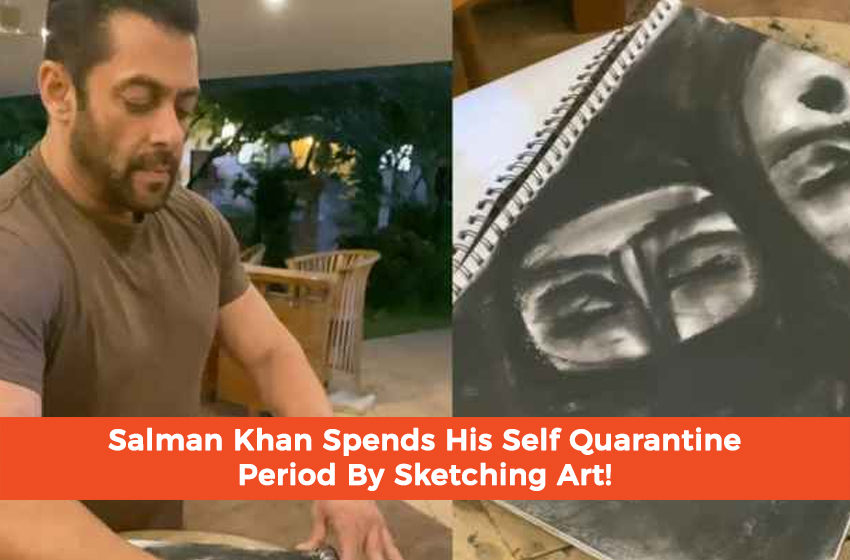 As a precautionary measure, the Indian Government has proposed people to stay at their respective homes and observe self quarantine. Bollywood Actor, Salman Khan recently uploaded a video, where he is seen spending his time by dangling his sketching skills spending his self quarantine time.

Salman Khan Brandishes His Sketching Skills During Self Quarantine!
The Novel Coronavirus has already dragged severals down to hell. Clutched with their lives, people are spending this time at home, indulging themselves into anything productive. Nevertheless, Bollywood Actor Salman is a man with multitudinous talents. Apart from being everyone's favorite on the cinematic curtain, the actor took the decision of crafting a beautiful sketch, during his self-quarantine time.
Salman uploaded the video on Instagram, using charcoal as his sketching medium. In the background voice, the actor is murmuring a song from Hritik Roshan's debut movie, 'Kaho Na Pyaar Hai'.
Here is Salman Khan's Instagram Post, with the caption '#sketching'!
Following the post, Salman's fans started posting comments, praising his hidden talent. Not to forget other Bollywood dignities, who are also calling his art, flawless.
The 'Bajrangi Bhaijaan' actor was currently shooting his yet-to-come movie Radhe: Your Most Wanted Bhai, alongside Disha Patani and Randeep Hooda. The task of the movie's direction is under Prabhudeva. However, with the global epidemic, the actors had to mothball the shoot until 31st March.
How Other Bollywood Stars Are Spending Their Time?
Contrary to Salman Khan spending self quarantine time, other Bollywood stars have also been busy trying to accomplish something worth amusing. For starters, 'Bareilly ki Barfi' actor, Ayushmann Khurrana is busy in composing poetry. Moreover, the actor is spending quality time with his family.
Here is a screenshot of Ayushmann's poetry!

Meanwhile, actress Kareena Kapoor Khan is also busy indulging herself in certain activities. The actress recently made her Instagram debut, and ever since then, she has been quite active in posting feeds. With that, she recently uploaded a post, where she is seen, alongside her husband, Saif Ali Khan. The post follows on with the caption: "Looks like he is 'booked' for the week… While I Instagram."
In India, around 110 people are suffering from COVID-19 infection. Sadly, reports confirm the death of a 76-year-old man in Karnataka. According to the global statistics, nearly 3,000 people are claimed to be dead and more than 80,000 are suffering from its infection.
What are your comments on this topic? Be sure to share your insight in the comments section below!