Actor Salman Khan's 'Dabangg 3' Has Filled Internet With Praises!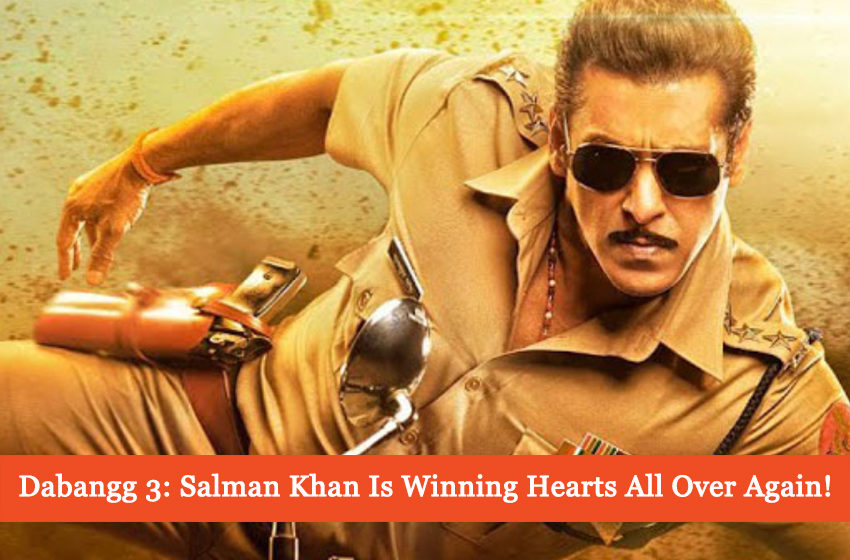 It won't be wrong to say that the Khan's of Bollywood have always been at the top tier of the Indian film industry. From Aamir Khan's mindful creations to Salman Khan giving back to back hits and then the romantic hero Shah Rukh Khan, Bollywood has it all. Well, as expected, Salman Khan's 'Dabangg 3' has once again made fans crazy after its official release today.
Salman Khan's 'Dabangg 3' has filled social media with praises!
Undoubtedly, Bollywood's 'Bhai' and his cop avatar has been entertaining cinema lovers since Dabangg's first release back in 2010. While the actor's former sister-in-law Malaika Arora is busy responding to online trolls, Salman Khan being lauded. Earlier today, Salman Khan's 'Dabangg 3' hit the theatres and currently, fans are expressing their thrilling experience on social media.
Check out the massively watched trailer of 'Dabangg 3'!
Apparently, the funky, the funny Chulbul Pandey exceptionally played by actor Salman Khan has movie lovers amazed. To keep the continuity of the story strong, the lead cast of 'Dabangg 3' has the same actors with some other additions. Other than Salman Khan, the cast includes Sonakshi Sinha, Arbaaz Khan, the newly added Saiee Manjrekar and Tollywood actor Sudeep.
Fans can't stop drooling over 'Chulbul Pandey'!
Certainly, there is no doubt in Salman Khan's massive fan following and it was completely evident after 'Dabangg 3' got released. All the die-hard admirers of the actor ran towards the cinema theatres to catch the first day, first show. Well, the lucky ones who gained success in watching the film in a full house, took to Twitter to provide their appreciating feedback.
"BLOCKBUSTER", that's what fans are calling 'Dabangg 3'!
,💥 BLOCKBUSTER 💥 #Dabangg3 #ChulbulPandey @BeingSalmanKhan @SKFilmsOfficial pic.twitter.com/fDXnlBs79s

— Chulbul_Mahesh😎 (@88Mhatre) December 20, 2019
"Chulbul Pandey ne dil jeet liya. A one-man army. Salman Khan is back!"
Saw #dabangg3 damn @BeingSalmanKhan is on another level his charm his swag😭😍🔥❤️ Chulbul Pandey ne dil jeet liya a one man army the salman khan is back 😎🔥😍❤️ love it #Dabangg3Reviews

— Shaheen Mistry (@MistryShaheen) December 20, 2019
Here comes an appreciation post for the newcomer Saiee Manjrekar!
Saiee's raw talent and innocence fits in well with #SalmanKhan's larger than life persona. #Dabangg3 is a true entertainer and @BeingSalmanKhan epic comic timing is commendable.

— Harwinder Singh (@HarwinderSHura) December 20, 2019
Ratings have started pouring in!
Full Paisa Vasool Entertainer,
SALMAN KHAN in full Swag 🔥🔥🔥
Kya screen presence hai Bhai ki, nobody can match it 👌
Kichcha Sudeep played perfect antagonist,
Flashback scenes are heartwarming,
Interval scene will make you emotional
⭐⭐⭐⭐#Dabangg3 #Dabangg3Reviews

— Inder (@Grewal_SInder) December 20, 2019
And here comes a full '3-star' ratings for 'Dabangg 3'!
#Dabangg3 is massively entertaining, funny and awesome at its comic timing! But somewhere it lacks the #Dabangg element! Tighter edit and screenplay could've made the film much more interesting! Salman Khan rocks in and as Dabangg and Dhaakad in fights!
My Ratings: 🌟 🌟 🌟

— Veer Patel (@patelveer2687) December 20, 2019
As of now, it seems like Salman Khan's charming personality has yet again satisfied the audience's entertainment needs. With a total of more than 50 million views on the official trailer of 'Dabangg 3' on YouTube, it is still going strong. Despite the recent uproar in India regarding the approved Citizenship Amendment Bill (CAB), the film might incur some financial instability.
Particularly, this week, India's Lok Sabha and Rajya Sabha approved the CAB bill which erupted nationwide protests. Among other opposers, veteran filmmaker Mahesh Bhatt also supported a protest happening against the government's decision. Calling the CAB bill discriminatory, the Bollywood director criticized the so-called secularism prevailing in India.
Are you excited about Salman Khan's 'Dabangg 3'? Let us know in the comments section below!