Jammu & Kashmir Curfew Causes Losses Of Rs. 12,000 Crores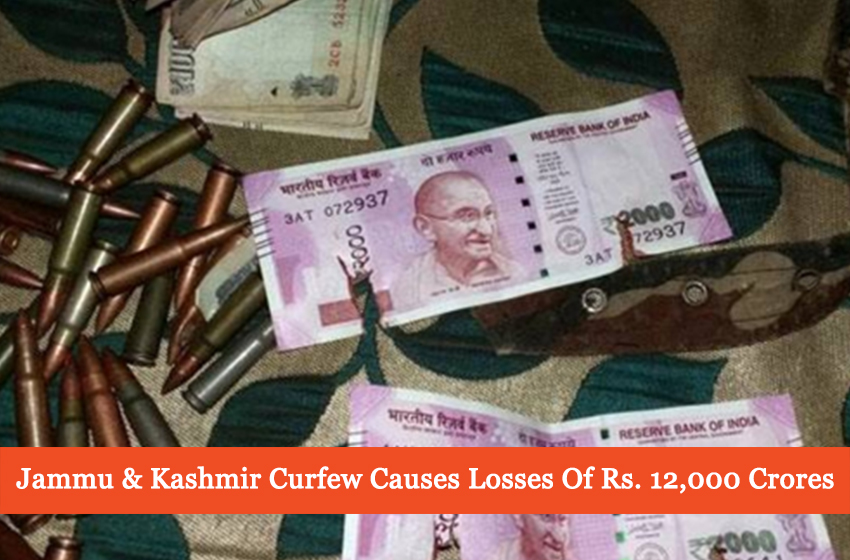 The incumbent situation in Jammu & Kashmir is one that everybody knows of. Ever since the Indian government revoked Article 370 in Kashmir, canceling its special status, there is mass disruption.
Due to the curfew and blockade in Kashmir, the Indian economy seems to be suffering more than the people. As reported by the Times of India, the 110-day curfew in Jammu & Kashmir has caused losses over Rs. 12,000 crores.
One of the biggest sources of revenue in Kashmir was its tourism industry. Since the government asked tourists to leave, nobody has returned. Over 100,000 hotel rooms in Jammu & Kashmir have remained unoccupied since the decision taken on August 5. The tourism industry has downsized substantially, and 1000s of people have lost their jobs.
Furthermore, the internet blackout has caused the digital sector, mainly IT firms, to incur irrecoverable losses and downsize their staff as well. The President of Jammu & Kashmir Chamber of Commerce and Industries, Sheikh Ashique, made the losses public.
"The running business losses for Kashmir have crossed Rs. 10,000 crore and all sectors have been severely hit. There is not a single sector which has not been affected, be it tourism, be it handicraft, be it the IT!" said Ashique.
On the blackout of internet facilities, the KCCI President elaborated that in today's day and age, survival without the internet is impossible. His statement endorses the fact that Kashmiris have been suffering in this regard. The President further warned that with decreasing revenues, the Indian economy will incur huge losses.
Another important issue that Jammu & Kashmir is facing is that students are not attending schools at all. Even though the teachers have been showing up regularly, parents have been reluctant in sending their kids. An estimated number of over 14 lakh students have not been attending school.
Running businesses in Kashmir, of all sectors, are suffering. People are not doing business due to constant fear. Moreover, reports of little business is not a good omen as well. Many IT companies from Jammu & Kashmir were providing consultancy and other services to Europe, which have shut down. This is due to the valley being without internet connectivity.
Consequently, Jammu & Kashmir's 2000 crore development budget has lapsed because all the workers have left. Furthermore, it is now the government's responsibility to provide relief packages for the business sector. If this doesn't happen soon, the losses will only increase due to the ongoing curfew.
The KCCI President Aashique wants outside investment in Kashmir, but rationally, nobody is ready to invest in the current scenario. Investors are worried that once the curfew ends, there will be mass backlash from Kashmiris. Even though thousands of troops have been deployed to curb violence, such a response is inevitable.
Additionally, since August 5, Kashmir has become a subject of international debate. The curfew in J&K has sparked controversy all over the world, along with constant condemnations.