Indian Groom Walks 4km In Snow To Bring Bride Home On Time!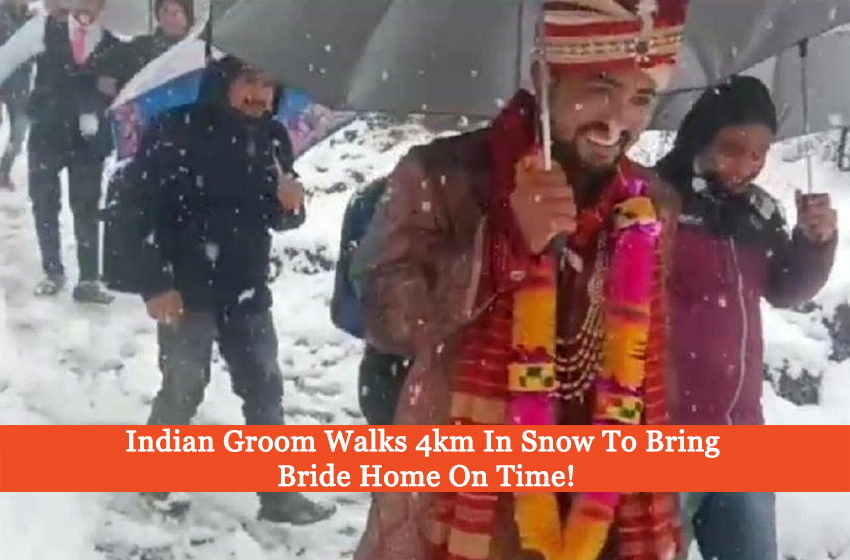 Nearly everyone in this lively world might have attended a wedding in their life but an ordinary one. But recently, a groom, despite facing severe weather issues denied backing down and overcame every hurdle just for the sake of his love. Earlier this week, an Indian groom trekked a whole 4 kilometers in knee-deep snow to his wedding to marry his bride-to-be and take her home.
Indian groom treks 4km in knee-deep snow to reach his bride-to-be's house!
Such stories definitely restore faith in love as the world is full of hopeless love tales that eventually reach a complete dead-end. However, previously, a big-hearted Kanpur husband went viral after he helped his wife in marrying her old lover. Another romantic scene has become the talk of the town after an Indian groom walked 4 long kilometers in extreme snow to bring his bride home.
Here's what the news is saying!
Uttarakhand: A groom travelled four km on foot to reach the bride's home in Bijra village in Chamoli district as roads were closed due to heavy snowfall in the region. pic.twitter.com/sS9pjqdZLL

— ANI (@ANI) January 29, 2020
Certainly, love was in the air for this groom from Uttarkhand, India who defied all odds and gave priority to his bride-to-be. According to Indian media reports, the adventurous groom from Bijra Village in Chamoli district marched his way through the snow. Particularly, the groom, all lit up and perfectly dressed walked through the knee-deep snow as the roads were all blocked because of heavy snowfall.
A groom, a bunch of baraatis and bad weather!
Gradually, capturing many eyeballs, the amazing story was covered by the Asian News International (ANI) of New Delhi as well. However, at least now, the groom will have the answer to her wife's future 'tum ne meray liye kiya hi kiya hai?' question. Coming back to the topic, the groom wearing a traditional sherwani with pagdi and varmala on neck looked extremely happy on his big day.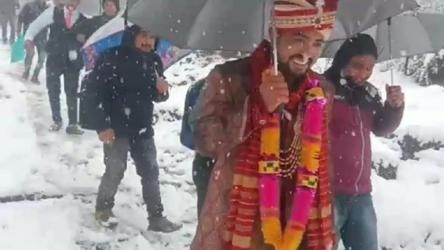 Reportedly, not only the groom but a bunch of baaraatis also trekked their way towards the wedding to bride's house. Well, after all, love always wins, but it seems like the netizens are thinking it the other way around regarding the groom's decision. While some appreciated the love, many converted it into desperation as the comments say it all.
Congratulations to the beautiful couple!
Determination.. Wishing them a very Happy Life …💐💐

— Rahul Srivastava 🇮🇳 जय श्री राम (@rahul12july) January 29, 2020
"He 'lobs' her so much!"
He lobs her so much. 🤗

— PRADEEP TOMAR. UPPolice Rocks 🔥 (@la_vie_est_nul) January 30, 2020
Uski shadi, uski marzi!
Garmiyo tak intezaar ni hua bhai se
Aisa bhi Kya yaar

— Sakshi Panwar Chaudhary (@just_to_offend) January 29, 2020
Acha!
Tharak ke chakkar me pair fisal jaata, to na tharak poori hoti na pyaar 😐😐

— Brahmin (@besahay_bakait) January 29, 2020
"Khushi Dekh Rahe Ho Dulhe ki!"
Tharak Uske Chehre Se Hi Dikh Rahi , Khushi Dekh Rahe Ho Dulhe ki 😂😂😂😂🤦🤦🤦

— Rohit Vertex Goswami 2.0 🇮🇳🚩 (@Rohit__Vertex) January 29, 2020
Well, no matter what people say, the groom did what he thought was right and honestly, it is amazingly romantic. It is definitely a relief to see such people who value love above all living in this drastically changing world. Congratulations to the couple and may the romance be the same throughout their lives.
What do you think of the love story? Tell us in the comments section below!