FAUG is India's answer to PUBG Mobile Game!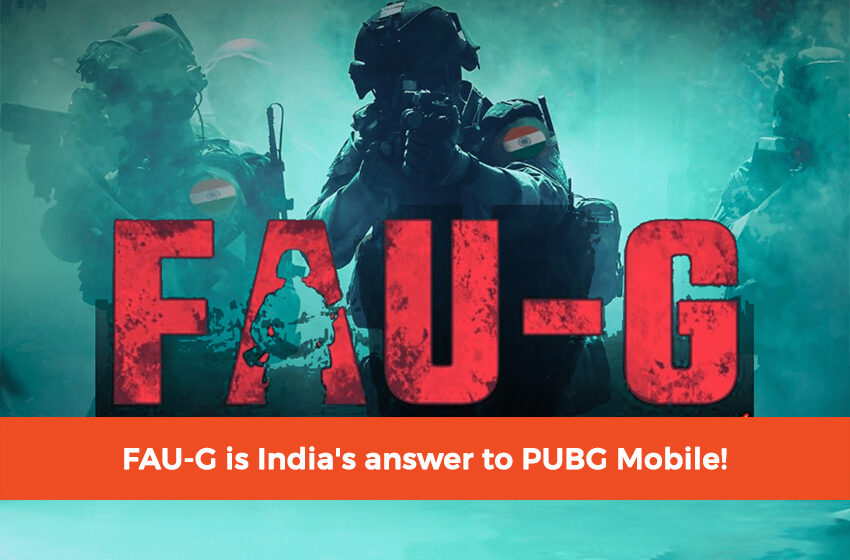 Following an Indian government directive that was aimed at Chinese origin games and services, PUBG Mobile is now banned in India. The game has now been delisted from the Play Store across India. IT ministry of India said the move is in the interest of the country's integrity, defense and security. Gaming users are looking to find the best possible alternatives to fill the void left by PUBG ban in India. By the looks of it, there is a possibility that an alternate to PUBG game will be available for gamers in India named as FAUG.
According to Indian video game industry veteran Vishal Gondal, a Bangalore-based game studio nCore Games will soon introduce a PUBG mobile alternative dubbed as FAU-G. The acronym stands for Fearless And United: Guards. It is a play on the Hindi word Fauji, which means soldier. According to the developers of the game, FAU-G is an initiative supporting Prime Minister Narendra Modi's Atmanirbhar movement. It is evident that nCore Games will take full advantage of a massive hole left in India's mobile gaming segment with the ban on PUBG.
In response to PM @narendramodi call of #AtmaNirbharApp, @nCore_games is proud to announce our action game Fearless And United: Guards FAU:G with mentorship from @akshaykumar 20% of net revenues donated to @BharatKeVeer trust for India's Bravehearts #JaiHind #FAUG #gaming pic.twitter.com/OZTKj2mdFl

— Vishal Gondal (@vishalgondal) September 4, 2020
FAU-G also has Bollywood star Akshay Kumar in a mentorship role. The actor shared on Twitter that nearly 20% of the revenue derived from the game would go to a trust dedicated to veterans of India's armed forces. As for the game itself, we don't know much about the gameplay. However, judging by the timing of the announcement, it will most probably be a PUBG Mobile clone.
Supporting PM @narendramodi's AtmaNirbhar movement, proud to present an action game,Fearless And United-Guards FAU-G. Besides entertainment, players will also learn about the sacrifices of our soldiers. 20% of the net revenue generated will be donated to @BharatKeVeer Trust #FAUG pic.twitter.com/Q1HLFB5hPt

— Akshay Kumar (@akshaykumar) September 4, 2020
Social media users in India post hilarious memes on FAUG game
After the announcement of the game, FAUG game India and Akshay Kumar dominated trends throughout social media sites. Many individuals have remarked how it took just two days for the Indian version to be announced. Many Indian gaming users were disappointed by the similarities to Fanatical Futurist, a US-military based action game.
Nonetheless, netizens are intrigued to see what the new game has to offer. Let us check out some of the memes on the new game:
FAU-G ? pic.twitter.com/BBie646hQW

— Nagpurians Meme (@NagpurianMeme) September 4, 2020
*PUBG out, FAUG in*

Meanwhile Akshay Kumar: pic.twitter.com/m4IvWl3bZn

— رومانا (@RomanaRaza) September 4, 2020
FAU-G ☠ pic.twitter.com/15cXWtQupK

— Cute Kamina (@bittu7664) September 4, 2020
N core gaming looking for investors for #FAUG app
Akshay kumar be like :- pic.twitter.com/SiDSach2dH

— Mr. Lotüs ? (@MrLots1) September 4, 2020
#AkshayKumar Launching #FAUG pic.twitter.com/5FkS8prvgX

— Tonishark (@Tonishark3) September 4, 2020
Akshay Kumar to all the PUBG player now- #FAUG pic.twitter.com/0Xje1rvzkM

— Mannat (@thandrakhleyar) September 4, 2020
Indinas now #FAUG – pic.twitter.com/AbzKnw9pBo

— sharmaJi ka ladka ? (@TweetPranjul) September 4, 2020
FAU-G will launch soon this year. So India gamers across India will have more details on the game shortly. From a gaming perspective, PUBG Mobile ranks among the world's top five smartphone games. It has more than 734 million downloads across the world.
One of the best things about PUBG Mobile was its ability to play reliably even on budget phones. So we will have to wait and see if FAU-G retains that particular trait and provides an immersive gaming experience to users. Lets hope FAU-G will prove to be PUBG replacement game in India. FAU-G Indian game release date has not been announced yet but it is expected to release soon this year.
What do you think of this story? Let us know in the comments section blow!