#BoycottNirma: Akshay Kumar's Latest TVC Has Triggered Many Fans!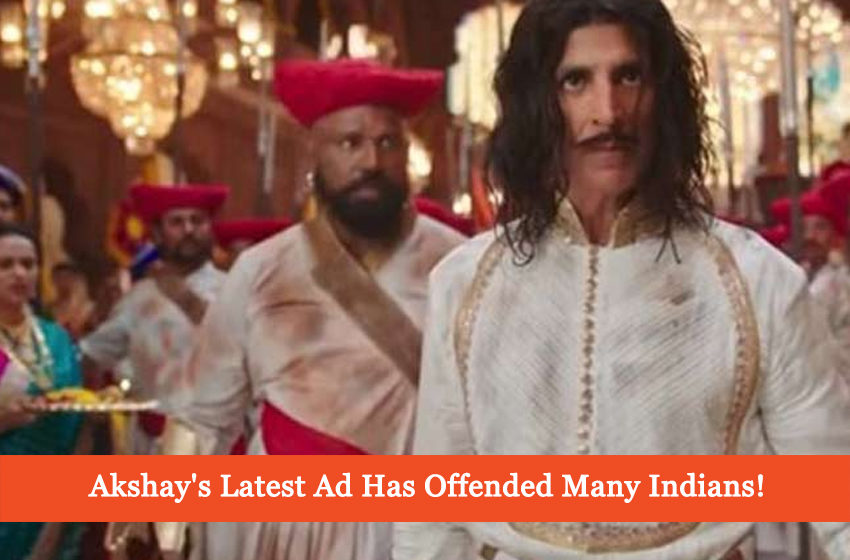 Akshay Kumar is one of those Bollywood celebrities that we really look for in comedy films. From his roles in films to funny advertisements. However, his latest advertisement has surely backfired! Latest ad of Akshay Kumar was with Nirmal Washing Powder and my oh my, it didn't turn out to be as expected.
From his box office hits this, we believe this might prove to be problematic in the future considering his upcoming movies. So, what was meant to be taken as a light-hearted TVC turned into a major controversy on social media.
#BoycottNirma Takes Over Twitter Trend!
The ad of Akshay Kumar seems to have offended and hurt the sentiments of the Marathas. In the ad, Akshay Kumar has played the role of a Maratha king whose army returns victorious from the battle but end up washing their own dirty clothes. In the ad, Akshay Kumar says, "The king's army knows how to thrash enemies as well as wash their clothes." 
In case you have missed out on the ad, check it out!
Here's how Twitteratis were seen reacting to it his ad!
It's just an ad where a Maratha king is helping his wife to wash clothes…. Why are we Hindus acting like Radical Islamics 😩#BoycottNirma

— Logical Indian (@Bhawesh93921131) January 8, 2020
Some were really hurt!
Mr. @akshaykumar , have you ever read history of Maratha's ? If No then go and read their sacrifice towards Nation. Else dont mock our Maratha culture !#BoycottNirma pic.twitter.com/cQE8k39GGv

— Nikhil Patrikar (@jagruthindu) January 8, 2020
People now want a public apology!
Nirma Wishing Powder advertisement insulted Brave Maratha Warriors

We demand Nirma Ltd & @akshaykumar
Should apologies publicly

Withdraw the Advertisement from All Media

Otherwise we demand all Hindus #BoycottNirma @HinduJagrutiOrg @astitvam @Girishvhp @KiranKS @girishalva pic.twitter.com/ufLR4kW6fN

— Mohan Gowda (@HJS_Mohan) January 8, 2020
Uh oh! He really seems like he's in trouble!
#BoycottNirma as well #BoycottAkshayKumar movies… @akshaykumar have to apologize for doing this kind of shit things pic.twitter.com/BSWC8tjEvC

— Harshad Anil Bhatkar (@HarshadBhatkar) January 8, 2020
They're literally boycotting Nirma products!
Yes !
I will never ever buy Nirma products from this moment !

How 1 can disrespect our gr8 warriors ? 😡#BoycottNirma @ganeshshetti202 @_Hinduism_ @ManjitKumar_IND @nikita855204 https://t.co/Wd8vlfdKIz

— Snehal Gubyad (@Gubyad_Snehal) January 8, 2020
Things don't seem to be getting better any time soon until and unless Akshay Kumar and brand apologize to all the upset fans as a police complaint has also bee filed against Akshay Kumar.  We really don't know what's yet to come but guess we'll just have to wait and see.
However, if we talk about Akshay's recent project, his film 'Good Newwz' has finally hit the screens on December 27 2019. Alongside Akshay, Kareena Kapoor, Kiara Advani and Diljit Dosanjh are also playing lead roles in the film. The movie has done amazingly well and it seems like Akshay Kumar isn't coming slow!
 Speaking of box office collection day 12, the film has already earned Rs 172.54 crore! That's a lot!! Surely seems like the film is doingly amazingly well and is set to break the records compared to the other Akshay Kumar films.
What do you think of this Akshay's ad? Let us know in the comments below!