Deepika Accuses Katrina For Stealing Her Idea In A Funny Instagram Post!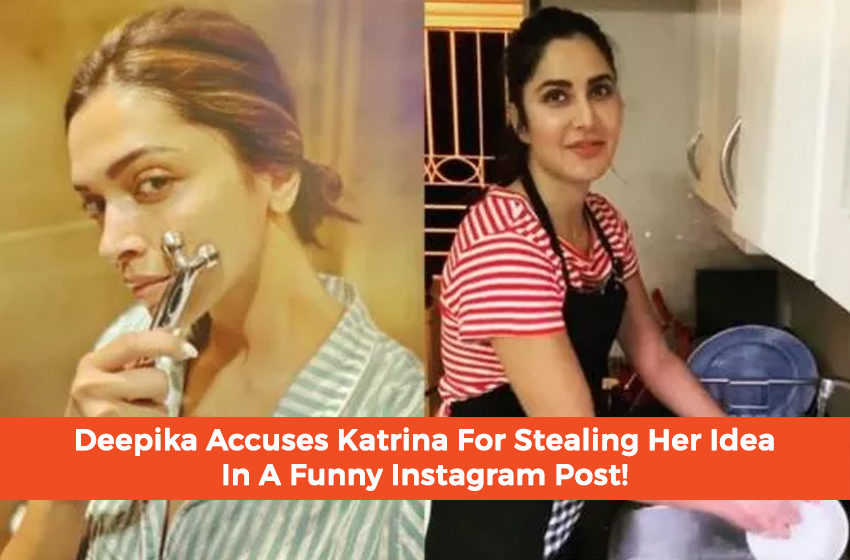 The COVID-19 pandemic has forced everyone to self-isolate themselves, including Bollywood stars. News on some fun instagram postings by Deepika Padukone and Katrina Kaif have been seen on social media amid Coronavirus outbreak while spending time in self quarantine.
Many Bollywood actors and actresses have also come up with their hidden talent on social media. Apart from that, there have been various celebrities that have provided us with their insight into what their life now looks like without any house help available for washing utensils and clothes.
Productivity in the times of COVID-19!
Just like other celebrities posting their videos on social media, it seems like Deepika Padukone has also decided to carry forward her conversation with Katrina Kaif on social media.
Both Katrina and Deepika regularly share updates from their homes while spending their time in quarantine. Katrina has been sharing videos of her home workouts, cleaning and other chores. Similarly, Deepika has also been sharing updates in a series that she calls "Productivity in the times of COVID-19".
In the last episode she was seen doing some workout and it looked like she was planning to do some utensil washing in the next episode. However, Katrina stole her idea.
Just to create some humor, Deepika reshared Katrina's video on social media. Deepika for fun sarcastically described how the next episode of her social media series is cancelled as Katrina already did it amid Coronavirus outbreak.
Deepika even added a hashtag that said "#Plagiarism in the time of COVID 19". This was certainly hilarious. Now fans are waiting for Katrina's comment over this repost.
On a serious note, Katrina and Deepika are not only sharing updates on their daily lives. In fact, they have also focused on the significance of social distancing in the current scenario for all individuals.
Both Katrina and Deepika also share good relations behind the camera. Katrina even attended Deepika Padukone and Ranveer Singh's Mumbai reception in November 2018.
Deepika and Katrina's upcoming projects!
Apart from Deepika and Katrina fun postings amid Coronavirus outbreak, talking from work perspective, Katrina was last seen with Salman Khan and Disha Patani in Bharat. Her next film will be Sooryavanshi with Akshay Kumar in the lead role.
On the other hand, Deepika recently signed the Hindi adaptation of The Intern (2015) co-starring Rishi Kapoor. Deepika will also be featuring with her husband Ranveer Singh in the sports drama '83 (2020) directed by Kabir Khan. Ranveer will play the role of Kapil Dev while Deepika will play Kapil Dev's wife Romi Bhatia. Deepika was last seen in Meghna's Gulzar's Chhapaak, released in January 2020.
Did you find this information useful? Let us know your views in the comments section below!