Explained: Causes And Prevention Of Black Fungus, White Fungus And Yellow Fungus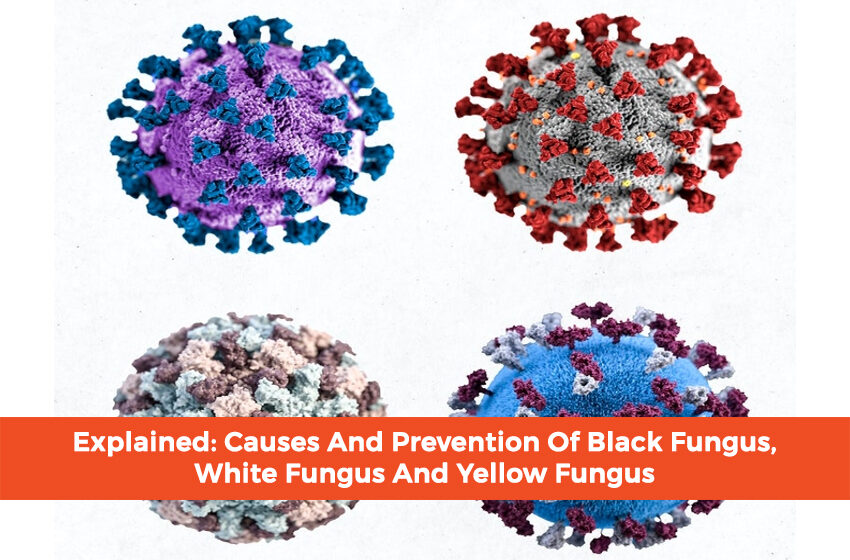 Due to the rising cases of Black Fungus infection in various states across India, a case of the fatal Yellow Fungus infection is also reported from Ghaziabad in Uttar Pradesh. According to experts, Yellow Fungus is more dangerous than both Black Fungus and White Fungus. All the infected patients are currently undergoing treatment across different hospitals in India. It is essential to note that Black fungus was recently announced as an epidemic by more than 29 states in India. In this article, we will explain the causes and prevention of black fungus white fungus and yellow fungus in India.
[adinserter block= "3"]
Overview of black, white and yellow fungus
Black fungus
From a medical perspective, Black fungus could have a relatively negative impact on the face, nose, eye orbit and even brain. In various cases, it could even result in loss of vision for the affected patients. This may result in spreading all across the lungs.
White fungus
When compared with black fungus, white fungus is more dangerous. This is because it has a negative influence on the lungs and it could also damage other body parts. White fungus can become lethal and may impact brain, respiratory system, digestive tract.
Yellow Fungus
According to medical experts across the world, yellow fungus can mainly affects reptiles. It is more dangerous when compared with white and black fungus. If not treated, the yellow fungus infection could also result in causing death too. Yellow fungus infection is primarily caused due to bad hygiene. This is essential to clean out the enclosure around your home and also keep it as clean as possible.
Black fungus symptoms
Black fungus can cause serious problems for individuals that are recovering from COVID. It could cause discoloration of nose, toothache, blurred vision, chest pain and breathlessness.
White fungus symptoms
Just like Black and Yellow fungus, white fungus also has symptoms that are similar to COVID-19 symptoms. If affects lungs and could also cause chest pain, cough and breathlessness. White fungus could also cause headaches, pains, infections or even cause swelling.
Yellow fungus symptoms
Symptoms of yellow fungus are lethargy, loss of appetite and weight loss. In many cases, yellow fungus could also cause leakage of pus as well as slow healing of the open wound and slow healing of all wounds, malnutrition and organ failure and sunken eyes due to eventual necrosis.
Treatment and precautions for black fungus, white fungus and yellow fungus
The only possible treatment for black fungus, white fungus and yellow fungus is Amphotericin B injection. It is a medicine that is broad spectrum antifungal in nature.
[adinserter block= "5"]
Now having known the causes, some of the most important methods of precautions and prevention for black, yellow and white fungus includes maintaining cleanliness, sanitation and hygiene. This can help to fight the disease. The fungus thrives in unhygienic surroundings and humidity.