6 Bollywood Celebrities That Fell Into The Oblivion!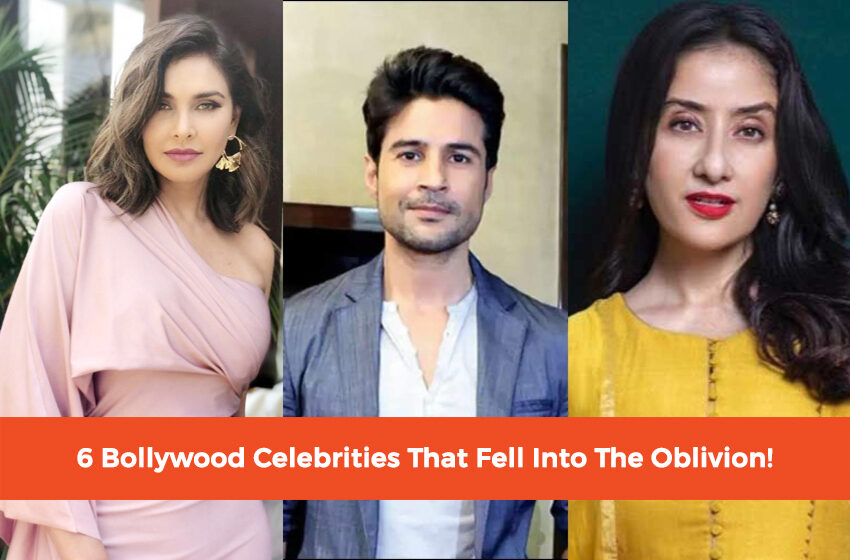 The fact can't be denied that acting is certainly a tough business. One moment you are at the top of the world and the next, you find yourself facing probably the worst phase of your life. However, the attraction of leading a glamorous life is so strong, that on a regular basis, nearly millions of individuals flock to Mumbai in the hope of making it big. There are many Bollywood celebrities who fell into oblivion as well.
In this article, we will check out some of the actors who have seen success as well as absolute failure. The reasons may vary, from talent to health reasons. However, all these actors have left a shining memory in the minds of their fans all across the world.
Manisha Koirala
The fact can't be denied that Manisha was a superstar of the 90's. She was also born in a prominent political family. As a result, she was able to make it big in Bollywood and was also captured by the multi-colored filters of the Hindi cinema camera.
She did many superhit films in the 90's including Saudagar, Akele Hum Akele Tum, 1942 a love story, Agni Sakshi, Mann etc. However, Manisha's phenomenal rise as one of the great Bollywood celebrities had been abruptly halted due to her diagnosis of ovarian cancer in 2012 that made her career fell into oblivion. That did result in casting a pall of gloom on the shining star's career in Bollywood.
Lisa Ray
After gaining nationwide recognition for her performances in Kasoor and Water, Lisa Ray had the world at her feet. However, destiny had planned something else for her. She was diagnosed with multiple myeloma in 2009. But Lisa fought the disease bravely and was declared cancer-free, after a stem cell transplant.
Amidst a flurry of shock and denial, Lisa didn't let the disease get the better of her and by 2010, she was officially a survivor. She has done a few notable films after that. The most successful being Four more shots, an Amazon Prime Indian web series.
Rajeev Khandelwal
One of the most famous actors in Indian TV, Rajeev Khandelwal couldn't make a big name for himself in Bollywood. He did play the lead role in 'Aamir'. It was one of the best movies that had emerged out of Bollywood. It did speak about the issues of Bollywood related to urban terrorism.
The film was certainly not a race-against-the-clock thriller, but it was shown from the perspective of a hopeless bystander caught up in a burst of calibrated violence.
Rajeev did remarkably well as an actor but he couldn't make it big after Aamir and he is one of the Bollywood celebrities who faded into oblivion. There were a couple of TV appearances after his career in Bollywood. However, anyone venturing to watch those had every reason to feel aggrieved.
Sushmita Sen
Just like Deepika, Priyanka and Aishwarya, Sushmita could have very comfortably slotted into the reference of models turned actors. However, the body of work has also managed to illustrate the depth of her talents that have been justified. As a result, Sushmita was able to make an easy transition into cinema. This was just a year after becoming the very first Indian women that was able to win the Miss Universe honor in 1994.
After Sushmita Sen won the Miss Universe award, the biggest of banners came calling and Sushmita was able to do enough in the launch vehicle Dastak. It was directed by Mahesh Bhatt at the very peak of his directorial run. Unlike her competitor Aishwariya, Sushmita was never able to get a blockbuster like 'Hum Dil De Chuke Sanam' or 'Taal'. As a result, she pinned her hopes ended up as banners and directors lost patience. Sushmita soon lost that dominating factor. But with webseries Aarya (2020), Sushmita has made a comeback to mainstream media.
Abhay Deol
The fact can't be denied that Abhay Deol is one of the most understated of Bollywood debuts, with 'Socha Na Tha' in 2005. Abhay Deol, showed an easy confidence before the camera. He acquitted himself on the skills side. However, what was instantly noticeable was that Deol had no intention of adding to the maximum count of hit films to the rest of his family is known for.
When compared with Dharmender and cousins Sunny and Bobby Deol, was markedly different. However, it was in 'Dev. D' that Abhay has set the screens ablaze due to a searing portrayal of a man in a tearing hurry to self-destruct over lost love.
Aftr Dev.D, Abhay did have a couple of glory years. However, after that it all seemed to come to an abrupt halt. As a result, Bollywood fans are now devoid of an actor who dealt in nuances and measured tones. Lets hope that this method actor gets more projects in the mainstream media.
Shiney Ahuja
There have been very few actors that have got massive recognition after their debut film. Shiney Ahuja is certainly one of those rare actors. Thanks primarily to his critically acclaimed debut film 'Hazaaron Khwaishein Aisi', Shiney proved to be a rising superstar in the year 2003.
He did several highly acclaimed films after that including Gangster, Bhool Bhulaiya and Woh Lamhe. But in the year 2009, Shiney became the black sheep of the Indian film fraternity.
Shiney was accused of rape by his maid. As a result, Shiney was handed a seven-year sentence by a lower court. Even though Shiney is now getting supporting roles in films, he will certainly now forget the nightmare he had to go through due to the rape accusation.
What do you think of this story? Let us know in the comments section below!