Sonam Kapoor Ridiculed Online After Posting A 'Derogatory' Tweet!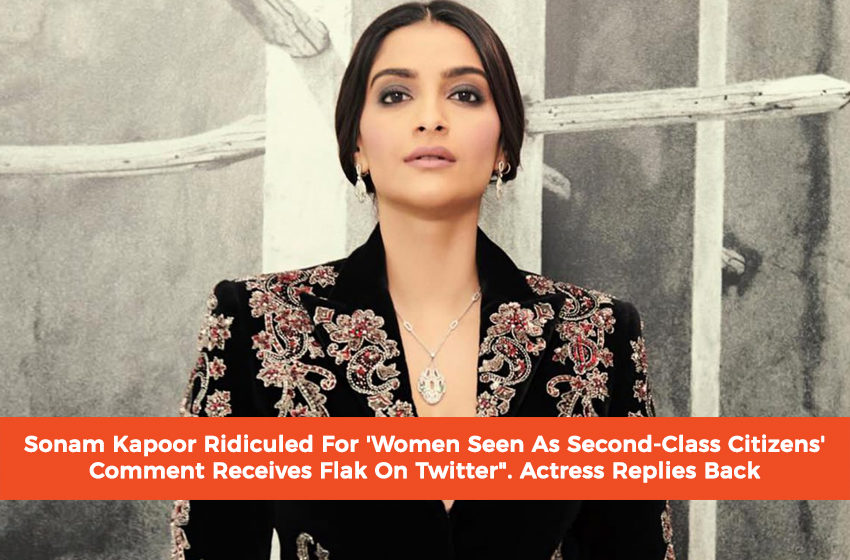 Sonam Kapoor again found herself on the receiving end of ridicule and is being trolled on social media. Sonam spoke in an interview conducted by Harper Bazaar Arabia regarding female empowerment. This resulted in the actress being attacked on social media.
Sonam's comment on 'women as second-class citizens' results in trolls from users!
Sonam had tweeted about her recent interview. She wrote: "For me, female empowerment is very important, especially because I'm from a side of the world where women have always been second-class citizens."
"For me, female empowerment is very important, especially because I'm from a side of the world where women have always been second-class citizens."@BazaarArabia pic.twitter.com/DJF41YHTrO

— Sonam K Ahuja (@sonamakapoor) March 2, 2020
Few users did recount their personal discrimination experiences in response to Sonam's tweet. However, Sonam Kapoor was criticized and trolled by several individuals for her privilege. There were many women that asked Sonam to speak for herself as women have been treated well across India. Many thought Sonam was only doing this for publicity.
Read Also: Sonam Kapoor And Anand Ahuja Are Literally Proving To Be Couple Goals!
Here is an example of some of the comments on Sonam's controversial tweet:
One user expressed his frustration by threatening Sonam that her career is finished:
Your career is finished. We are sick and tired of your lies and hatred for India and Hindus. India and Hindus are the most pro-woman in history. Get your facts straight!

— Hindu Americans (@HinduAmericans) March 3, 2020
Another user praised his grandmother's achievement being an "Indian" women:
Maybe in your family or Bollywood Women are treated like 2nd Class Citizens where as our family my grandmother had done post graduation in year 1934 & became Headmistress of a girl's school.

— Srivastava Sanjay (@svirtuoso2010) March 3, 2020
This user even labeled Sonam as "3rd class" citizen
U r nt 2nd class.
U r a 3rd class actress n even a worst human being who incites riots n kills innocent people fr few seconds of fame

— Urban-nationalist 🇮🇳 (@Urbanationalist) March 3, 2020
Comparing Sonam Kapoor to an "Ostrich":
First of all who gave u right to talk about us

Born with silver spoon Madam gone those days when women were treated second class citizens td Women in every field ahead of man making 🇮🇳 society & dr families proud

Don't spread ur negative among us 🙏#WomensDay2020 pic.twitter.com/9vWVqf9PWQ

— Nandini Idnani (@idnani_nandini) March 3, 2020
Another user compared Sonam with the singing sensation Ranu Mondal, praising the singer as 'self-made':
Hey Bazzar do you know who is first class citizen?

Its Ranu Mandal! Self made..More empowered than some 2nd class!

Shame on 'Zakkas' for imposing Dessert cult type culture at his home!

— KSG 🇮🇳 (@nara_m24) March 3, 2020
Sonam also tagged Harper Bazaar's Arabian edition. The Arabian magazine is highly popular in North Africa and the Middle East. It has the highest number of subscribers in Qatar and Saudi Arabia. Imagine the backlash Sonam would have received if she a citizen of Saudi Arabia and if she had stated that she comes from a region that treats women as second class citizens. A region that that just has just initiated the issuance of driving licenses to females in the year 2018.
Sonam's lack of knowledge of Indian history is evident!
The dearth of knowledge of Indian history and culture depicted by Sonam is evident in her comments. It is essential to note that Sonam did not have anything to comment on within the context of issues related to feminism in the Middle East.
This is exactly the same mentality that is now practically evident in Sonam's new statement. India has successfully tackled the challenge related to crimes against women. However, if there is any claim that Indian females had always been treated as second class citizens in India, then it certainly distorts the rich cultural history of India.
The fact can't be denied that India never institutionalized gender discrimination against women. Sonam Kapoor's statement has certainly shown how some elites in India have been misguided. They don't rely on genuine historical facts or empirical evidence and true historical facts for their discourse regarding the issue related to the empowerment of women in India.
What are your comments on this topic? Share your insight in the comment section below!