Shah Rukh Khan Replies Wittily After A Fan Asks About Mannat's Rent!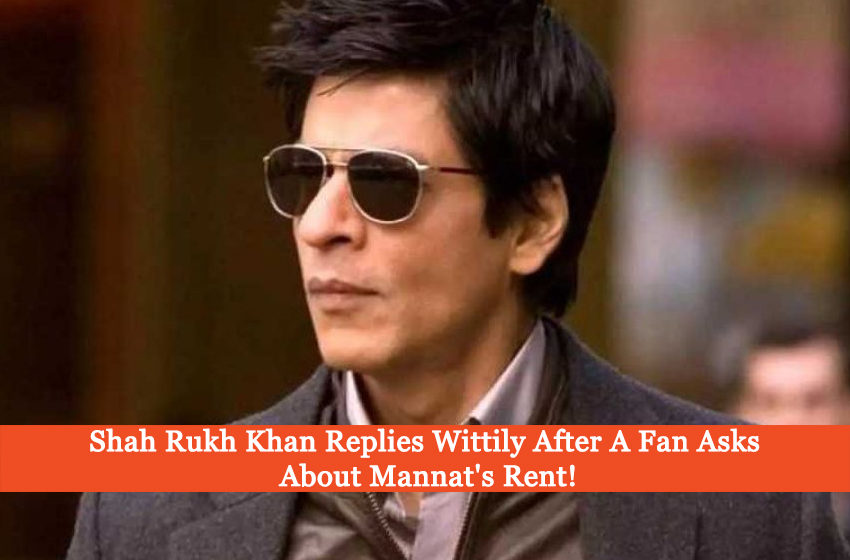 The 'Badshah' of Bollywood, Shah Rukh Khan is among those actors who are massively followed and admired worldwide. Apparently, the humorous nature of the globally acclaimed artist is often appreciated on the internet by his die-hard fans. Recently, amidst the #AskSRK trend on Twitter, Shah Rukh Khan's epigrammatic response to a fan's question inquiring about his house has won the internet.
Shah Rukh Khan's humorous response to a fan regarding 'Mannat' has Twitter on fire!
Certainly, King Khan is a self-made man and his humble nature and charming personality attract many around the world. However, earlier, fans were angrily appealing Shah Rukh Khan to announce his next project reflecting upon the star long break. As of now, a recent reply by Shah Rukh Khan to a fan wishing to rent a room in his personal house, Mannat, has everyone go crazy.
Check out King Khan's response!
30 saal ki mehnat mein padega. https://t.co/Y3qfb7IMdk

— Shah Rukh Khan (@iamsrk) January 22, 2020
Well, celebrities and their expensive belongings have always fascinated the world and the same seems to be the case with SRK's fans. This week, a new trend emerged on Twitter with the hashtag #AskSRK pouring in a lot of questions regarding the superstar's life. While many inquired about the two years long break Shah Rukh Khan had recently, an Indian fan put forward a never-asked-question before.
"Sir mannat pe ek room rent pe chahiye, kitne ka padega?!"
However, soon after the tweet went up along with the trending hashtag, Shah Ruh Khan's witty reply was gathered appreciation. Particularly, an Indian Twitter user tagged the actor and posted, "Sir mannat pe ek room rent pe chahiye, kitne ka padega?" As humorous as it can be, Shah Rukh Khan quoted the fan tweet and wrote, "30 saal ki mehnat mein padega".
Since everyone knows that the actor has struggled extremely hard in his life, the answer says it all. Reportedly, sea-facing house of Shah Rukh Khan, 'Mannat' in Bandra, India is worth a whopping 200 crore Indian rupees. Eventually, the reply started gathering appreciation and netizens couldn't stop drooling over Shah Rukh Khan's charismatic personality.
All hail the living legend Shah Rukh Khan!
How is ur sense of humor so good ? ??? Witty … #AskSRK …

— Shashikumar sk (@Shashikumarsk15) January 22, 2020
Ask at your own risk!
Hahahaha! Troll King Khan at your own risk! ?

Salute to this mega star's humor! ??

— TheUnrealJoker ® (@TheUnrealJoker_) January 23, 2020
Too good!
Too good..what an apt answer Srk ??

— Samir Abbas (@TheSamirAbbas) January 23, 2020
30 saal ki mehnat tum kia jano fan babu!
Wallah, this will remain one of the most favorite replies forever Jaan ♥️ Saach mein, khoon paseena mila hai apke is mein tab jake yeh imaraat apke ghar bann paye hai. 30 saal ki mehnat, aur khwaab purey hone ke baad bhi utney mehnat karte rehne ki Jazbaa bhi hona padega ???❤️ pic.twitter.com/FOMcoZ8TNn

— ♡ Sнαн Kι Bιωι ♡ ? ??? ღ (@JacyKhan) January 22, 2020
"Aap ki mehnat, aap ka mannat!"
Sir right apki mehnat hi he apka mannat ? #AskSRK

— Nitesh Nayak (@NiteshN01937616) January 22, 2020
Apart from his witty humor, Khan is an amazing human being and has always been down to earth no matter his mega status. Previously, Shah Rukh Khan had posted a congratulatory post for an acid attack victim on her marriage. Appreciating the groom on his decision, the actor wished the couple the very best for their future, together.
Do you like SHah Rukh Khan? Let us know in the comments section below!