Comedian Bharti Singh and Husband Haarsh Limbachiyaa Released On Bail In Drugs Case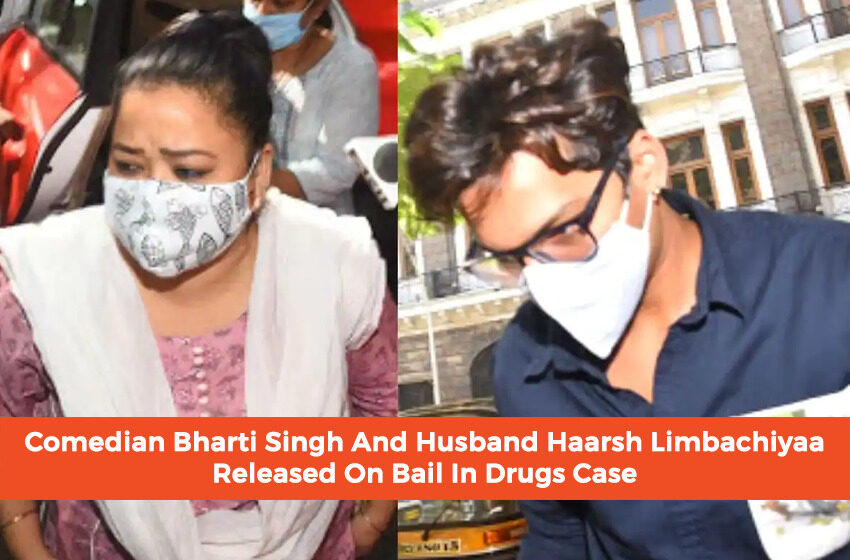 Famous Indian comedian Bharti Singh and her husband Harsh Limbachiyaa got the bail by a Magistrate court on Monday afternoon on the drugs abuse case. Media did spot the couple when they left for home after getting the bail.
The couple was arrested by the Narcotics Control Bureau (NCB), This was after the seizure of cannabis from their house. Police arrested Bharti on Saturday and Limbachiyaa on Sunday in the drug case. A Mumbai court on Sunday sent Singh and her husband in judicial custody till December 4.
In an interview with Indian media, NCB Zonal Director Sameer Wankhede said, "We have arrested Bharti Singh and found a little over 86 gms of marijuana from her. Her husband Harsh Limbachiya is also under custody of NCB. We shall update on further developments later."
As per the latest news reports by Indian media for Bharti Singh drug case, NCB told the court that the couple have confessed to consuming cannabis. They also said that nearly 86.50 grams of cannabis was recovered from their home and office during the raids.
#Ncbmumbai arrest comedian #BhartiSingh and her husband #HarshLimbachiya in taking 86.5 grm cannabis, seized at his residence. Now they been taken to sion hospital for medical and then will be produced to holiday court, mumbai. pic.twitter.com/ACDXcdG4gD

— Girish Gaikwad (@girishg26) November 22, 2020
Singh told officers that her husband brought the cannabis from drug deals. Limbachiyaa also in his statement disclosed that he purchased ganja from one peddler. He added that he would keep one bag of contraband at his office and another at his house for consumption. However, Bharti Singh and husband Harsh have been out on bail on the drugs case according to recent reports.
Drug addiction in Bollywood
It is evident that the arrest of Bharti and Harsh drug case has exposed the drug abuse in India, particularly Bollywood. The drug scandal news also illustrates how common consumption of drugs has become in India's film and TV industry. The demise of Sushant Singh Rajput also illustrates the deep connection of drug mafia in Bollywood. As a result, police made an investigation of several other Bollywood actors after Sushant's death.
In September 2020, Rhea Chakraborty was arrested in Mumbai by India's Narcotics Control Bureau (NCB). This was after three days of questioning in connection with drugs-related allegations in the Sushant Singh Rajput case. On Tuesday afternoon, the NCB arrested Chakraborty in Mumbai. The agency had summoned the model-turned-actress to the NCB office for the third day of interrogation.
Apart from Rhea, the NCB did arrest Deepika Padukone, along with Sara Ali Khan and Shraddha Kapoor in Mumbai for the drug case. In the investigation, they were questioned for six hours regarding the drug abuse allegations made on her.
According to some sources in the NCB, the primary aim of summoning the Bollywood superstars is to understand the supply chain network of drugs because the Bollywood actors are allegedly amongst the key customers of the drug suppliers. Moreover, the NCB's aim is to go after the larger drug cartels. They don't want to just catch the individual consumers. The police are of the view that this will help them to curb the drug abuse in the country.
Infamous Bollywood drug addicts
Many famous celebrities in the past have either been caught with or confessed to consuming drugs. Veteran actor Sanjay Dutt has been quite vocal regarding his drug addiction when he was very young. The 61-year-old had revealed he woke up one day and was told by his servant that he had been asleep for two days. It was due to the high amount of drugs he had consumed.
Vijay Raaz is another actor who was reportedly detained in UAE in 2005 for possessing narcotic drugs, according to a report by an Indian news channel. He had gone there to shoot a film. Other famous Bollywood celebs drug addicts include Fardeen Khan, Rahul Mahajan and Parveen Babi.
What do you think of this story? Let us know in the comments section below!