Today Marks The 102nd Birth Anniversary Of 'Iron Lady', Indira Gandhi!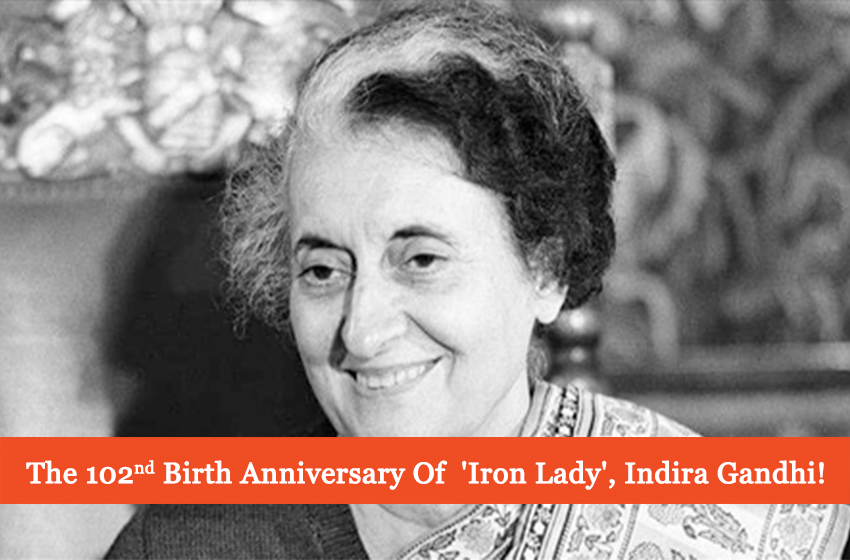 The first and only female prime minister of India, Indira Gandhi made history after taking the office as the head of the states. Today on 19th of November 2019, marks her 102nd birth anniversary.
[adinserter block ="3″]
She was the prime minister between the years of 1966 and 1977. She later took over the responsibility again between 1980 and 1984. Moreover, Indira Gandhi was born in the year of 1917 in Allahabad.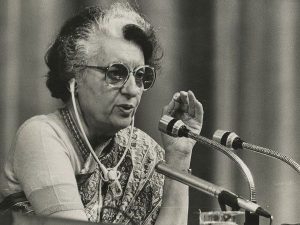 She was soft-spoken with an attractive personality that gracefully concealed her iron-will and ambitions. In addition, this lead to many of her peers and Congressmen underestimate her potential as a leader. However, the 'Iron Lady of India' proved them wrong with her strong leadership. Including her numerous contributions towards changing the course of India for the better.
"There are two kinds of people, those who do the work and those who take the credit. Try to be in the first group; there is less competition there."
She was a tough politician with a complex personality
Said by the revered leader of the bygone times. Moreover, she is remembered as a tough politician with a complex personality. Also, deemed as one of the 'greatest leaders in Indian history'.
Today, Indian politicians aren't the only ones to celebrate her but by many learned Indians that find her as an inspiration. All in all, there are at least 4 incidents that are marked as some of her biggest decisions as a prime minister. Of course, the magnitude is measured by the impact it made on India. Those 4 events have been jotted down in history as Nationalization of banks(1969), Bangladesh War(1971), The Emergency (1975-77)and Operation Bluestar (1984).
[adinserter block ="4″]
However, known around the world for her revolutionary economic and social reforms, Indira was assassinated by her very own Sikh bodyguards on October 31st, 1984 at her own residence on Akbar Road.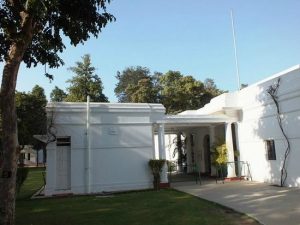 Indian Prime Minister Modi, Sonia Gandhi and Manmohan Singh pay their tributes.
Modi took it to his Twitter account to pay his respects. He tweeted:
Tributes to our former PM Smt. Indira Gandhi Ji on her birth anniversary.

— Narendra Modi (@narendramodi) November 19, 2019
Interim Congress president Sonia Gandhi and former prime minister of India Manmohan Singh on Tuesday paid their tributes at Shakti Sthal in New Delhi.
Sonia Gandhi remembering the late PM of India tweeted: "On her birth anniversary, we pay homage to India's first female Prime Minister, the Late Smt Indira Gandhi. Her will and determination led our country to great heights. Her contributions to India's national security, economy & foreign policy will always be cherished"
Former PM Dr. Manmohan Singh, CP Smt. Sonia Gandhi, Former President Shri Pranab Mukherjee & Former Vice President Hamid Ansari attend a commemorative programme to mark Pt. Nehru's birth anniversary. #RememberingNehruji pic.twitter.com/JCB40svCZD

— Congress (@INCIndia) November 14, 2019
#IndiraGandhi takes a spot on Twitter trend of India as countless celebrate her.
Read Also: Indian Singer Lata Mangeshkar's Health In Critical Condition!
PM #IndiraGandhi set up the Environment Ministry. She was the first PM to give serious thought to the concept of environmental education & awareness. She spoke about green issues & environment in the 1970s when it was not a fashionable subject. pic.twitter.com/cd5LQjLYyf

— Know Legacy of All India Mahila Congress (@AIMCHistory) November 19, 2019
Jhansi ki rani and Indira Gandhi, both born on the same day.
Iron Lady & 1st women Prime Minister of india Smt #IndiraGandhi ji
I think today is birthday anniversary of jhansi ki raani also ???
Humble tribute to Indira Gandhi ji on her birth anniversary. #IndiraGandhi
&Rani lakshmi bai pic.twitter.com/xVVVhabl3z

— Arti Singh (@singharti411) November 19, 2019
Her powerful words still echo in today's time.
BharatRatna Indira Priyadarshini Gandhi ji🇮🇳🌹!
(19 November 1917 – 31 October 1984)

"One must beware of ministers who can do nothing without money, and those who want to do everything with money."
-BharatRatna Indira Gandhi!#IndiraGandhi pic.twitter.com/4Gs8A5zdn7

— Shaktimaan Ravikiran (@The_SHAKTIMAAN) November 19, 2019
Her resolve to help India gain victory was larger than material commodities.
Iron Lady, former prime minister of India, #IndiraGandhi donating her jewellery to National Defence Fund during India-China War in 1962. pic.twitter.com/ZsvSTosuNe

— Rofl Republic 🍋🌶 (@i_theindian) November 19, 2019
Her valor, courage, leadership, and personality continues to be a great source of inspiration for many. In addition, she still garners respect and honor, after years to her passing. Truly, this is the real power. To be able to receive love, respect, and recognition, long after you have left the world.
[adinserter block ="5″]
Have anything to add to this story? Comment below!
Facebook Notice for EU! You need to login to view and post FB Comments!