#ThankYouDhoni Trends Online After BCCI Drops MS Dhoni!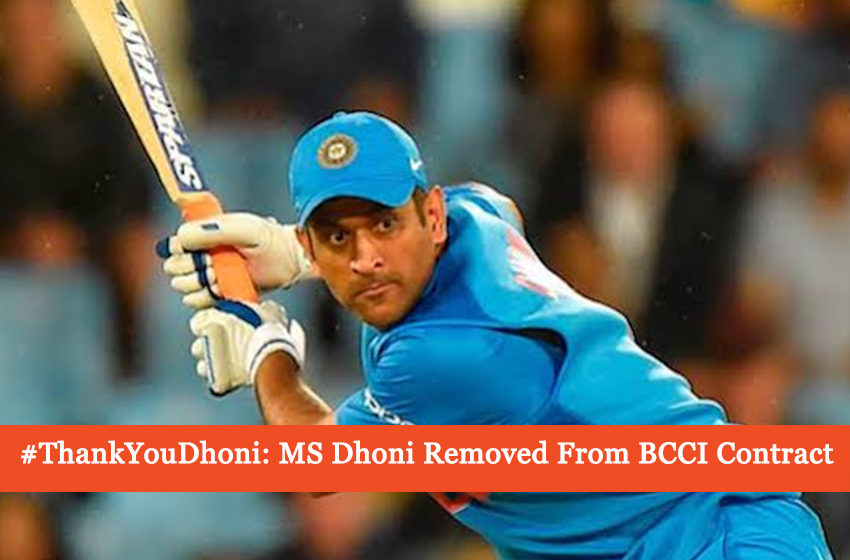 Considered to be the best captain of all times, MS Dhoni has led the Indian cricket team to new heights of success. After retiring from Test cricket six years back, the star cricketer, in 2017, stepped down as captain of limited-overs formats as well. Following his aging career, recently, the Board of Control for Cricket in India (BCCI) didn't add MS Dhoni in the central contracts list creating chaos online.
BCCI left MS Dhoni out from the central contracts list for the year 2019-20!
After serving the national squad for more than a decade, MS Dhoni won't be a part of the playing team anymore. Earlier this week, on Thursday, the Indian cricket board released the central contracts list of players for the period 2019-20. Unfortunately, among other players featured, the BCCI didn't pick MS Dhoni which then went viral on the internet with admirers expressing their love.
Read Also: Virat Kohli Enters T20 'Top 10' After West Indies Heroics
Here's what the BCCI posted on Twitter!
The BCCI announces the Annual Player Contracts for Team India (Senior Men) for the period from October 2019 to September 2020.

Saini, Mayank, Shreyas, Washington and Deepak Chahar get annual player contracts.

More details here – https://t.co/84iIn1vs9B #TeamIndia pic.twitter.com/S6ZPq7FBt1

— BCCI (@BCCI) January 16, 2020
Taking to Twitter, the BCCI announced the decision, specifying the name of the new additions in the Indian team for 2020. Well, the legendary MS Dhoni took retirement from Test cricket back in 2014 and has played a total of 90 matches. Till last year, the star skipper was included in Grade A of BCCI's central contracts list but this year's 27 players list doesn't have MS Dhoni.
Twitter honors MS Dhoni's services for the Indian cricket team!
Certainly, it has been quite disappointing for cricket lovers as they won't be seeing their favorite player on the ground. Soon after the news broke out, social media got filled with posts appreciating MS Dhoni's services for the team over the years. Currently, hashtag #ThankYouDhoni is trending on India's Twitter as fans honor the legendary player.
A phenomenal player!
dear Mahi you are the reason ,why I love cricket. you are real inspirational model for us, furthermore you have done everything to make our team better . your captinancy along with patriotic emotions towards indain arm forces is priceless.. you can't be replaced.#ThankYouDhoni pic.twitter.com/oDGfxkg669

— Uday Rana (@Thehindu1419) January 17, 2020
Quoting, what needs to be!
ONCE you master your mind, you can MASTER everything.#ThankYouDhoni #DhoniWeNeedYou
Miss u Thala☹️@msdhoni pic.twitter.com/UalrGvxRDe

— chiyaan_fan_paramakudi (@ParamakudiFan) January 17, 2020
Read Also : Hardik Pandya Proposing His Girlfriend On A Cruise Is Goals!
This is kind of cute!
Me n bois calculating how MSD can play till the age of 85. #ThankYouDhoni pic.twitter.com/26BJzUOsax

— Vegeta (@san_vegeta_) January 17, 2020
Exactly, there's no replacement for Dhoni!
Many Tendulkar nd kohli Come and Go…..
Bt u can't Find Replacement of this Man????
No one can replace him??
RT,if you R Agree ?#Dhoniweneedyou#ThankYouDhoni@msdhoni ❤️❤️❤️❤️ pic.twitter.com/0TkcTqLGvB

— ANSHUMAN JHA?? (@jhaa23_anshuman) January 17, 2020
Hopefully, MS Dhoni will return for the next World Cup!
#ThankYouDhoni after sachin most of the people's love to watch cricket bcoz of u. U make our country proud and ur journery make inspired us lot for that thankyou word is not enough to u. #Dhoni tussi naa jao ????
We waiting #MSDhoni ? pic.twitter.com/ecu9DowOsj

— Kushagra Mishra (indian ??) (@kushkiku07) January 16, 2020
Apparently, MS Dhoni has been unavailable for the team since the 2019 World Cup without quoting any reason. Being on a sabbatical from a couple of months, the former captain didn't announce anything publically with his future in shambles. Taking his position in the team, Rishabh Pant will now be the preferred wicketkeeper for the national team in T20I's and One Day International (ODI)'s.
While former Indian cricketers are resisting to say anything on MS Dhoni's uninformed absence, admirers are showing worry. Well, cricket lovers are now hoping that the cricketer will return in from fro the next World Cup.
What do you think about BCCI's decision? Tell us in the comments section below!