Bollywood Lightens Up As Anil Kapoor Celebrates His 63rd Birthday!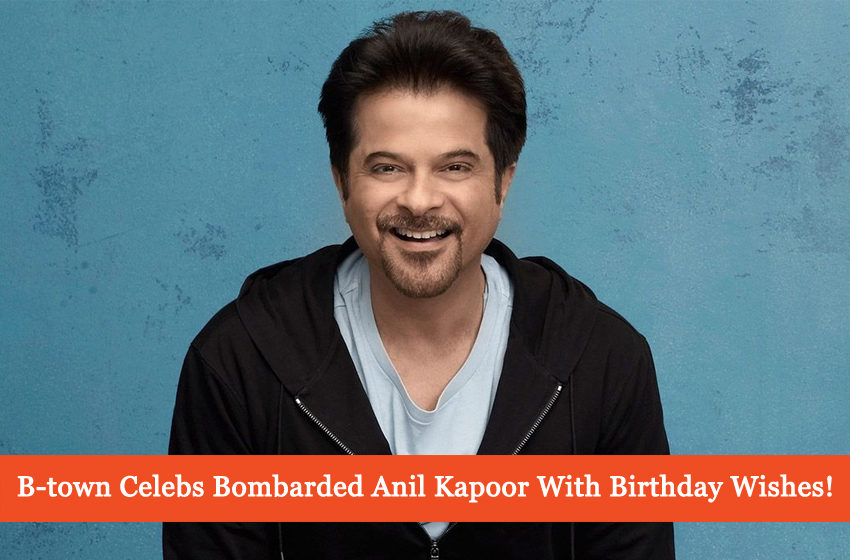 Bollywood actor Anil Kapoor is sure not ready to age anytime soon while the world now has several conspiracies attached to the matter. In his epic journey from "Nayak" to "Welcome", the evergreen actor has entertained several generations with great integrity. Well, the iconic 'Majnu Bhai' Anil Kapoor is celebrating his 63rd birthday today with the family and Bollywood stars are pouring in wishes.
Bollywood wishes Anil Kapoor on his 63rd birthday!
Never getting old brat of B Town owns a class apart and carries it with sheer dignity which his admirers try to follow along. However, earlier this month, Delhi attacks suddenly reminded everyone of Anil Kapoor's hit film 'Nayak' because of the political turmoil in India. Anyways, Bollywood is sparkling today as the handsome hunk Anil Kapoor is celebrating his 63rd birthday with family members.
Connecting with his upcoming movie "Malang", Anil Kapoor posted 'MALANG on my Birthday'!
MALANG on my Birthday! pic.twitter.com/iyr577KYxS

— Anil Kapoor (@AnilKapoor) December 24, 2019
Since last night as the clock struck 12, social media was filled with birthday wishes from fans and other celebrities for Anil Kapoor. Often, the actor is spotted spending time with his family and especially, sharing a lovely bond with his daughter and actress Sonam Kapoor. Nothing was forgotten this time either as Anil Kapoor's wife Sunita Kapoor and Sonam Kapoor also wished him on his day.
Here's what wifey Sunita Kapoor posted on her Instagram!
On her official Instagram, Sunita Kapoor posted a snap of Anil Kapoor from his birthday party and wrote a heart-warming wish on his birthday. Being 'grateful', the actor's wife captioned, "My day is not complete if I don't tell you how much I love you. Happy birthday, Husband. Grateful to be sharing this life with you".
With an adorable birthday wish, Sonam Kapoor shared her childhood father-daughter moment on Instagram!
Along with a childhood picture, Sonam Kapoor thanked her father for always staying by her side no matter what. With the hashtags #ForeverYoung and #HappyBirthday, the actress wrote, "To the most inspiring, understanding, the most youthful person in the family. Thank you, Dad, for being my constant support system and my pillar of strength".
Read Also: Ayushmann Khurrana And Vicky Kaushal Win At 66th National Film Awards!
Bollywood wishes Anil Kapoor a Happy Birthday!
"I love you so much for everything that you do for us and all that you are. Happy 21st [Anil Kapoor]. #ForeverYoung #HappyBirthday", it ended. Certainly, the love wasn't just from the family but the whole Bollywood pouring their wishes for the 63 years old actor. From the diva Madhuri Dixit to singer and musician Anup Jalota, everyone was celebrating.
Quoting Anil Kapoor's 'Malang' tweet, Rajkummar Rao wrote his birthday wish!
Happy birthday my dearest sir. Can't wait to see you in this new avatar. https://t.co/7i8IIyoSGO

— Rajkummar Rao (@RajkummarRao) December 24, 2019
Indian singer and musician Anup Jalota wished the star on Twitter!
Aging like fine wine, the #Laadle of the Film Industry, dear @AnilKapoor, Wishing you a very Happy Birthday. God bless you with higher spirits and stay young forever!#HappyBirthdayAnilKapoor #AnilKapoor #Laadla pic.twitter.com/j5zs8sUwYM

— Anup Jalota (@anupjalota) December 24, 2019
With a photo attached, the graceful diva Madhuri Dixit posted her wish!
To one of the most disciplined people I have met, time seems to stand still, even as another year has passed. A very happy birthday and many happy returns to the original iron man! @AnilKapoor pic.twitter.com/yk89FPif44

— Madhuri Dixit Nene (@MadhuriDixit) December 24, 2019
Well, the celebrations are still going strong and wishes are also coming in to make the actor's birthday more special. Undoubtedly, Anil Kapoor is entertaining the world for over a decade now but his charm still attracts many. However, the 63-year-old Kapoor is currently busy with his upcoming project "Malang" due to release next year, in 2020.
Have you watched Anil Kapoor's movies? Tell us in the comments section below!