Five Shocking Secrets of Bollywood Star Wives!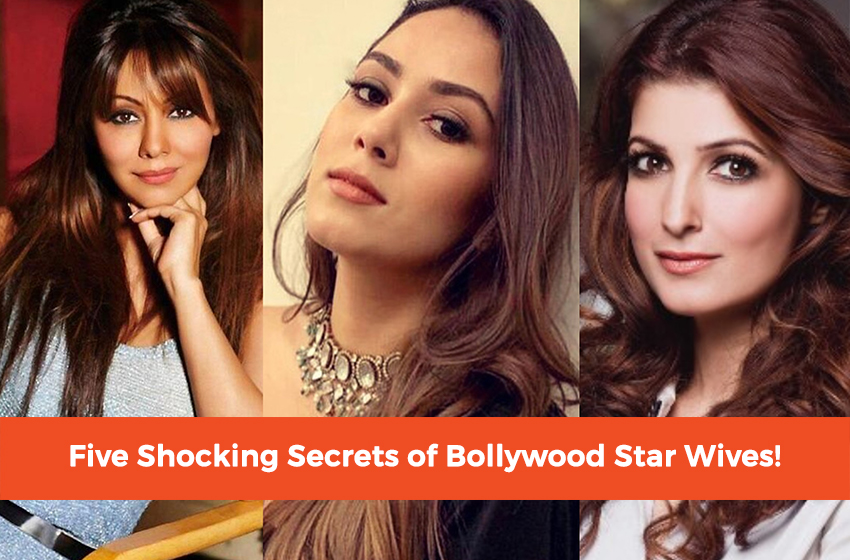 Bollywood is not as perfect as it looks from the outside. In this industry of glitz and glamour, there has been a plethora of hidden Bollywood secrets. From shocking facts and stories to revelations regarding the Bollywood actors wives that may not be known to everyone. There are several dark secrets of Bollywood actor wives from the past that are different from their public image. In this article we provide you five dark secrets of Bollywood star wives:
Gauri Khan
Shah Rukh Khan's wife Gauri Khan is a successful producer and interior designer. However, Gauri Khan once made it to the media headlines for bad reason. When the rumors of Shahrukh's affair with Priyanka started doing rounds, Gauri along with her friends preferred to ban Priyanka Chopra from Bollywood. Gauri even warned SRK to not work with Priyanka in the future else she will divorce him.
Mira Rajput
Mira Rajput, wife of Shahid Kapoor, had brought a backlash towards herself when she got featured on the cover of a magazine. Some people also questioned her achievements to obtain a place on the cover of a highly famous magazine. Mira got trolled for making a statement against nepotism. However, she herself got featured in the cover of the highly famous magazine as she was the wife of Shahid Kapoor.
Twinkle Khanna
Twinkle Khanna, wife of Akshay Kumar, had once been arrested and was also part of a massive controversy. Regarded as one of the most famous Bollywood actors wives, Twinkle was once caught in a controversy. During the Lakme Fashion Week in 2009, Akshay Kumar came to Twinkle. She was sitting in the front row. While walking the ramp, Akshay asked Twinkle to unbutton his jeans. She did so and many people found it as a highly profane act. As a result of this act, a case was filed against her name. Twinkle was arrested but later was released with a fine.
Malaika Arora
Talking about the secrets of Bollywood star wives, the ex-wife of Arbaaz Khan Malaika Arora also made it to the headlines during their divorce. This incident highlights the ugly and dark secrets of Bollywood. There had been several reports that Malaika had left Arbaaz after a financial feud and also took all his money. However, all these reports were later denied by her. She also stated that their divorce was due to mutual consent. The actual reason for the divorce of Malaika and Arbaaz was due to Malaika's extra marital affair with her now-boyfriend Arjun Kapoor.
Kiran Rao
In the year 2015, an FIR had been lodged against Aamir Khan and his wife Kiran Rao. The FIR had been filed against them due to their controversial remarks on intolerance. She also got FIR against her name as Aamir in an interview stated that Kiran suggested him to move out of the country because of an intolerant situation.
What do you think of this story? Let us know in the comments section below!