Arjun Kapoor Teases Malaika Arora Over U2 Mumbai Concert's Pictures!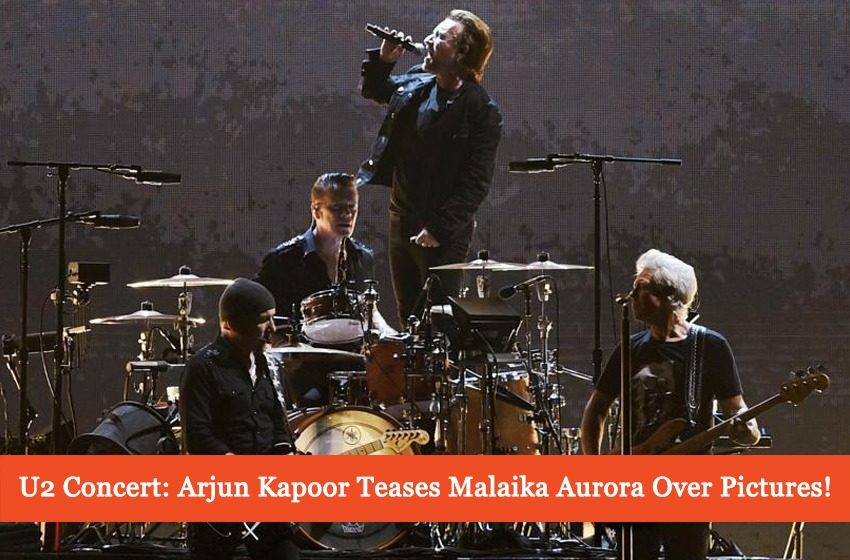 The Irish rock band U2 closed their The Joshua Tree Tour 2019 in India. Major renown Bollywood celebrities attended the concert; among them were Deepika Padukone and Ranveer Singh, Shahid Kapoor's wife Mira Rajput,  Arjun Kapoor along with his partner Malaika Arora. Malaika, like everyone, didn't miss the chance to take pictures from the event and Arjun's playful comment underneath gives an insight into their relationship.
Arjun teases Malaika underneath her Instagram post that showcased pictures from the U2 concert.
Panipat's lead Arjun teased Malaika over pictures that are close-ups of the band, making it look like Malaika took them from the stage. Her beau's sense of humor must have been one of the factors that made Malaika choose Arjun. "Were you on stage with them?" said Arjun with Malaika replying with teary-eyed-emojis.

Here are those pictures that made Arjun troll her.
She captioned read, "Thank you for the music… @u2.. doesn't get better and closer than this #bono #adam #larry #theedgeplayed several popular tracks and made it a night to remember"
She is definitely a U2 fan and who isn't. This band gave everyone some great memories, especially to the now adults. Malaika and Arjun both have come out a long way, not just in their personal but professional lives as well. Arjun's body transformation to now being a sought-out-actor while Malaika an actress and a successful entrepreneur; both have come far in their lives and into each other's lives.
U2's performance was not just star-studded but the band itself gave a heart-warming tribute to the women icons of India.
U2 paid tribute to women icons- Herstory. 
During their maiden performance, the band showed respect to Union Minister Smriti Irani, author Arundhati Roy, and journalist Gauri Lankesh among others. The women displayed were the women of substance from around the world including from India; a montage, if you will.
U2's Ultraviolet showing influencial women.
I wish I had recorded the entire video. #U2Mumbai #U2India pic.twitter.com/GRd3gH1INQ

— Meghna Baruah (@meghnabaruah) December 16, 2019
Bono said, "When women feel safe at homes or walking on the street, that's a beautiful day. When sisters around the world are in school like their brothers, that's a beautiful day. When women of the world unite to rewrite history as their story, that's a beautiful day. To rewrite history as her story – that's a beautiful day"
Truly beautiful to see a renown band using its platform for the betterment of the world; starting from speaking for the rights of women. Bono along with the entire band is an inspiration. In addition, a perfect example of how every star should make use of their platform.
A R Rahman also joined in, mesmerizing the crowd.
A R Rahman also shared the stage with the Irish band. The legendary singer and composer stood alongside his children to play the song Ahimsa. This song is described as "India's greatest gift to the world."  by Bono.
Ahimsa in Mumbai with A.R. Rahman on the final night of The Joshua Tree Tour 2019.#u2 #thejoshuatreetour2019 #mumbai #DYPatilStadium #ARRahman pic.twitter.com/KcuEbVoLHz

— U2 (@U2) December 16, 2019
The closing and last country for this current tour was a massive success for U2. Among the international performers that traveled to India was Katy Perry. After speaking up for the women around the world; the band must have gathered a special place within the hearts of many. It is about time, the stars including the ones like Malaika Arora should become advocates of social issues that matter.
Have anything to add to the story? Comment below!