Sana Khan Quits Showbiz To Follow Islam: What You Need To Know About Her.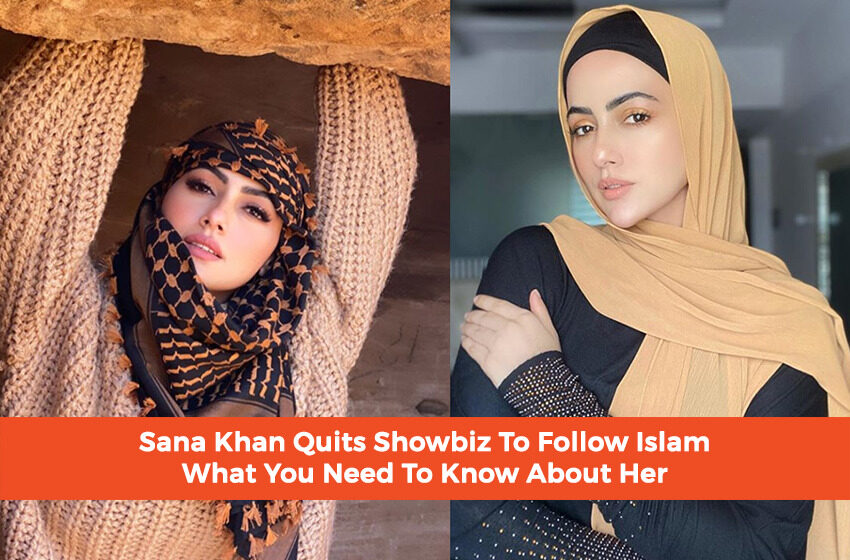 Former Indian actress Sana Khan announced her decision and now quits the Indian showbiz industry. The reason for leaving the industry was to pursue her journey towards Islam. The Bigg Boss season 6 contestant announced she is bidding farewell to the showbiz industry to spend the rest of her life serving humanity. In addition to this, the popular actress took it to her social media to announce the news.
Taking it to her official Instagram account Khan penned down the announcement. " I declare that from today onwards, I have resolved to say goodbye to my showbiz lifestyle forever. And serve humanity and follow the orders of my Creator," she wrote.
She further added: "Isn't it a part of our duty to spend our lives in the service of those who are needy and helpless? Shouldn't a person think that he/she could die at any moment? And what will happen to him after he/she is no more? I have been searching for answers to these two questions for a long period of time. Especially the second question as to what will happen to me after my death?".
Moreover, she said that she searched for the answer to the question in her religion. And she realized that life in the world is actually for the betterment of life after death. "It will be better if the slaves live according to the command of their Creator. And do not make wealth and fame their only goal," she added.
As Sana Khan quits Showbiz, the actress also asked everyone to pray for her. So that 'Allah' accepts her repentance and grants her the true ability. To live in accordance with the commandments of her Creator, service of humanity. At the end of her post, Khan requested everybody not to question her about the entertainment industry and work related to it. And, in this way, Sana Khan quits Bollywood and pursues her journey towards Islam.
Things to Know about Sana Khan
Sana Khan's life story is quite interesting. The 32-year-old Khan was born in a Muslim family in Mumbai. The actress has been a part of the Indian showbiz industry for over a decade. She kicked off her career with modeling once she had finished schooling.
She is also famous for her stint in Big Boss Season 6. Sana was also part of the realit dance show 'Jhalak Dikhhla Jaa Season 7'. The actress also went on to do a number of music videos with celebrities such as Salman Khan, Shah Rukh Khan, Hrithik Roshan, Akshay Kumar, Yuvraj Singh and Mahendra Singh Dhoni.
Sana Khan's Controversies
Even after being a successful artist, Sana's professional and personal life has been surrounded by controversies. In 2013, she was in trouble with the law over the abduction of a 15-year-old. But later, the court found her innocent of all charges.
At the trailer launch of the web series Special Ops, Sana Khan broke into tears. Fans were guessing for the reason Sana was crying. It was revealed that Sana was overwhelmed with all the attention she got.
A few months before the trailer launch of Special Ops, Sana had a breakup with choreographer and long-term boyfriend Melvin Louis. The reason for their breakup was that Melvin was cheating on Sana. Sana had alleged that Melvin had been cheating on her.

"I broke up with Melvin because he was cheating on me. I had loved him with all my heart and was committed to him. What I got in return has disturbed and shaken me. I have developed anxiety issues and am dealing with depression ever since," she was quoted as saying.
Melvin and Sana started dating after the two worked together on various projects. Melvin was Sana's choreographer as well. The couple was adored by the audience, especially their fans on social media.
What do you think of this story? Let us know in the comments section below!