Netizens Share Hilarious Memes On The Occasion Of Raksha Bandhan!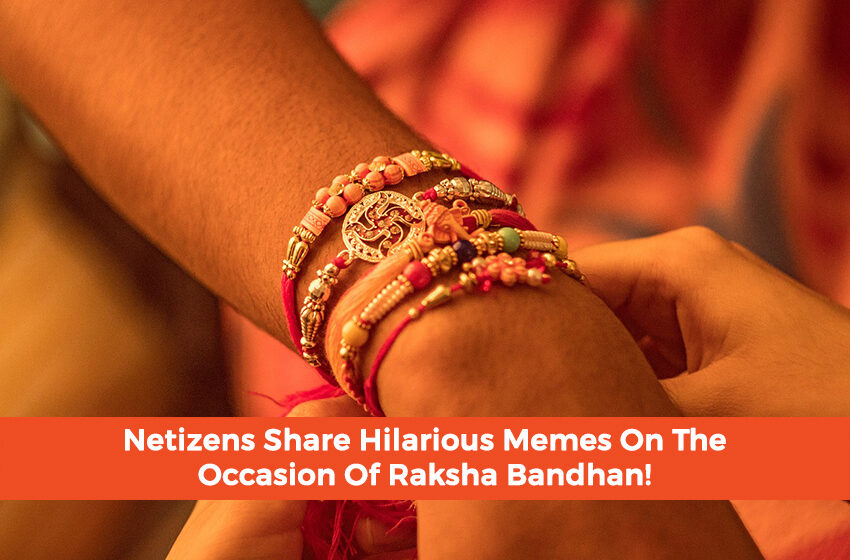 For Indians across the world, August 2020 has begun on a festive note. On August 3rd 2020, Hindus across the world celebrate Raksha Bandhan also giving rise to Raksha Bandhan memes on different social platforms. The festival coincided with friendship day celebration. Traditionally, friendship day is dedicated to the eternal bond with special individuals in our lives. However, the festival of Raksha Bandhan is used to honor the relationship between sisters and brothers.
The Significance of Raksha Bandhan
From a traditional perspective, Hindus across the world celebrate Raksha Bandhan with a sister tying a thread around the brothers' wrist. This symbolizes in creating a bond. It is a vow that he will always protect her, no matter what. In return, the sister gets gifts and money from her brother.
The festival of Raksha Bandhan is said to have gained popularity when Rani Karnavati, a widowed queen of Chittor sent a Rakhi to emperor Humayun. This was when the queen was unable to defend her kingdom from his invasion. The festival also has its mention in the Hindu Epic, Mahabharata.
Brothers and sisters tend to have a love-hate relationship with each other. They have petty fights with each other. However, at the end of the day they support each other, no matter what. In India or anywhere across the world where Hindus live, people celebrate Raksha Bandhan with a big family get together where not just siblings but cousins also visit each other to join within the festivities. This year, however, things have been extremely different due to COVID-19.
Virtual celebrations on the occasion
Not just extended family get-togethers, many who are living away from their own siblings and family as well, and are not able to be there on this special day. Due to COVID-19, virtual celebrations have become the norm of the day. Video calls are taking place to tie rakhis to their brothers through the screen. Not only that, it is memes galore to add on to the virtual celebrations.
[Adinserter="3″]
From gifting money to their sisters to the never-ending friend-zoned jokes, many individuals took to different social media pages to celebrate the festival. Different parts of India celebrated Raksha Bandhan, social media was full of reactions regarding how people celebrate this occasion. The hashtags #Rakhi and #HappyRakshaBandhan2020 have been on trend consistently after Raksha Bandhan along with the Raksha Bandhan memes. There were different memes from Netizens about gifting of sisters money to bro-zone jokes.
[Adinserter="4″]
Here are some of the memes:
#HappyRakshaBandhan #रक्षाबंधन#Rakhi

Me: ye lo behna 500rs
Behena: bas itna hi !!?
Me: pic.twitter.com/Pf1BVlqugY

— Jaadoo (@datwanihunny) August 3, 2020
Every sister on Raksha Bandhan :#HappyRakshaBandhan #HappyRakhi #rakhi2020 pic.twitter.com/3RjfSRJFmO

— Aishwarya Shahu (@aish_shahu) August 3, 2020
#रक्षाबंधन #Rakhi #RakshaBandhan

Nobody

Sisters after taking the Money Gift :
😝 pic.twitter.com/zO7I24vBw2

— Sarvcasm 🤙🏻 (@Sarvcasm_) August 3, 2020
Me to my sister#RakshaBandhan pic.twitter.com/NkcoiNC2gv

— Meme.doze (@DozeMeme) August 2, 2020
[Adinserter="5″]
What do you think of this story? Let us know in the comments section below!