Martin Guptill Calls Yuzendra Chahal A 'G*****!' – Twitter Loses It!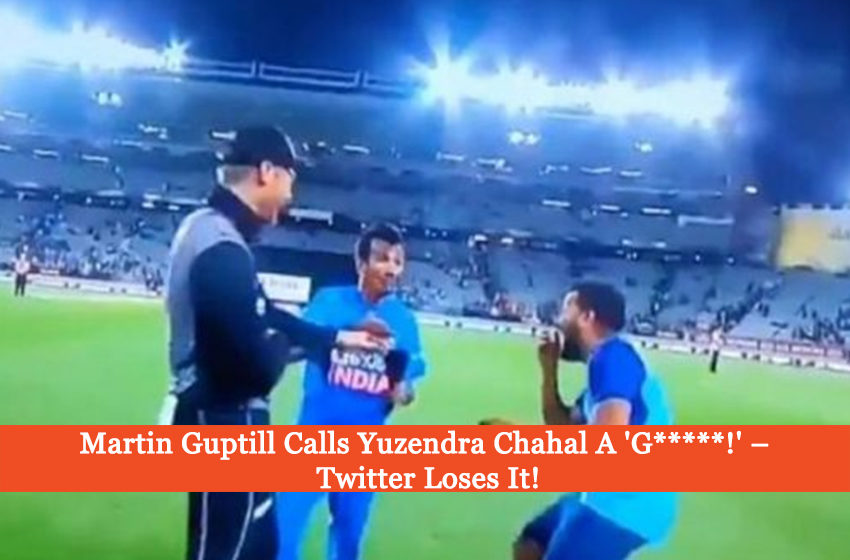 Celebrity blunders during live streaming have always been fascinating for the masses as the instant reactions are a never-ending dilemma. Apparently, after India's recent win in the second T20 against New Zealand, celebrations and 'cusses' began. Amidst the celebratory mode, New Zealand's opener Martin Guptill cussed Indian bowler Yuzvendra Chahal in Hindi and everyone noticed which made us catch some funny moments .
India VS New Zealand T20 – Martin Guptill calls Yuzvendra Chahal 'g****' after the second match!
Normally, cricketers sharing a friendly bond with the opposers makes it to the news but this time things got a little out of 'mouth'. Since Indian bowler, Yuzvendra Chahal runs his own channel "Chahal TV'' as well, he tried to capture some winning moments. Amidst his recording session, Martin Guptill, on the field, called Yuzvendra Chahal 'g****' and Twitter has now lost it.
Also read: #ThankYouDhoni Trends Online After BCCI Drops MS Dhoni!
Check out the hilarious video!
Apparently, Yuzvendra Chahal is not only a skilled bowler but quite an entertainer as well which can be seen in his vlogs. From covering pre-match and post-match moments to speaking with fellow cricketers, "Chahal TV'' has does it all. Recently, in the ongoing five-match T20 series against New Zealand, India celebrated its victory of the second battle in full swing.
Twitter reacts to Martin Guptill and Yuzvendra Chahal's friendly interaction!
In order to preserve those precious winning moments, Indian journalist Jatin Sapru headed towards the ground. While the journalist was busy talking with the winning team, Yuzvendra Chahal's friendly abruption took a hilariously unexpected turn. Eventually, the Indian bowler's "What's up guys?" was responded with New Zealand's Martin Guptill with "Aye g****" (in Hindi) gave us some funny moments to catch.
However, apart from the matches, teammates share a friendly bond with each other and this was such a moment captured. Taking as one, Yuzvendra Chahal and other Indian cricketers nearby responded to Martin Guptill with a good laugh enjoying those funny moments. Later, the captured video went viral on social media and netizens are putting together a lot of thoughts in making the scene way more hysterical.
"Kyun hila daala na!"
Martin guptill after saying
'kya be gandu" to chahal pic.twitter.com/ZIIXT9ixir

— Mohd Aazam (@mohdaazam555) January 27, 2020
This one is hilarious!
Kane Williamson after listening Martin Guptill saying "Kya Be Gandu" pic.twitter.com/XKr5VoFFt1

— Shubham Das (@TheAdultMindset) January 27, 2020
Well, that says it all!
Some great quotes by famous cricketers:-

Kohli: Shaam tak khelenge to inki gaand fatt jayegi.

Rohit Sharma: Pujji bhaag behnchod.

Ross Taylor: Shit Behnchod.

Martin Guptill: Kya be Gandu. @yuzi_chahal

— Kishan Jhunjhunwala (@Jhunjhunastic) January 26, 2020
Here comes another video!
— Eden (@_MaurizioSarri) January 26, 2020
Virat Kohli, why you do this!
@whodeepumanwani @listenMrUtkarsh
Side effects of playing against Kohli 😂😂

— Prateek Bhardwaj (@pra8eek) January 26, 2020
Check out: Virat Kohli Enters T20's 'Top 10' After West Indies Heroics
Apparently, the New Zealand batsman might not even know the meaning of what he actually uttered but what if he does. Anyways, it's not a hidden fact that sportsmen pull each other's legs during matches and this can also be a prank pulled off. No matter what, the quick funny scenario sure stirred an amusing debate on the internet.
What do you think of the story? Let us know in the comments section below!