Kokilaben Rap Song "Rasode Me Kaun Tha" Starts A Viral Meme Trend!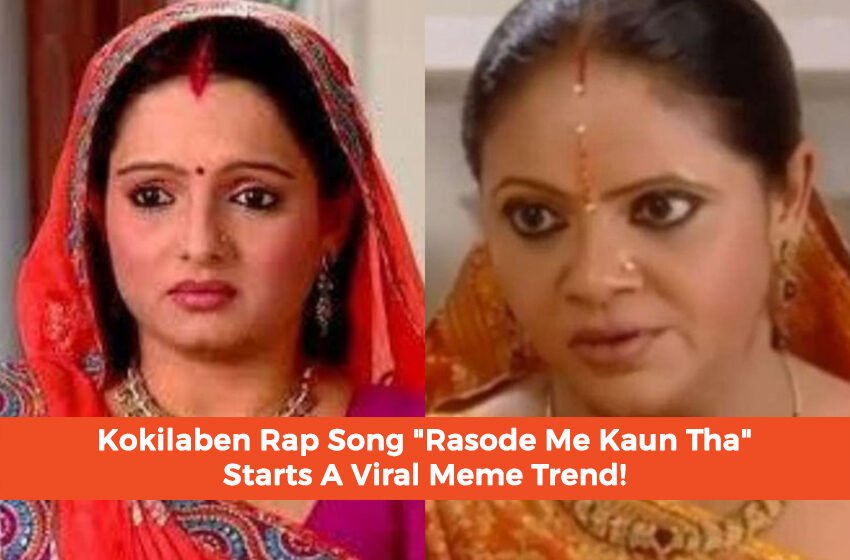 The fact can't be denied that Saath Nibhana Saathiya's Kokilaben has left a significant impact on the minds of Indian soap daily viewers. Fans of this drama serial remember her as the strict perfectionist mother-in-law. The whole show revolved around how a simple uneducated daughter-in-law Gopi (Gia Manek/Devoleena Bhattacharjee) tried to impress her mother-in-law, Kokilaben Modi (Rupal Patel). Now, she has gone viral amongst netizens once again, three years after the show got over. This happened because of a music producer Yashraj Mukhate. Yashraj is a singer-producer from Aurangabad. He recently converted a small scene from the show featuring Kokilaben and converted it into a hilarious rap video. The Rasode me kaun tha video has now started a global viral memes trend.
The musician put an interesting twist to a conversation between Kokilaben Modi, her daughter-in-law Gopi Bahu and her sister-in-law Rashi. Kokilaben, the mother-in-law of Gopi Bahu (yes the woman who washed her laptop), goes on a quest to know who put the cooker on the stove without chane (chickpeas). The mother in law is inquiring who kept the pressure cooker on the gas stove without chickpeas in it. The key highlight of the viral mashup is. "Rasode mein kaun tha?", which means who was in the kitchen and made such a careless mistake.
Fans On Social Media Loving Rasode Mai Kaun Tha Memes
Fans of this TV serial will remember that it was an intense scene where Kokilaben is enraged with Rashi and scolds Gopi Bahu. However, Yashraj has been able to change the context into a rap with auto-tune. The hilarious video has a collage of Kokilaben's expressions as she says "Toh Kaun Tha" (Then who was it?).  While the video made by Yashraj went viral and made him a star, the mashup has made Indian netizens crazy. After Binod meme trend now Twitter was flooded with kokila ben memes about her legit confusion. Many users have also given it their own spin for kokila ben rap.
Meanwhile Everyone * pic.twitter.com/gSqRFUvlcv

— 𝙻𝚒𝚝𝚝𝚕𝚎 𝚝𝚑𝚒𝚗𝚐𝚜 ♡ (@JayJangid29) August 23, 2020
— Nocturnal Soul (@Mirageworld1) August 23, 2020
#RasodeMeinKaunTha pic.twitter.com/EhHcY8miOC

— Abhishek barman (@Abhi_7hek) August 24, 2020
#RasodeMeinKaunTha pic.twitter.com/8i7s1BeaW7

— Abhishek barman (@Abhi_7hek) August 24, 2020
#RasodeMeinKaunTha pic.twitter.com/qKxiLlVw80

— Sagar Khandelwal (@Khandelw13Sagar) August 24, 2020
After hearing this everywhere my request to kokilaben
.
. #kokilaben #rasodemekauntha pic.twitter.com/RWx1QlnsSi

— Mansi Gupta (@memer_on_point) August 24, 2020
It is evident that fans all over the world are loving the rasode me kaun tha memes.  Many fans have even stated on social media that they are listening to the rasode me kaun tha song on loop.
Rupal Patel expresses her joy on the video going viral
Saath Nibhana Saathiya made stars out of Devoleena Bhattacharjee and Rupal Patel. However, Kokilaben viral video has made Rupali Patel an overnight sensation. Gia Manek still has a huge fan following. Commenting on it, Rupal Patel said, "My sister-in-law sent me a message about it. Later my co-actor, Rhea Sharma sent me the rap. My immediate reaction was surprise and shock".
Kokila further added "I was perplexed about how Yashraj got this clip since I never sang on the show. Later, I realised that it's a rap and he has used my dialogues for it (laughs!). I liked it so much that I asked a few friends for his number. We spoke to each other. After that I expressed my gratitude. I am grateful for Smriti (Irani) madam for liking it. I am not on any social media platforms as I don't want to be distracted when I am working."
What do you think of this story? Let us know in the comments section below!