Indian Artists Pay Tribute To Irrfan Khan And Rishi Kapoor!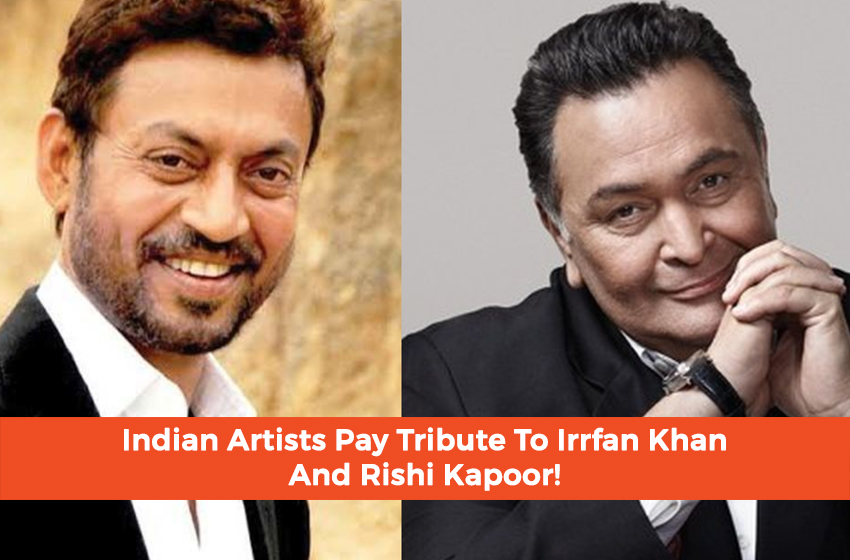 First it was Irrfan Khan than passed away from this temporary world on 29th April 2020. He was then followed by fellow industry veteran Rishi Kapoor. The demise of two of the greatest actors of India cinema in a span of 24 hours was a devastating loss for India. While Irrfan, 54, took his last breath on April 29 at 11:11 am, Rishi, 67, died on April 30 at 8:45 am. Fans and celebrities across the world have still been finding it difficult to come to terms with the demise of Irrfan Khan and Rishi Kapoor.
The sad demise of Irrfan Khan and Rishi Kapoor
Irrfan and Rishi were so different from each other. Mr. Khan was known for his intensity and approachability. He came from a very humble background. Moreover, Irrfan Khan was not regarded as a classically handsome or a typical movie star. Several Indians also felt an affinity with him. He was also regarded as an excellent method actor. Film directors often said Irrfan had undersold himself and has also asked for comparatively less money for parts that he could have himself commanded.
To help out various film directors, Irrfan sometimes took on roles that other actors had initially avoided. Irrfan also gravitated toward Shakespeare. He starred in "Maqbool," a retelling of "Macbeth," and playing a ghostlike figure, a prisoner that had survived a notorious torture chamber, in "Haider," a film inspired by "Hamlet" but set in Kashmir. Many of Irrfan's friends thought that destiny cheated him. It plucked away his life at a very young age. He was just about to reach the pinnacle of his career after decades of working his way up.
The grief of Rishi Kapoor's death has been even more painful for many Bollywood fans. Rishi was a filmmaking royalty. His grandfather, Prithviraj, was one of the pioneers in India's pre-independence film industry. Ever since Prithiviraj, the Kapoor family had played an important role in creating a benchmark for Bollywood.
Rishi had acted practically his entire life. He had appeared as a toddler in one of his father's earlier films and had continued his work until just recently. His Bollywood peak was several decades ago when he sang and danced as one romantic hero in several hit films such as Bobby, Kabhi Kabhi, Karz, Bade Dilwala, Saagar, and many other films.
Amitabh Bachchan expresses his grief
The first celebrity to publicly express his grief over the death of these great actors was Amitabh Bachchan. Amitabh expressed about the death of his friend and frequent collaborator.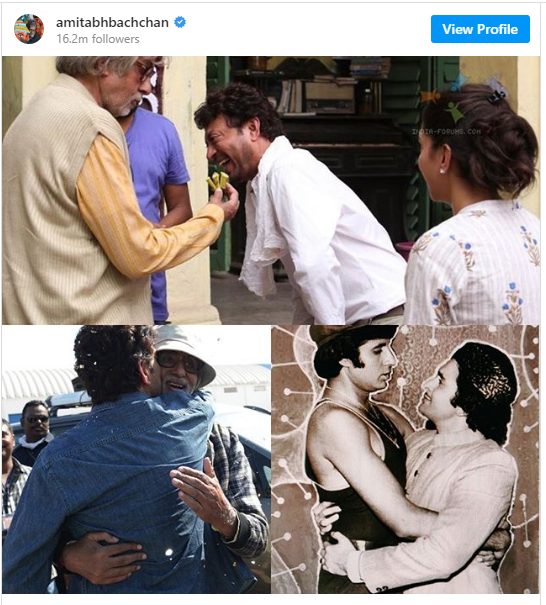 Soon, social media started to erupt with condolence messages for both actors. In particular, one picture went viral. The particular image featured Rishi Kapoor and Irrfan Khan. It is an image from their 2013 film titled D-Day. Directed by Nikkhil Advani, D-Day stars Rishi Kapoor and Irrfan Khan in the lead. Kapoor plays the role of the main antagonist as a druglord/terrorist. Irrfan Khan plays the role of an undercover RAW agent.
Other celebrities give condolence on the shocking demise
It is also important to remember and check out D-Day director Nikkhil Advani's tweet remembering the two stars of his 2013 film. Remembering Irrfan, Advani had tweeted, "#IrrfanKhan you asked me once why I never said "ok" to your takes. I also replied I did not deserve to judge them. Devastated. Gutted. Your smile will be imprinted whenever I think of you. #RIP SIR. Prayers & Condolences to Sutapa & the boys."
Shocked by Rishi Kapoor's demise, Nikkhil tweeted, "No one treated me with the respect an actor gives a director more than you did, that too being who you were. You were my friend sir. I'm sitting, remembering, and just chuckling, laughing. Waiting for your booming voice to say "boy… make me one more drink!" #RishiKapoor #RIP". Nikhil had also shared the same viral image of the two characters.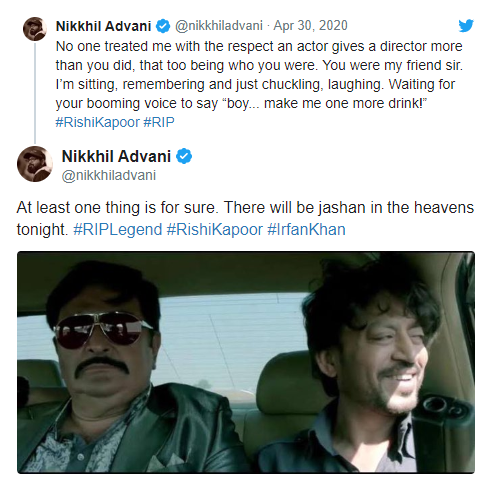 Image Credits: TwitterMany celebrities said they felt very sad that two men were sent off without having a befitting crowd of those that loved and adored them.
Simi Garewal, a famous actress, wrote on Twitter: "My Chintu darling has gone away. My dearest friend … my co-star … my playmate. The one who used to make me laugh till I cried! Now there are only tears. No last goodbye. No funeral. No consoling embraces. Silence. Emptiness. Grief."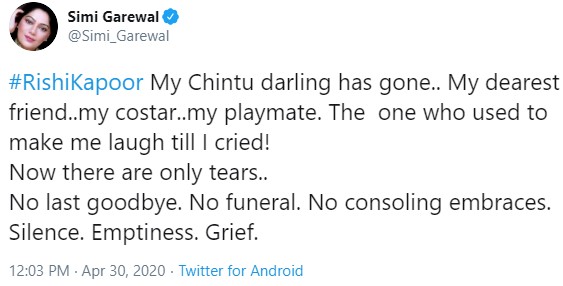 Other celebrities also expressed their grief. Armaan Malik had this to say.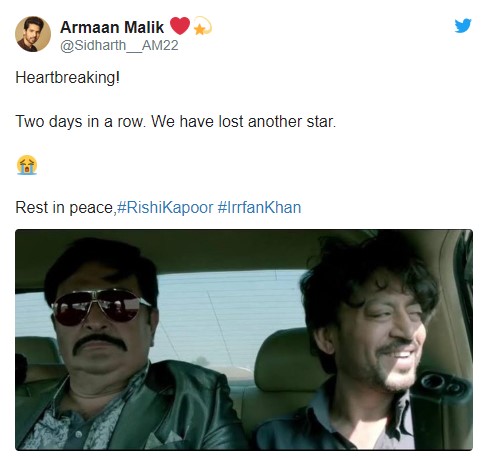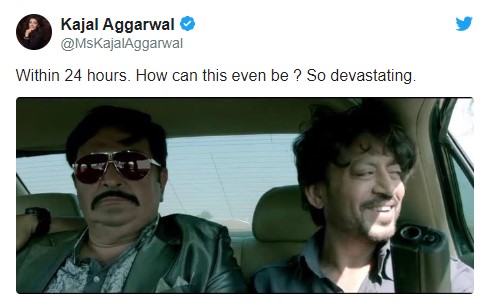 It is evident that the death of these two superstars has created a major blow for fans across the world.
What do you think of this story? Tell us in the comments section below.