Happy New Year 2021: Netizens Bid Farewell To 2020 With Hilarious Memes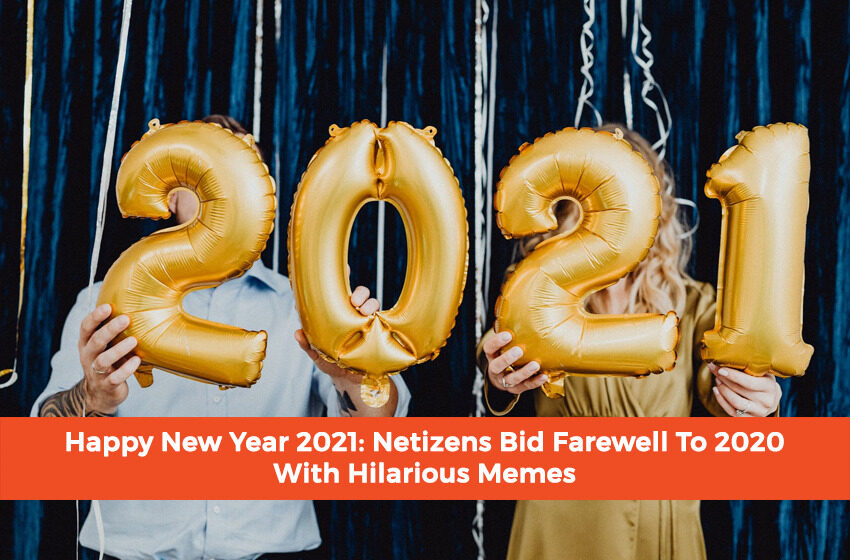 The year 2020 is now at an end and the new year 2021 is knocking on our doors with hilarious memes the netizens made. As we now say hello to 2021, it's a time for celebration and contemplation. People around the year reflect on how their year went. The highs and lows they experienced in the year along with what they can take away from all these experiences. Many people focus on resolving to get better in the year ahead. Moreover, they also have high hopes from it. These hopes are high this year because the past was hard on everyone for different reasons.
Everyone seems to think that the new year will bring new luck and are certainly acting as if it is and planning for it. At the start of this year, the COVID-19 pandemic changed the manner in which we live. Various people started working from home. Moreover, online classes also replaced the conventional classroom setup.
The COVID-19 lockdown also forced individuals across the world to stay indoors for reducing the spread of the highly contagious virus. Many people used memes to describe how they would be spending New Year's Eve. Given that we are still in the midst of a pandemic, most plans involved staying indoors and sleeping.
So, don't join the crowd by sharing the same messages with friends and family. Instead share best Happy New Year memes to wish. A bad year will soon end. Moreover, 2021 is here to provide blessing and good vibes to people around the world. Today, we take a look back at some of the quirkiest, funniest memes on the event of new year 2021 that amused us through this horrible year.
That was Jan 2020 "resolution"
VS
Jan 2021, God of mercy
Good morning 🌞 pic.twitter.com/0EDz6mBwzp

— Mitchell Brown (@iam_mitchell01) December 30, 2020
me making new year's eve plans pic.twitter.com/IyIz6rRWzT

— Akshar (@AksharPathak) December 30, 2020
Frnd: What's ur plan for new year eve

Me: pic.twitter.com/QNkbPBu6fv

— WEAR UR MASK😷 (@wtf_vella) December 31, 2020
Others on Me on New
New Year's Year's Eve
Eve #BieberNYE pic.twitter.com/lJhccdSJAy

— Indah 🥊 (@ferarribieber) December 31, 2020
*Friends start discussing their New year plans*

Me : pic.twitter.com/qvsUYOInUC

— Harshvardhan Agrawal (@Harsh_humour) December 30, 2020
India battles COVID-19 pandemic
The coronavirus outbreak has created fear among individuals across the world. India is also one of the countries affected by the pandemic. There are stories of individuals that are trying their best to combat the COVID-19 outbreak across India. Doctors in particular are at the forefront of this outbreak.
Some of the other frontline workers of India who are fearlessly fighting against this Coronavirus pandemic include paramedics, police, railway staff, bank tellers and rubbish collectors.
But many critics are also afraid that the country's healthcare system cannot cope up with a health calamity. India only has 0.5 hospital beds per 1,000 people. According to the Organisation for Economic Co-operation, this is one of the lowest ratios in the world.
The government of India, however, has effectively controlled the COVID-19 pandemic and has avoid putting lives of millions at risk.
What do you think of this story? Let us know in the comment section below!