Deepika Padukone Puts Her Social Media Profile Picture With Ranbir Kapoor. Here's Why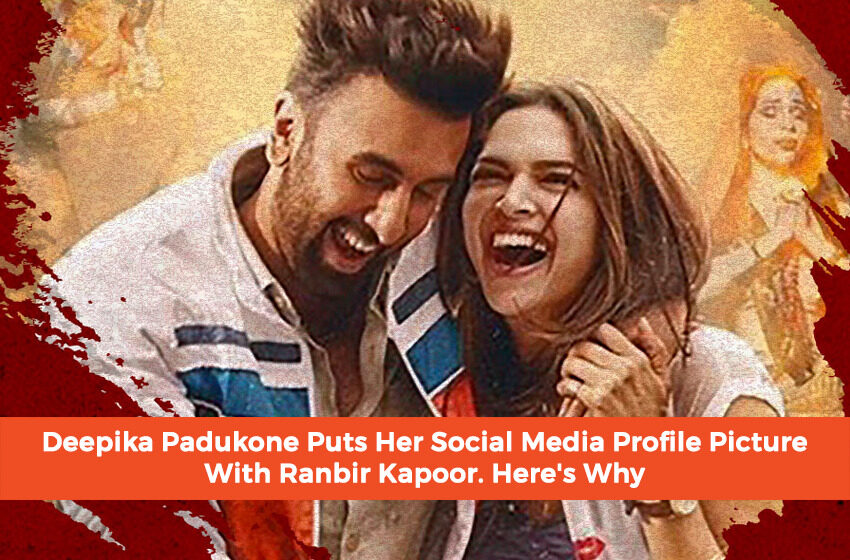 Deepika Padukone recently changed her profile picture on all of her social media accounts to the ones with Ranbir Kapoor. This includes Twitter Facebook and Instagram. Interestingly, all of these profile pictures feature her ex boyfriend.
Their fans are now wondering why did  Deepika put a picture with Ranbir as she is already married to Ranveer Singh. The answer is very simple here. Imtiaz Ali's film Tamasha recently completed Five years on 27th November 2020. As a result, Deepika has put her new profile picture with Ranbir to celebrate the occasion.
Deepika put the poster of the film poster featuring herself with Ranbir Kapoor. She used it as her display picture on all of her social media accounts. She also changed her name to her character name, Tara. Deepika and Ranbir pics were trending all overall on social media. Fans on social media loved Deepika Padukone Instagram Profile picture with Ranbir.

Source: Instagram
Fans react to 5 Years celebration of Tamasha
Though Tamasha didn't fare well at the box office, Ranbir and Deepika's amazing performance left us impressed. In fact, their chemistry is the reason which created the huge buzz for the movie. Deepika Twitter dp with ranbir was also praised by fans. Many fans did react to 5 years of Tamasha.
Here are some of the reactions:
Favourite Ranbir-Deepika movie? Quote/Reply to this tweet using the tag 5 YEARS OF TAMASHA pic.twitter.com/pvZxxBMSyG

— bunny (@itzsohamx) November 26, 2020
Just love them Ranbir Kapoor & Deepika Padukone 5 Years Of TAMASHA❤️❤️ pic.twitter.com/Q7JyzJaVzf

— Shreya Prajapati (@pr_shreya) November 26, 2020
Simply, the impact of this movie cannot be substituted by another. I don't know whether it is with the thoughtful writing of Imtiaz, the epiphanic score of Rahman or the soul-stirring performances of Ranbir and Deepika. It is what it is. It is eternal.

5 YEARS OF TAMASHA pic.twitter.com/gl8CIVvLOI

— Chaitanya. (@illusionistChai) November 26, 2020
5 YEARS OF TAMASHA – I always vividly remember the tears I had when the song Safarnama played in the theatre. It kind of remodelled a part of me, who was confused af. Basically, this movie means a lot to me. A lot.

Thank you, Imtiaz Ali, Deepika Padukone and Ranbir Kapoor. ❤️🥺 pic.twitter.com/VJxarpXC0R

— Chaitanya. (@illusionistChai) November 26, 2020
The impact of film 'Tamasha'
Tamasha was inspired by Rumi's quote, "Don't be satisfied with the stories that come before you. Unfold your own myth." That also fits with the film's tagline, "Why always the same story?"
The film is regarded by many film critics as one of the most unique films ever in Bollywood. It revolved mainly around how Ved disliked the routine 9-5 and everything being planned for him by his family, without being asked about what he actually wanted.
It also reflects how living his life like that made him a machine, a person he wasn't at all. His escape to Corsica was an escape from himself. Because Tara fell for that man. She waited for Ved till he found himself.
Many film viewers regard Ranbir Kapoor's role as Ved to be one of his best performances ever. Even though Deepika's role as Tara was a tough role to play but she certainly did extremely well. The chemistry between them was sizzling & natural. It also reflects that they were certainly made for each other. The Deepika and Ranbir relationship was brilliantly portrayed on screen.
Apart from that, the music by A.R. Rahman was also soul soothing. This was evident in almost every track that he composed. Songs like Tu Koi, Safarnama and Agar Tum Saath Ho are now regarded as classics. The soundtrack had all the ingredients of a classic. Special credit should be given to Irshad Kamil for some excellent lyrics. This is indeed one of Rahman's best compositions ever.
Critics still praise Imtiaz Ali's thought provoking script and screenplay
Director Imtiaz Ali also deserves praise for his direction. It's regarded as one of his best directed works ever. Viewers loved the way that he introduces the characters to each other. It is also essential to note how he establishes the changes in their mindset. He, along with cinematographer Ravi Varman, have shot some of the most beautiful frames ever in a film.
Imtiaz had also spoken about what made him come up with the project and had said, "In front of people, we all have to behave in a certain way, we are in some character. We can't be who we are. I had this thought even as a kid. I think it's coming from there."
What do you think of this story? Let us know in the comments section below!